Event Information
Location
To Be Determined
Cumming, GA 30040
Description
Many parents are frustrated to see their (otherwise bright) child struggle with reading and spelling - "simple" errors of pronunciation in reading and misspelling words they knew "just yesterday". These are the children who hate reading aloud and avoid reading for pleasure. Behavior issues can arise in school which are attributed to "not focusing" at best, and becoming disruptive at worst. Self-esteem begins to plummet. Usually, parents are assured that "boys are slower," or "they just need to try harder," or "it must be ADD," from well-intentioned educators. Somehow, that gnawing feeling that something "just isn't right" won't leave. This presentation will help explain WHY reading is an unnatural thing for the brain to learn to do, and why some seem to struggle so much. (*Spoiler alert: It's not their IQ or effort) You will also leave with ways to identify weaknesses in your own child that will empower you to understand what is happening and what to do next. If your child is undiagnosed or newly-diagnosed, this presentation is for you.
Our speaker is Tiffany Damiano. Tiffany Damiano is a mother of six children and is passionate about all of them learning to love reading. Tiffany has a BFA from Brigham Young University in Music Dance Theater but didn't find her real calling until her second child struggled with reading and spelling in school. Through the help of an angel mentor and her unique background in teaching voice, she came to discover the answers. Tiffany completed a Level 1 Certification in the Orton-Gillingham approach to teaching reading in Minnesota through the International Dyslexia Association. It was there she helped select a reading and spelling curriculum and train teachers for a newly formed charter school. Within the first three years, that school achieved among the highest reading scores in Minnesota. Since moving to Georgia in 2011, she has continued to tutor a small pool of students, her most important pupils being her own children. Tiffany is thrilled to sit on the board for Dyslexia Forsyth to work with parents and educators to help provide solutions for those who struggle with reading.
This event is sponsored by Dyslexia Forsyth in partnership with the International Dyslexia Association GA and Decoding Dyslexia GA.
Outreach events such as this provide opportunities for individuals to connect in person with parents, educators, and others interested in learning and engaging in discussions about dyslexia and related topics.
This partnered Outreach Event is free and open to the public, but space is limited. Please register to reserve your spot.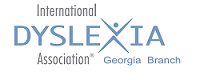 Dyslexia Network of Forsyth (DNF) provides resources and support to parents and educators of students with reading, writing and spelling difficulties in and around Forsyth County. Visit dyslexiaforsyth.com.
Decoding Dyslexia GA (DDGA) is part of a network of parent-led grassroots movements across the country concerned with the limited access to educational interventions for dyslexia within the public education system. Visit decodingdyslexiaga.com.
The International Dyslexia Association (IDA) is a 501(c)(3) non-profit, scientific and educational organization committed to creating a future for all individuals who struggle with dyslexia and other related reading differences so that they may have richer, more robust lives and access to the tools and resources they need. Visit dyslexiaIDA.org.
The International Dyslexia Association Georgia (IDA-GA) offers information on dyslexia and evidence-based interventions, referrals, free outreach events, conferences, the Dyslexia Dash, and teacher training scholarships and grants. Visit ga.DyslexiaIDA.org.
Date and Time
Location
To Be Determined
Cumming, GA 30040