Why Bad Boys & Girls Have Better Sex: how to get your inner critic out of the bedroom! For singles & couples
About this Event
Bad boys and girls aren't really bad. There are people who think, act and even sex outside the box. The inner critic is that voice in our heads that tells us what we should do and what we shouldn't do, and it really puts a damper on sex! It can turn a relationship off or stop us from getting into a relationship, and it really takes the fun out of everything especially sex!
Let Erwan and Alicia help you get your inner critic out of the bedroom. This can reignite a relationship or make you super sexy and help you get into one. If you're already having good sex, we can help you take it to new heights. Alicia and Erwan's expertise is extended orgasm! Being in a state of ongoing pleasure and orgasm requires no judge, no inner critic, complete spontaneity. You can have that kind of wild abandon and freedom in your sex and love life.
Everyone wants to have wild and crazy sex but few people are able to do it. Be one of the few, be a sexual superhero. It's not about some being deviant, and it's certainly not about being "good". It's about you being you and doing what you want to do, and doing it so well that whoever you are or will be having sex with that's what they want to do!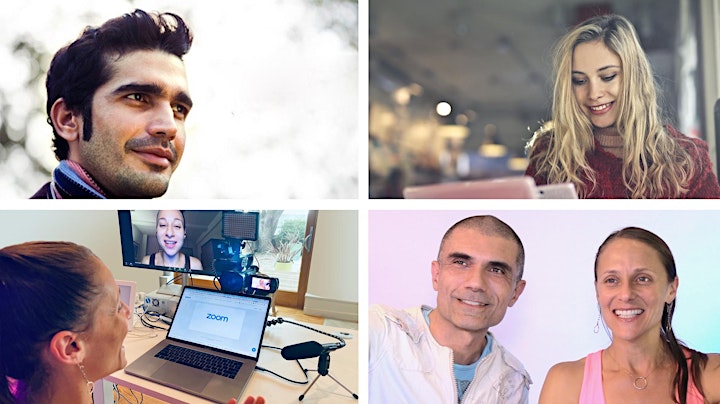 You'll learn:
how to do the things in bed that you really want to do and may not have even known you really wanted to do
how to have natural sex instead of conventional sex (or no sex!)
how to turn the sexual inner critic into an asset instead of a liability
how to have people be wildly attracted to you that you thought were out of your league
to become a sexually liberated man/woman
the wonders that a fulfilling sex life can do for your health, energy and productivity
how to handle somebody else's inner critic!
And where does love fit into all of this?
We will cover the main ways men are conditioned sexually and how women are conditioned sexually- the differences between them- the assets and liabilities of each.
Erwan and Alicia are experts in the field of romance and sexuality and support both singles and couples to create what they call An Eternal Date, which is a romantic relationship that has the depth AND the sexy. They provide a time tested, practical, safe yet sophisticated, exciting and tantalizing approach to sexual liberation in relationships. Alicia & Erwan have been supporting both singles and couples in creating this kind of relationship since 1995, with a specialty in Extended Orgasm- their signature sexual technique. They will be addressing all these questions and more on January 13th!
Are you tired of working on yourself or your relationship, trying to "figure it all out?" Relationship development, as a single or a couple, should be fun!
This will be an evening full of fun stories from Erwan & Alicia's relationship they have developed over 2 decades, and priceless, actionable tips you can take into your life immediately.
This evening makes a great date night for couples... and provides rocket fuel for singles to move their initial first dates forward to more.
If you have ever wondered if exploring the meeting of spirituality and sexuality could improve your relationship and relationship building skills then we invite you to join them for this exciting evening.
*This event will be given virtually through Zoom - we will send you the login instructions once you have your ticket.
If you have any questions please email alicia@erwandavon.com
Your Facilitators:   
Erwan and Alicia are long time teachers based in the Bay Area couple that have developed the Davon Method and taught it to thousands of students and helped them reach their sexual and relationship goals. As a married couple, they have been teaching singles to get into relationship and couples to thrive in relationship, with an emphasis on developing an advanced level of sophistication with attraction and seduction for the last 25 years. They have become the go-to place in the Bay Area for all things romantic and sexual.
Erwan and Alicia have a unique approach to relationship coaching that combines their educational backgrounds in psychology and sexuality and aspects of Zen Buddhism to provide a holistic method to effectively improve connection with the self and others.
Erwan studied psychology after a difficult childhood and an early introduction to therapeutic work. He went on to live and study in a Zen Monastery, direct a yoga ashram, and began teaching personal development at one of the world's largest personal grown organizations. Erwan's passion for helping and teaching people led him to found Erwan Davon Teachings in 1995, specifically to help people improve their relationships.
Alicia Davon holds a Master's degree in Integral Psychology with a focus on women's romantic and sensual expression. She trained as a therapist before meeting Erwan and led numerous women's groups devoted to female pleasure and life fulfillment from career to relationship. She met Erwan 15 years ago and started teaching with him soon after.
Together, Erwan and Alicia developed The Pleasure Course and several other programs, which have helped thousands achieve their ideal love lives. They provide a safe place to explore psychological inquiry, pleasure, and sexuality.
They have spent years perfecting their curriculum and techniques and are excited to share their expertise with newcomers so they can help improve chemistry, connection, communication, and passion in others' lives!
 For more events, visit our website: https://www.erwandavon.com/events