Join Business Council for the Arts for the latest in a series of webinars exploring the connections between the arts and health.
About this Event
Can art therapy have measurable health outcomes on our physiology and psychology? How can creativity and self-expression aid in resilience, recovery, and overall health?
Join us for a fascinating conversation with Dr. Girija Kaimal, a trailblazer in the world of art therapy who was listed among 100 women scientists leading research and one of the ten people whose research changed the world.
This year's Arts & Health webinar series focuses on the power of the arts to bring hope and healing to North Texas, spotlighting innovative thought-leaders in art therapy, brain-healthy office and lighting design and much more.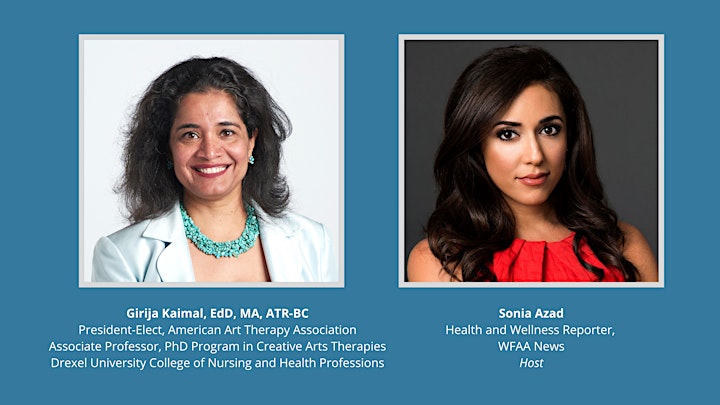 Girija Kaimal (EdD, MA, ATR-BC) is  an associate professor in the PhD program in  Creative Arts Therapies  at Drexel University. In her  Health, Arts, Learning and Evaluation (HALE) research lab, she examines the physiological and psychological health outcomes of visual and narrative self-expression. She has published over 60 peer-reviewed papers and book chapters, has led research and evaluation studies and has had continuous grant funding since 2008. Her research has been featured by NPR, CNN, The New York Times as well as a range of media outlets worldwide. Most recently, she was awarded the first qualitative research grant for studying aging and demographic differences in Gulf War Illness by the Department of Defense. She is also PI for two studies funded by the National Endowment for the Arts, examining outcomes of art therapy for military service members with traumatic brain injury and posttraumatic stress, and arts-based approaches to mitigate chronic stress among patients and caregivers in pediatric hematology/oncology units. Additional current studies include examining the therapeutic underpinnings of indigenous and traditional artforms and serving as a research advisor to Save the Children International on projects that examine the role of the arts in education and human development. Living out her research  interests, she has been a lifelong  visual artist and her  art explores the intersection of identity and representation of emotion.  Her service commitments at present include being the president-elect of the American Art Therapy Association (a member organization of over 4,000 members) and faculty senate representative from CNHP.
Sonia Azad(Host): Sonia Azad is an Emmy®Award winning journalist and reporter at WFAA in Dallas, TX, specializing in health and wellness. In 2012, the Texas Associated Press Broadcasters named Sonia one of the best reporters in the state. And in 2017, the Texas Medical Association awarded Sonia for her series on Egg Freezing. Most recently, Sonia's coverage spans fitness, nutrition, medical advancements & research, as well as public health and infectious disease, including Ebola, Zika and CoVid-19. Sonia graduated from the University of Texas at Austin with a Bachelor of Science in Journalism and she also holds a Master of Science degree in Journalism from Northwestern University's Medill School of Journalism. Sonia is also a marathon finisher and a certified yoga and meditation instructor.