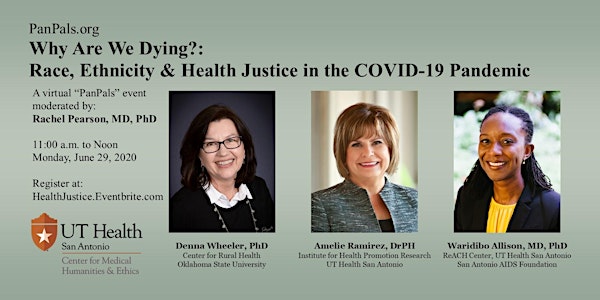 Why Are We Dying? Race, Ethnicity & Health Justice in the COVID19 Pandemic
The pandemic affects all of us, and some communities are experiencing harsher effects than others. Why is that, and what can we do about it?
About this event
This panel brings together three experts with decades of experience in health research. They will discuss the pandemic's impact on Black, Indigenous, and Latinx communities and invite you to join a conversation about how we can work toward health justice for all.
Moderated by Rachel Pearson, MD, PhD, Assistant Professor of Pediatrics and of the Medical Humanities, UT Health San Antonio
Panelists:
• Amelie Ramirez, DrPH, Professor and Chair, Department of Population Health Sciences and Director, Institute for Health Promotion Research, UT Health San Antonio
• Waridibo (Wari) Allison, MD, PhD. Assistant Professor of Infectious Diseases, UT Health San Antonio, and Medical Director, San Antonio AIDS Foundation
• Denna Wheeler, PhD, Clinical Associate Professor and Director of Rural Research and Evaluation, Center for Rural Health, Oklahoma State University Center for Health Sciences