Why a Voice Culture Fuels Psychological Safety and a More Engaged Workforce
Join NAAAHR DC Chapter for a dynamic session from Dr. Russell Robinson, Ed.D.
About this event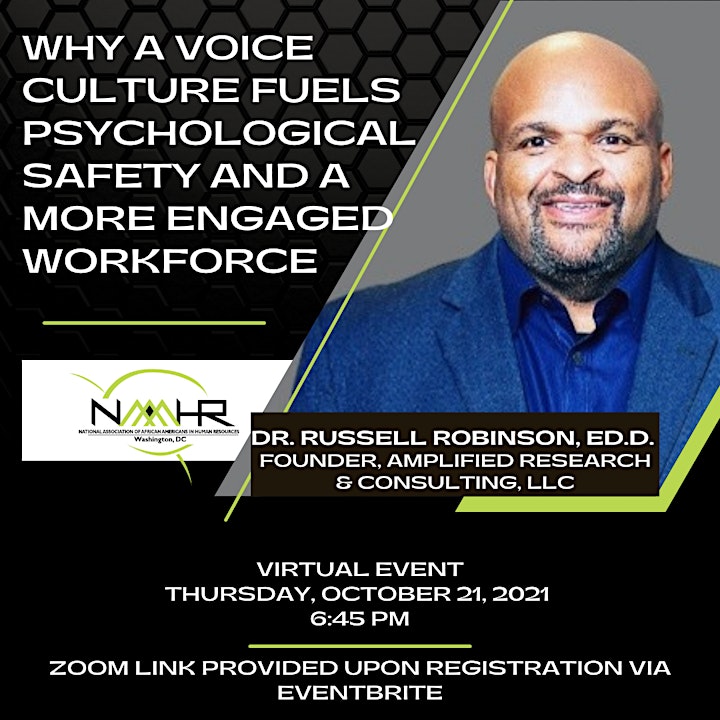 Why a Voice Culture Fuels Psychological Safety and a More Engaged Workforce
On the heels of COVID-19, social justice issues, and a hyper-partisan election, organizational leaders are realizing the need for psychological safety in the workforce. A psychologically safe culture is driven by trust, respect, and openness in which people feel they can voice their opinions without consequences. Psychological safety has been found to increase performance, profit, organizational brand, and customer service. A key driver of psychological safety is the creation of a voice culture where employees feel comfortable sharing their thoughts, ideas, and concerns to organizational leaders. In this session, we will discuss the relationship between a voice culture and psychological safety. Further we will share best practices in creating and sustain a voice culture.
Agenda
6:45 - 7:00p: Opening, Welcome and Updates;
7:00 - 7:45p: Presentation with Dr. Russell Robinson, Ed.D.
7:45 - 8:00p: Q&A and Wrap Up;
Optional - 8:00 - 8:30p: Open Discussion & Networking
About Our Executive Speaker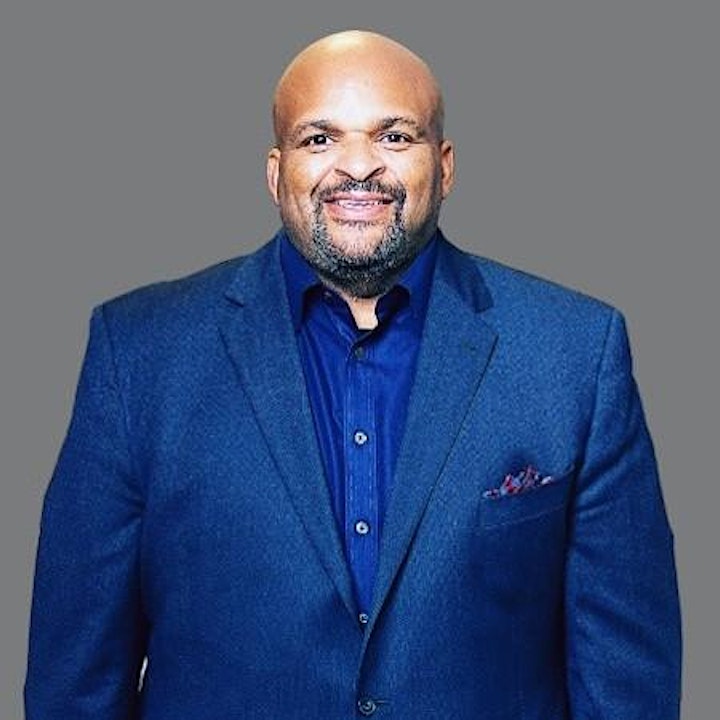 Dr. Russell Robinson is the founder of Amplified Research and Consulting, LLC (Amplified Research), which focuses on research, analysis and developing solutions regarding employee engagement, voice and silence, and talent management. The primary purpose of Russell's research is to explore and document the work experiences of civil servants in those three constructs. Additionally, Russell is in his 20 th as a civil servant working for a US federal government agency. In this role, Russell works with leaders on being strong and inspiring, selecting and developing talent, and creating an open and safe culture. He has developed tools and activities to improve employees' feelings of value, psychological safety, and confidence in the workplace. This fall, Russell will be joining American University's Key Program as an adjunct professor teaching graduate-level leadership classes.
Dr. Robinson received his Doctor of Education (EdD) degree in Human Organizational Learning from the George Washington University. He received a Master's in Public Administration from American University's Key Program, and a Bachelor of Science in Business Administration degree from the University of Dayton.
Organizer of Why a Voice Culture Fuels Psychological Safety and a More Engaged Workforce