Why a Product Strategy is Essential to Drive Your Company's Revenue Growth
Description
Join us for an insightful discussion on why Product Strategy is Essential to Drive Your Company's Revenue Growth - Refreshments sponsored by GMU SOM Alumni Association. Hector Del Castillo, Product Marketing Director, AIPMM will be discussing:
· Why do you need to define a product strategy for your company?
· What are the benefits of implementing a product management process?
· What are critical knowledge areas and key activities to create successful products?
Description
The creation of successful products is essential for companies that want to grow or maintain a competitive advantage. Many organizations lack a clearly defined and understood product strategy. We will discuss the importance of the AIPMM Product Management Framework (PMF) to define and implement a process to conceive, plan and market your company's products. We will identify key activities to align business and product strategy with unmet customer needs to create value for your business. We will describe the typical product lifecycle from concept to launch and through product retirement. We will also discuss why growing organizations need to implement a formal product management process to support their product strategy.
Audience
This presentation is for technology managers, entrepreneurs, innovators, product managers and marketers, and business owners that want to expand their knowledge about how to create successful products that customers demand.
Speaker Bio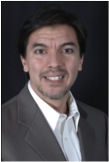 Hector Del Castillo has over 10 years of experience managing products throughout the development life cycle and directing product strategy. He has launched over 27 high technology products and solutions resulting in over $25M in achieved global sales revenue. He provides services as a consultant, contractor, coach, or trainer to organizations that need to create and effectively market value-added products that customers demand.
Hector Del Castillo is Product Marketing Director at the Association of International Product Marketing and Management (AIPMM) where he is implementing the product and marketing strategy for various educational products. He is a highly enthusiastic and creative professional with exceptional collaboration and influential skills to lead product innovation using best product management and marketing practices. He directs the implementation and launch of new products and solutions by creating and presenting compelling business cases, requirements documents, roadmaps, product demos and marketing and sales collateral such as sales presentations, brochures, and whitepapers.
He also helps product managers, marketing managers, and other product professionals accelerate their careers and increase transferable skills by providing practical training and career growth advice to prepare them for AIPMM certifications.
Hector is a certified Project Management Professional (PMP), Certified Product Manager (CPM) and Certified Product Marketing Manager (CPMM). He earned M.S. degrees in Electrical Engineering from the University of California at Santa Barbara and the University of Texas at El Paso and a Bachelor's Degree in Electrical Engineering from the University of Texas at El Paso.
You can connect to Hector via LinkedIn at linkd.in/hdelcastillo.
About AIPMM
The Association of International Product Marketing and Management (AIPMM) is where product professionals go for answers. It is the world's largest professional organization of product managers, brand managers, product marketing managers and other individuals responsible for guiding their organizations and clients through a constantly changing company landscape. It is the only organization that represents and provides certification for professionals who manage the entire product life-cycle throughout any industry. For more information, visit www.aipmm.com.
Also…
this month's sales rain maker discussion, presented by Sales Lab, will be
Designing Your Work To Take Advantage Of The Internet