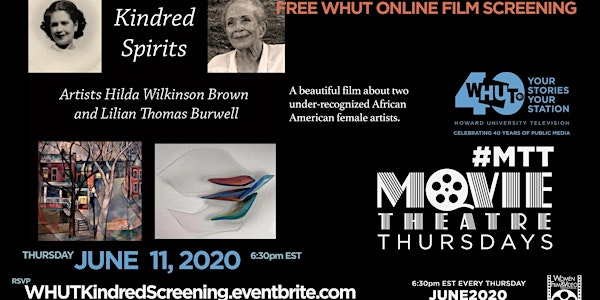 WHUT Free Film Screening - Kindred Spirits
A beautiful film based on two under-recognized African American female artists.
Refund Policy
Contact the organizer to request a refund.
Eventbrite's fee is nonrefundable.
About this event
KINDRED SPIRITS:
ARTISTS HILDA WILKINSON BROWN AND LILIAN THOMAS BURWELL. A documentary on the life and work of two accomplished but under-recognized African-American artists who were united by their love for each other, their dedication to their art, and their passion for teaching.
Moderator
Adrienne L. Childs is an independent scholar, art historian and curator. She is an associate of the W.E.B. Du Bois Research Institute at the Hutchins Center at Harvard University. Her current book is an exploration of blacks in European decorative arts entitled "Ornamental Blackness: The Black Body in European Decorative Arts," under contract with Yale University Press. She recently curated the exhibit "Riffs and Relations: African American Artists and the European Modernist Tradition" at The Phillips Collection in Washington, D.C.
Panelists
Cintia Cabib is an independent producer, videographer and editor. Her documentaries have aired on public television and have been screened at numerous venues throughout the U.S. and abroad. Cintia's films include "Labyrinth Journeys," which presents the stories of individuals who use labyrinths as tools for healing and meditation; "A Community of Gardeners," which explores the vital role of seven urban community gardens; and "Carousel of Memories," which reveals the personal and historical significance of an 88-year-old carousel. Her latest documentary, "Kindred Spirits," is an official selection at this year's Martha's Vineyard African American Film Festival, San Antonio Black International Film Festival, and Maupintown Film Festival at the Jefferson School African-American Heritage Center in Charlottesville, Virginia.
Lilian Thomas Burwell, one of the artists featured in "Kindred Spirits," is known for her nature-inspired abstract expressionist paintings and unique "sculptural paintings": carved wooden sculptures which are covered in painted canvas. Her work has been exhibited throughout the U.S. and abroad, including at the National Museum of Women in the Arts, the Hampton University Museum, and the Smithsonian's Anacostia Community Museum. Burwell was a master teacher in Washington, D.C.'s public schools, giving demonstration classes in teaching art in 17 schools, and taught art at Duke Ellington School of the Arts. She attended Pratt Institute and received a Master of Fine Arts degree in painting at Catholic University.
Dr. Gwendolyn H. Everett is an Associate Professor of Art History in the Department of Art at Howard University. She formerly served as Associate Dean for the Division of Fine Arts, Director of the Howard University Gallery of Art, and chairperson of the Department of Art. She holds a B.A. from Spelman College, a M.A. in Art History from Howard University, and a Ph.D. in Education from George Mason University. As director at the Howard University Gallery of Art, Dr. Everett curated and co-curated many outstanding exhibitions including "Visualizing Legacy: American and African American Highlights from the Permanent Collection," "Peter L. Robinson, Jr.: An American Colorist," and "Trajectory: Art, Artists, and Civil Rights in the Sixties and Seventies." She is a published author and served as guest editor for "150 Years of Art at Howard," International Review of African American Art, 27.4, winter 2017. She was appointed to the Virginia Commission for the Arts, the Fairfax County Commission for the Future of the Arts, has served on the board of the Fairfax County Arts Council, and currently is a member of the Virginians for the Arts Board of Directors.