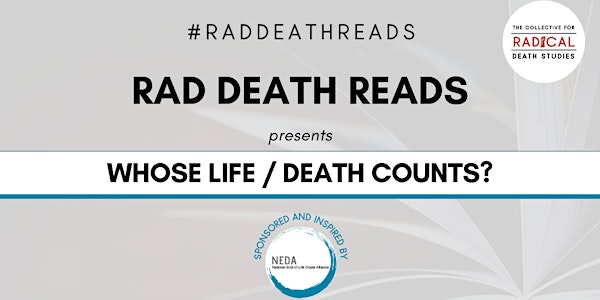 Whose Life/Death Counts? Part 3: Race, Culture, Ethnicity
Part 3 in the series "Whose Life/Death Counts?"
About this event
Whose Life/Death Counts?
In this 4-part Rad Death Reads series, participants will be asked WHOSE LIFE/DEATH COUNTS? to first understand that a marginalized death mirrors a marginalized life - a life shrouded in systemic oppression compounded by historical inequities; second to grapple with the idea that death can also become a vehicle for activism where Homegoings allow for Black lives to matter. Quilted death material culture allow for Queer communities to speak truth to an immortal power. Burial grounds allow cultural norms, religious affiliations and personal narrative to exist as equally distinct and sacred memorials while also serving as an important part of the landscape of the living.
Upon completing this 4-part Rad Death Reads series asking WHOSE LIFE/DEATH COUNTS? End-of-life practitioners will come away with a better understanding of how people with historically marginalized identities experience death and mourning, thus enabling participants to provide a more compassionate and culturally competent practice.
Part 3: Race, Culture Ethnicity
This month participants will ask how race and ethnicity affects deathways and death work. Race, a social construction based not only on phenotype but an intricate combination of facial features, behaviors and socializing agents, affects not only how people create last rites rituals but the lens within which those living and experiencing death within the United States view these same last rites rituals. Each week, experts and long time researchers will unpack not only how race, but racism and ethnicity shapes our very understanding of ritual and deathscapes. Ethnicity, the cultural grouping based on national heritage and culture, will also be used to underscore how death ritual is used to both assimilate and exclude people. Come and learn how death is not the great equalizer but how social constructions of race and ethnicity seemingly follow us to the grave.
Week 1 (September 3 & 4) Indigenous Deathways and Death Work
Week 2 (September 10 & 11) Mexican American Deathways and Death work in America
Week 3 (September 17 & 18) The Spiritual Terror of Capitalism
Week 4 (September 24 & 25) Chinese American Deathways
About #RadDeathReads
PRICE: $40
What do you get as a club member?
Access to featured and bonus reading/viewing materials (ie: supplemental excerpts, PDFs, private links, etc.)
Private virtual Zoom meetings with other club members, conducted by a CRDS leader
Q&As / Interviews with guest speakers
Access to a private closed-circuit Facebook group where members can get updates on the monthly event, pose & answer questions, converse with other club members & CRDS leaders, and share related links to the monthly material. And more!
To Note:
#RadDeathReads meets virtually through Zoom at 10 AM PST / 1 PM EST / 5 PM GMT every Saturday and Sunday for ~1.5 hours each day to discuss the selected material(s), host guest speakers, exchange ideas, and share related information in a private online space.
SESSIONS WILL NOT BE RECORDED! As Rad Death Reads is a discussion group, we don't record the Zoom sessions out of respect for the participants and desire to facilitate an intimate and safe place for deep discussions.
Closed captioning will be available for all sessions. Please email info@radicaldeathstudies.com if additional accommodations are required.
**This book club is solely put together by CRDS members' volunteer work without any sponsorship or reimbursement. The small fee is to cover our administrative costs and the huge amount of time and resources that go into this project. Please note, we are therefore unable to refund you if you are unable to attend or miss a meeting. Please consider supporting us in making a donation to CRDS so we can offer more projects like this in the future.