Calling all "Special Agents." Chorus is hot on the tech trail! Join us at the channel's most prominent training and networking event.
About this Event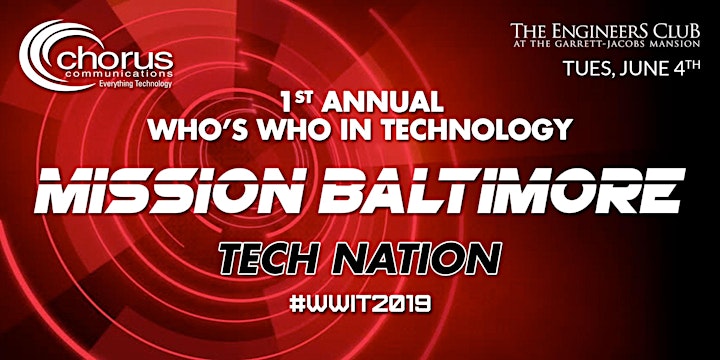 Get clued in and ready to learn about the most innovative tech solutions offered today.
At this award-winning event, leading experts and agents will unite at Baltimore's Engineers Club to focus on emerging technologies and vital industry trends. This special mission will encompass transforming your portfolio and building valuable, cutting-edge customer solutions. Key industry leaders will present top-secret case studies and dynamic displays designed to enable agents with the knowledge & tools needed to thrive in the ever-evolving world of technology. Additionally you will learn how to seize critical, more complex, higher revenue opportunities for businesses across all verticals and prospect sizes.
Classified face-to-face networking opportunities await during the networking segment of the event. Complimentary Open Bar and Fare will be provided.
Don't let your business self-destruct. Register Today and join us for this special Chorus Mission: Tech Nation.
Presentations By:
Data Canopy
Comcast Business
NetCarrier
Ring Central
Displays By:
Corenexa
OnSip
Happy Hour Sponsored by: TpX
Special Appearance By: The Baltimore Orioles Bird!
For more info on Chorus, please visit www.choruscommunications.com