Who's The Boss of You

Tuesday, May 8, 2012 from 10:00 AM to 5:00 PM (CEST)
Event Details
WHO'S THE BOSS OF YOU?
ELITE NLP MINDSET TRAINING
---
·         Are you able to embrace change and make decisions easily and rapidly?
·         Would you like more time, more energy, confidence and better relationships?
·         Do you want to understand WHY positive thinking DOESN'T work?
·         Would you like to learn the ART of communication and be conscious of your words and the results they produce?
·         Do you feel valued, valuable and capable of managing and creating your dream life?
·         Did you know that there are successful mindset strategies used by leaders, elite athletes and persons of influence worldwide?
Is there something missing from your life, something else, that if you got it, you'd be happy? Do you have a burning desire to try something new, or change things in some way but you have a feeling inside, limiting you and holding you back? Do you feel your goals are difficult to achieve, or worse, unattainable, impossible dreams?
Successful people know who is the REAL Boss in life
and they also know
HOW to get results.
SO DO WE!
We have a not so secret, secret to share with you...
There is a SYSTEM that is used to produce specific, measurable and desirable results:
·        How our life unfolds is determined by a series of patterns we establish over time. Many of them were in place from very early in our life.
·         It is very easy to change these patterns to better suit our dreams and goals.
·        You have the ability to consciously take control of what drives you at a deep level in easily and effortlessly.
·        You Can Be Free Of Your Past, Free of Your Anxieties for the Future, and Free to Experience Life Without Fear.
·        Successful people develop very simple strategies and patterns which they run in order to achieve success.

You Can:
·    Take control and develop an unshakable powerful positive mindset.
·    Drop your limitations and turn your dreams into actions.
·    Set and achieve goals in a purposeful and empowered fashion.
·    Increase your income.
·    Improve personal & business communication & build better relationships.
REGISTER Today!
Who's The Boss of You?
Elite NLP Mindset Training
Numbers are Limited so ACT NOW and book your place to avoid disappointment!
Neuro Linguistic Programming (NLP)
---
Neuro Linguistic Programming (NLP) was developed in the mid 1970's and is one of the world's leading mindset tools used to implement deep and lasting change and move beyond limiting and negatively repetitive patterns.
 Life can be dramatically, dynamically and sustainably improved by applying these skills. You can effortlessly control your thought patterns and consciously and actively create your own experiences in life. Easily understand how the mind stores information and what really makes you and others tick.  Learn how to quickly develop meaningful communication in order to relate and connect with others.
 With NLP you work smarter, not harder.
 NLP Training develops skills to:
·         Access your natural innate sense of wellbeing
·         Determine what you really want and bring it into conscious awareness
·         Eliminate "stuck states" and move into resourceful behaviours
·         Easily resolve conflict
·         Develop productive strategies when dealing with difficult people
·         Shift focus from the problem to the solution
·         Differentiate between judgement and observation
·         Understand goal setting and how to implement change
·         'Be the driver of your own bus', and take control of your life experience
As a parent or educator, these skills can also be highly effective in helping children move into personal responsibility and develop strategies that will benefit them for a lifetime.
If you are serious about becoming Powerful, Self Confident, Self Assured and finding out the Surest, Safest way to Create Abundance in your life, THIS WORKSHOP IS FOR YOU!
What is A Successful Mindset?
My kids say to each other often when they are arguing, "YOU ARE NOT THE BOSS OF ME". The other one which I really like is "MY BODY, MY RULES". You see, they have a very good blue-print installed, a couple of useful mantras to keep them on track and the uncomplicated, doubt free, belief system of childhood to add to their conviction.  A very successful recipe.
 However, take a good look around at many adults and you may see a completely different story. When I say boss, I don't mean who you work for, or your spouse, or your parent. They are not the "Boss of You". They are not in charge of your thoughts, your dreams, your desires or your emotions. They cannot make you do anything, they have no control over your choices and they do not create joy for you. The Boss I am interested in talking about is the driver in your life. Who is in control? Who determines your direction, your emotional state, your health, your happiness, your relationships and your creativity?  Who is in charge?
So, in light of this, I have a question for you, and I want you to carefully consider your answer.
If someone approached you, someone you didn't know, and told you that they could help you look at the things you don't like about yourself, that they could help you to move beyond your present mindset and back into your personal power, back in touch with the part of you you know is there but just can't quite seem to reach, just can't quite seem to communicate with. The unconscious part of you, which you can sense if you pay close attention and sometimes even when you don't; the part of you often referred to as your gut feeling or gut reaction. Would you believe them?
If the answer is yes, then you are in the right place. If the answer is no, then perhaps you might come back here sometime in the future when you have decided that even if it sounds ridiculous, or unbelievable, the possibility of it being true is enough to make it worthwhile having a look. Perhaps, behind all the banter, behind all the words, there may be something different, something amazing, something….. life-changing.
Does This Work?
It is funny, one of the most complex issues facing NLP, (Neuro Linguistic Programming), Time Line Therapy® and Hypnosis, apart from being able to pronounce them without tripping up, is explaining exactly what they mean in real terms. What do these processes actually DO?
It is all very well to declare that there is a marvellous solution to the problems we all face on a day to day basis, and that there is a quick and easy process to eliminate negative patterns, emotions, stresses and behaviours but most of us don't know this to be true and many of us believe this to be impossible.
So here I am, faced with a dilemma. I didn't believe it was possible either; I thought most of these concepts were hype, mumbo jumbo or worse, maybe even a con. I was born and raised near Manchester in the North of England, not a terribly mumbo jumbo-ish kind of place and definitely not the kind of place you would take kindly to slick sales people giving you a run-around. Perhaps it is the time I spent in Africa, perhaps it is the fact I have travelled so much, perhaps it is just curiosity, but I did give this some thought and I did give it a go, I took a chance, and here I am, passionate and highly trained in NLP, Time Line Therapy® and Hypnosis, encouraged by the amazing successes of my clients, willing to throw myself on my sword in an attempt to transfer an understanding of the value and effectiveness of this work to people I have never met, in the space of a few short paragraphs.
 Yes it Works!
To make it easier for us and so you don't have to take our word for it, we have added a couple of testimonials and some links to the end of this message for you to browse through.
 A Bit About Us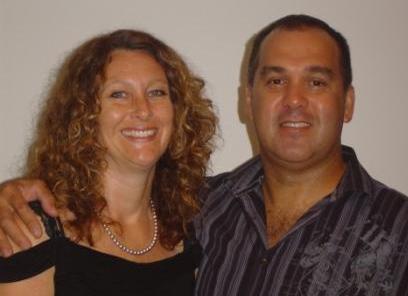 Wayne and Karen have trained closely with the Tad James Company in Sydney.
Tad and Adriana are internationally acclaimed as world leaders in NLP and Tad is the creator of Time Line Therapy®.
Wayne and Karen travelled extensively together and lived in France, England, New Zealand, Melbourne, Sydney and now on the Sunshine Coast in Queensland and speak French. Karen also spent 8 years in West Africa prior to meeting Wayne.
They have both individually and as a couple, consistently demonstrated in their lives their willingness to take a leap of faith and move outside of their comfort zones. Both are both deeply committed to supporting others on their journey of growth and discovery and so find themselves naturally drawn to coaching and are now in the excellent position of being able to offer a dynamic and powerful trainingthat assists people to discover their own hidden resources and abilities and step back into their own personal power.
Our intention is to share as much of our expertise as possible in a fun, informal and information packed workshop. Still interested?
Here are the details:
Who's The Boss of You?
Your investment: 80 Euros
Our guarantee : 
100% informative & fun day!
 Secure your place NOW!
For more information email: admin@powerfulpositivepeople.com
or phone Wayne: (+61) 403 957 656
LOOKING FORWARD TO SEEING YOU THERE!
Find out more on the following web links :
Rising Stars Web Radio Interview - Karen Clarke
Happy Mind Formula - Teleseminar Series
NLP in Business -  Red Hot Events & Seminars
NLP in Business Video Interview
Powerful Positive People - Website
Powerful Positive People - YouTube Channel
TESTIMONIALS
 Lisa Rubenstein from the HP Institute
---
Damien's Testimonial
I always thought that I had a grip on life and how I "felt" and "thought", however in recent years and after several failed relationships, it came apparent to me particularly after my most recent break-up that I was not in control. I was lost, lonely and frustrated that my life was dull. Fortunately, my low ebb drew me to Karen and a new chapter to my life.
It was quite incredible how my life had change even after the first session of NLP. Immediately there was a repaired link to my inner self....GOD, I didn't even know I had an" inner self".... Things became clear to me and all of a sudden my life was more than just two dimensional.
When & Where
Les Arnauds
Chemin de Pont Rout
13090 Aix En Provence
France


Tuesday, May 8, 2012 from 10:00 AM to 5:00 PM (CEST)
Add to my calendar