Description
Scholars are conducting illuminating and important research into biological differences between men and women, but increasingly find that their contributions aren't welcome in academia. This has important implications for society and for academic freedom.
That's why Independent Women's Forum has put together a panel of experts who aren't afraid to take on controversial subjects, for this event entitled, Who's Afraid of Sex Differences?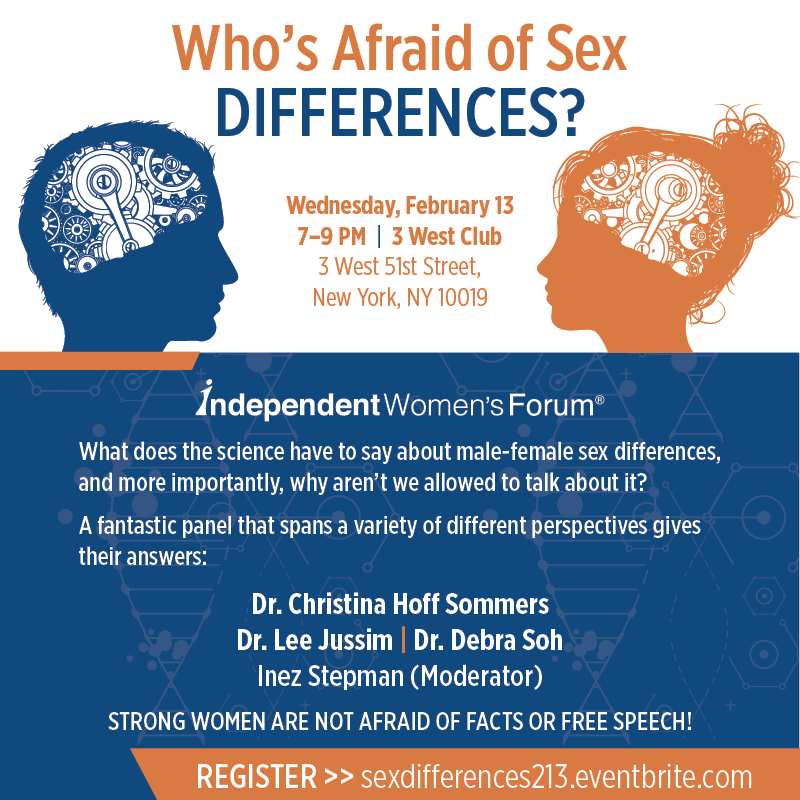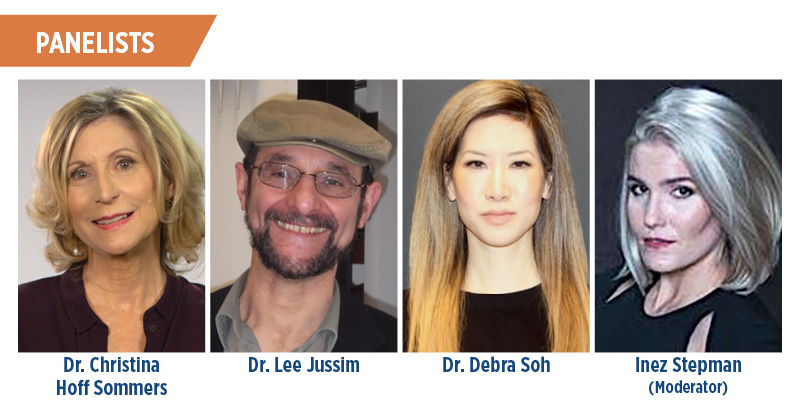 Dr. Christina Hoff Sommers is a resident scholar at the American Enterprise Institute (AEI), where she studies the politics of gender and feminism, as well as free expression, due process, and the preservation of liberty in the academy. Before joining AEI, Dr. Sommers was a philosophy professor at Clark University. She is best known for her defense of classical liberal feminism and her critique of gender feminism. Her books include "Freedom Feminism—Its Surprising History and Why It Matters Today" (AEI, 2013); "One Nation Under Therapy" (St. Martin's Press, 2005), coauthored with Sally Satel; "The War Against Boys" (Simon & Schuster, 2001 and 2013), which was named a New York Times Notable Book of the Year in 2001; and "Who Stole Feminism?" (Simon & Schuster, 1995). Her textbook, "Vice and Virtue in Everyday Life," currently in its ninth edition, is a bestseller in college ethicsHer writings have appeared in publications such as The Atlantic, The New York Times, and The Washington Post. In addition to frequent radio and television appearances, Dr. Sommers is the host of the popular video blog, The Factual Feminist. Dr. Sommers has a Ph.D. in philosophy from Brandeis University and a B.A. from New York University.
Lee Jussim, Ph.D., is a professor of social psychology at Rutgers University and was a Fellow and Consulting Scholar at the Center for Advanced Study in the Behavioral Sciences at Stanford University (2013-15). He has served as chair of the Psychology Department at Rutgers University. He received his Ph.D. from Michigan in 1987, and has been at Rutgers ever since. He has received the Gordon Allport Intergroup Relations Prize, and the APA Early Career Award for Distinguished Contributions to Psychology. He has published numerous articles and chapters and edited several books on social perception, accuracy, self-fulfilling prophecies, and stereotypes. His most recent book, Social Perception and Social Reality: Why Accuracy Dominates Bias and Self-Fulfilling Prophecy, ties that work together to demonstrate that people are far more reasonable and rational, and their judgments are typically far more accurate than social psychological conventional wisdom usually acknowledges.
Dr. Debra Soh is a Canadian science columnist, political commentator, and former sex researcher. holds a Ph.D. in psychology from York University in Toronto. Her dissertation was titled Functional and Structural Neuroimaging of Paraphilic Hypersexuality in Men.
Inez Stepman, Moderator, is a senior policy analyst at the Independent Women's Forum. She has worked in education policy for seven years, and prior to joining IWF was the Director of Education and Workforce Development at the American Legislative Exchange Council. Stepman's research focuses on educational freedom, school choice, and the cultural impact of empowering parents with control over their children's educations.
Stepman is the author of numerous policy papers, including the annually-compiled Report Card on American Education, which ranks the states across six aspects of education policy. Her thoughts on education policy have been published in numerous outlets, such as Washington Examiner, Orange County Register, The Hill, and others, and she frequently testifies as an expert in state legislatures across the country.
She also a senior contributor to The Federalist, where she writes on subjects ranging from feminism to fashion, and the Thursday editor of BRIGHT, a women's daily newsletter.
Inez is a proud first-generation American. She holds a B.A. in Philosophy from the University of California, San Diego, and a J.D. from the University of Virginia School of Law. She lives with her husband, puggle, and haughty cat Thaddeus Kosciuszko in Washington, D.C.
Light bites and libations will be served.
For media inquires, please contact press@iwf.org
For questions, please contact events@iwf.org