Description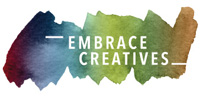 Are you interested in selling your art, designs or product in the wholesale market but are unsure how? Who do you ask?
Embrace Creatives and Silver Lining Productions present an hour to chat with both founders about wholesale for Artists, Designers and Fine Craft Artists.
RSVP here and we'll send you the group call link.
For wholesale showroom information: https://embracecreatives.com/2018/11/27/embrace-creatives-wholesale-showroom-experience/