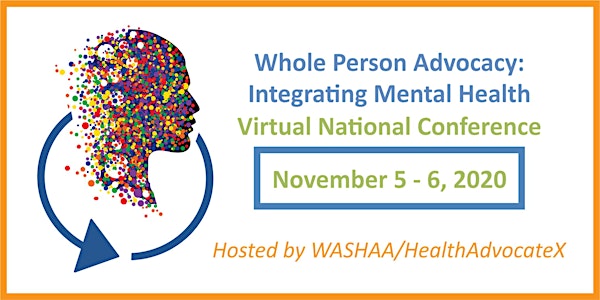 Whole Person Advocacy: Integrating Mental Health
WASHAA 8th Annual Conference
Refund Policy
Contact the organizer to request a refund.
About this event
Important!
Due to high demand, the National Networking Meeting is sold out! Please be aware when purchasing event tickets and CEUs as slots are already filled.
Whole Person Advocacy: Integrating Mental Health
Mental and behavioral health issues plague our society, but it wasn't until recently that research has proven that including mental health management into clinical care can improve health outcomes and save money. What does this mean for patient care? Many states have a goal of integrating mental health into primary care, but is this really happening? The WASHAA 8th Annual Conference will explore innovative health care models and programs that show us how integrative health strategies can heal the whole person.
While we will be meeting in a virtual environment, please plan to join us on November 6th for a whole day of learning, engaging with our community and practicing techniques in an interactive and fun way. On November 5th, there will be advocate-specific pre-events.
Agenda Topics Include:
Trauma Informed Care
Mental Health Integration: Barriers & Solutions
Tools for Health, Wellbeing, and Resilience: Before, During and After COVID-19
Presentations from the Experts:
Our Conference Has Been Approved for Up to 11 CEUs**
NASW WA State Chaper: Licensed Social Workers, ​​Licensed Marriage & Family Therapists, Licensed Mental Health Counselors
This program complies with DOH WAC 246-843-130 for continuing education for Nursing Home Administrators
This program complies with DOH WAC 246-915-085 for continuing education for Physical Therapists
This program complies with DOH WAC 246-809-610 for Licensed Mental Health
For Long Term Care Workers [CNA/HCA]
For Guardians in accordance with Regulation 207, AOC Staff has approved this program
BCPA (Board Certified Patient Advocate)
**1 CE/CEU will only be awarded for LIVE attendance of the Session 2: The National Advocate Networking Event and for certain CE/CEUs, successfully passing the quiz included in the CE/CEU survey.
NOTE: To qualify for certain CE/CEUs+, you will need to attend the conference on the day the sessions are first available.
+ Guardians must attend sessions on the day they are released/scheduled and complete the survey and successfully pass the quiz by Nov 8; Other credentials that must complete the session/survey and successfully pass the quiz by Nov 8 include: LSW, LMFT, MHC, NHA, PT, LMH, CAN, HCA. If you have questions, please contact info@washaa.org.
Wondering if you should attend? Here's what some participants said about last year's conference:
"The 2019 WASHAA annual conference was one of the best learning experiences I have encountered in these last ten years."
"Bravo to everyone on the WASHAA team for such a top-notch line up this year, on a timely topic. The entire event was great."
"What an incredible array of talent, passion, compassion and intelligence! I was gobsmacked!"
"Thank you for a thoughtful topic and a most relevant speaker line-up. I learned a lot and I returned to my office believing, once again, that I can help make a difference."
Check our Conference Event Page for updates!
Conference FAQ
Q. If I register for the conference but cannot attend all the sessions, will I be able to listen/get the CE after the conference is over?
A. Yes. Anyone who registers for the conference will have access to all recorded sessions, all contacts and all recorded content hosted during the conference for at least three months through the Whova app.
Q. Will WASHAA be offering conference content after the conference is completed?
A. Yes. All sessions that are recorded for CEs (10) will be available on our website at a later date for CE purchase. However, networking with conference attendees, sponsors, exhibitors and other content hosted on the Whova APP will only be available to those who purchase a conference ticket before November 5.