Whole Hog Harvest

Sunday, November 6, 2016 at 10:00 AM

-

Sunday, January 8, 2017 at 5:00 PM (EST)
Event Details
Pastured Organic Whole Hogs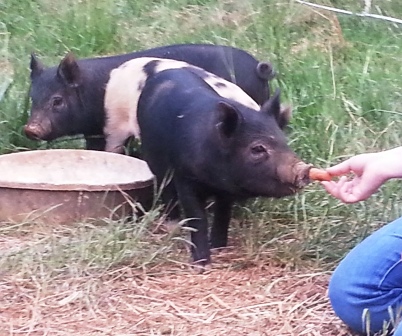 The hogs are scheduled for processing January 10th at the USDA processor in Mt. Airy, MD. 
Humanely raised on rotational pasture and finished on acorns in our woodlot, they remain free of antibiotics or pesticides and are augmented with locally milled non-GMO & Soy-free grains - sold here as whole hogs "on the hoof".

Pastured pork is all about letting the pigs be pigs.  It's a return to the old way of raising hogs, the way it was done in our grandparents day: these happy animals convert high quality forage into top quality meat.  It'll be no surprise to our nose-to-tail devotees and adventurous cooks that purchasing a whole hog gives you the opportunity to have access to all parts of the animal because you'll have a direct dialogue with us as the farmer as well as with the butcher to select exactly the cuts and other parts you want from your hog.

These happy hogs are 75% Berkshire and 25% Kune Kune and they reach their market weight slowly and naturally as they feast on fresh greens and woodlot acorns augmented by locally milled GMO & Soy-free grains.  We offer them in a very limited quantity twice a year for harvest in March and November.

Berkshire pork is considered the "Kobe beef" of the pork world, with tender, dark, juicy meat that has high marbling and intense flavors.  Kunekune are a lovely rare heritage breed bringing a meat that is red and amazingly luscious with a generous fat and meat ratio.  Our efforts are to produce a quality, marbled meat as well as a good amount of usable fat that is that is high in omega 3's, vitamins, minerals.
How does this hog ordering thing work?
You place your orders here for our whole hogs and we'll take a deposit to hold (and feed and love) the pig until harvest in November.   Due to Maryland legalities, you'll pay us for the live weight of the pig, we transport your live pig to our butcher,  then you pay a separate fee to the butcher at the time of pick up.  The butcher's price will depend on the type of cuts you order and any curing you request via the butchershops cut-sheet (we'll help you with that part).

Our hogs will typically weigh approximately 225 lbs "on the hoof" (live weight). The dressed (or hanging weight) will be about 70% of the live weight. Therefore, you can expect a 225 lbs hog to yield about 160 lbs of pork; this percentage includes the fat and soup bones, etc.

You may decide to split it with someone else, but we'll need one person to be responsible for the entire order. Whole hogs are $450; a non-refundable $100 deposit is due when you place your order; the balance of $350 is due when we transport your hog to the butcher.  You'll complete a cut sheet for the butcher and your price to him will depend on the cuts and curing you request.  
When & Where

Moose Manor Farms
Walters Landing
Nanjemoy, MD 20662


Sunday, November 6, 2016 at 10:00 AM

-

Sunday, January 8, 2017 at 5:00 PM (EST)
Add to my calendar
Organizer
Moose Manor Farms is woman-veteran owned small producer of organic, pastured livestock which provide meat and eggs.  We're a conservation breeder of rare domestic poultry and a member of the Society for the Preservation of Poultry Antiquities. Additionally, we raise French muscovy, turkeys, and hogs.  Located south of Washington, DC in Southern Maryland we have become known within the region for our high quality standards, humane, environmentally sustainable practices, and customer value.  Find us online at www.MooseManorFarms.com.