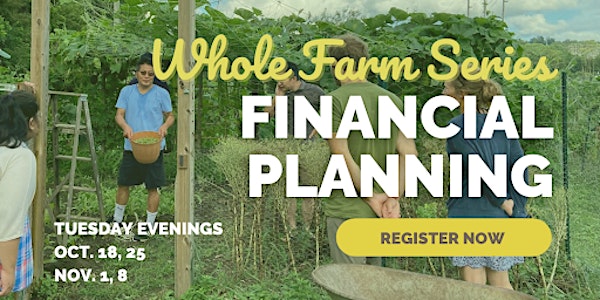 Whole Farm Financial Planning 4-Part Series
Whole Farm Budgeting, Cash Flow, and Budgeting for Investments
Refund Policy
Contact the organizer to request a refund.
Eventbrite's fee is nonrefundable.
About this event
Join Faith Gilbert of Letterbox Farm for a 4-part workshop series on financial management for farmers! Virtual sessions will be held weekly on Tuesdays from 6-7:30 pm, October 18th - November 8th. You must register for and attend all sessions. This series will be virtual on Zoom.
Session 1: Context & Enterprise Budgeting (October 18th)
This session covers the basics of what farm financial management is all about, then dives into enterprise budgeting (creating a budget for each significant crop or product on your farm). Participants will be set up with a budget and recordkeeping template to create their own enterprise budgets outside of class.
Session 2: Whole Farm Budgeting, Cash Flow, and Budgeting for Investments (October 25th)
After reviewing last session's homework, we will weave together multiple enterprise budgets into a "whole farm budget" or general budget for your whole business, including general business or "overhead" costs. We will also discuss cash flow planning, or planning for how money will enter and leave your bank accounts over a year. Lastly, we will introduce a simple budget for making investments or applying for loans.
**Office hours available between sessions 2 and 3 (a total of 6, 20 minute time slots)**
Session 3: Financial Statements: Income Statement & Balance Sheet (November 1st)
In this session, we will switch gears from looking forward (projections) to looking backward (historical records, or "actuals"). We'll learn to generate the two main financial statements used to evaluate a business and to apply for grants and loans.
Session 4: Record keeping (November 8th)
Good budgets and financial statements require good records. In this session, we'll look at basic bookkeeping (financial recordkeeping) practices, and discuss production and sales records.
Pricing:
Regular price – $80
Discounted price – $50 (use code FARM22)
Limited scholarships are available on a first-come, first-served basis. To apply for a scholarship, please download and complete this application and email it to Katie Lloyd at katie@ruralaction.org.