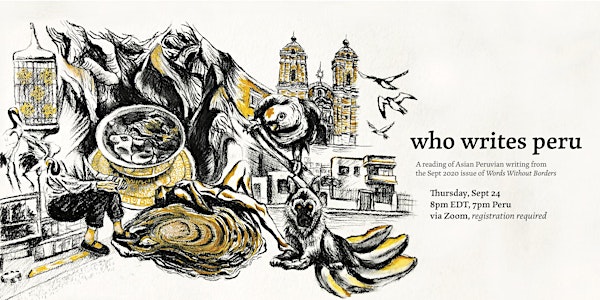 Who Writes Peru: A Bilingual Reading of Asian Peruvian Writers
A bilingual reading of contemporary Asian Peruvian writers from the September 2020 issue of Words Without Borders
About this event
Join Words Without Borders to celebrate the launch of our September 2020 issue, "Who Writes Peru: Asian Peruvian Writers," hosted by guest editor Jennifer Shyue. The evening will feature bilingual readings of poetry and prose by Doris Moromisato and translator Margaret Wright; Julia Wong Kcomt and translator Jennifer Shyue; Julio Villanueva Chang and translator Nicolás Medina Mora; Tilsa Otta and translator Jacob Steinberg; and Sui-Yun. Julie Hempel and Michelle Har Kim will also read their translations of Siu Kam Wen and the late poet José Watanabe, respectively.
Image: Victoria Liu
PLEASE NOTE THIS EVENT REQUIRES ADVANCE REGISTRATION, which you can do right here on Eventbrite. Upon registering, you will be signed up to receive the Zoom link thirty minutes prior to the event's start time.
---------------------------------------------------
Event Details:
Thursday, September 24, 2020, at 8PM EDT / 7PM Peru
This virtual event is free with advance registration.
Note: There will be close captioning for the English-language portion of the event, and an accessibility packet will be available.
---------------------------------------------------
More about our readers:
Jennifer Shyue is a translator from Spanish focusing on contemporary Cuban and Asian Peruvian writers. She has an MFA in literary translation from the University of Iowa and a BA in comparative literature from Princeton University, and was the recipient of a 2019 Fulbright grant to Peru. Her translations have appeared in The Offing, The Margins, and Shenandoah. She can be found on the web at shyue.co.
Doris Moromisato (Lima, 1962) is the daughter of Japanese immigrants to Peru from Okinawa. A poet, fiction writer, and essayist, she has published four books of poetry: Morada donde la luna perdió su palidez (1988), Chambala era un camino (1999), Diario de la mujer esponja (2004), and Paisaje terrestre (2007). She has also authored two books of crónicas: Okinawa. Un siglo en el Perú (2006) and Crónicas de mujeres nikkei (2019). In 2006, she was appointed Goodwill Ambassador for Okinawa. She is the former cultural director of the Peruvian Book Chamber and works at Kimochi Cultural Management, a space for innovation and creativity. She has been an activist in the women's movement since 1980.
Margaret Wright is a writer and translator from New Jersey. Her poems have appeared in The Brooklyn Review.
Julia Wong Kcomt was born into a Tusán (Chinese Peruvian) family in Chepén, Perú, in 1965. Her father was a well-known philanthropist in Macau, who founded a project in 1995 to create public libraries in open spaces like parks and gardens. She traveled from an early age, and her perceptions of country borders, different cultures, and diversity in ethnicity and religion became a strong motivation to write.
Julie Hempel is a translator from Spanish. Her primary interests are Mexican literature and works by Asian Peruvian writers. She has a PhD from the University of Michigan in Latin American literature and teaches at Austin College, where she is the director of the Center for Southwestern and Mexican Studies. She has translated works by Aurora Velasco, Carmen Villoro, Erik de Luna, and Siu Kam Wen.
Siu Kam Wen (Xiao Jinrong) was born in Zhongshan, Guangdong, China, in 1950, but grew up in Lima, Peru, where he learned to speak and write in Spanish. He has published the collections of short stories El tramo final, a landmark in the history of Peruvian literature; and La primera espada del imperio. He is also the author of several novels, including La estatua en el jardín; El furor de mis ardores; La vida no es una tómbola; El verano largo; and Viaje a Ítaca. Two of his books have been translated into Chinese and are awaiting publication in 2020. He has lived in Hawaii since 1985.
Julio Villanueva Chang is the founding editor of Etiqueta Negra, a nonfiction magazine in Spanish. He earned the Premio de Crónicas from the Inter American Press Association. He has published De Cerca Nadie es Normal, an anthology of profiles that he has written over the years, and Un Aficionado a las Tormentas, a selection of his articles. His texts have been translated into six languages and published in El País, Folha de S. Paulo, National Geographic, McSweeney's, The Believer, Reportagen, and Dan Du 单读. He teaches at the García Márquez Foundation for New Journalism and is a member of the board of Radioambulante.org. He was born in Peru and lives in Lima as though he were merely passing through.
Nicolás Medina Mora is a writer and translator. He lives in Mexico City, where he works as an editor at Revista Nexos.
Sui-Yun is the daughter of Chinese inmigrants from Chungzahn, Kuantong. Her published works include Cresciente (1977); Rosa fálica (1983); Cantos para el mendigo y el rey (1999); Soy un animal con el misterio de un ángel (2000); and Sueños de otorongo (2004). She also contributed to the anthology Cada vez que me ve el viento (2017).
Tilsa Otta (Lima, 1982) is a writer and video artist. She has published four books of poetry, one short story collection, one poetry book for children, and a comic book. In 2020 she published the novel Lxs niñxs de oro de la alquimia sexual. She also directs audiovisual pieces and gives workshops on poetic creation for children and adults. www.tilsaotta.com
Jacob Steinberg was born in Stony Brook, New York, in 1989. In Spanish, he has published the poetry collections Magulladón (Triana Editorial, 2012) and Ante ti se arrodilla mi silencio (Kodama Cartonera, 2013). As a translator, he has collaborated closely with Cecilia Pavón and Mario Bellatin, among others. He currently lives in Los Angeles, CA.
José Watanabe (1946–2007) is one of Peru's most celebrated poets. Along with critical articles, children's books, and screenplays (which include the film adaptation for Mario Vargas Llosa's La ciudad y los perros), Watanabe's oeuvre features seven original volumes of poetry. Among them are the award-winning Cosas del cuerpo (1999) and Banderas detrás de la niebla (2006). His rendition of Sophocles's Antígona comprises an eighth poetic work, whose performance by the radical theater troupe el Grupo Yuyachkani won Peru's National Human Rights Award in 2000. Watanabe is also an author of La memoria del ojo: cien años de presencia japonesa en el Perú (1999), a "photographic history" that shares moments of mundane life, abrupt loss, and the northward "relocation" of approximately eighteen hundred Japanese Peruvians to American internment camps in Texas during World War II.
Words Without Borders expands cultural understanding through the translation, publication, and promotion of vital international voices in literature. Visit our website at: https://www.wordswithoutborders.org/