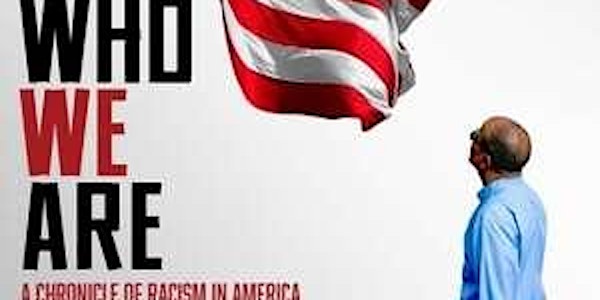 WHO WE ARE - Conrad Worrill Community Reparations Movie Fundraiser
Conrad Worrill Community Reparations Commission and N'COBRA Chicago Chapter Co-host - National Reparations Awareness Day Fundraiser Event
When and where
Location
Cinema Chatham, Powered by Emagine 210 West 87th Street Chicago, IL 60620
About this event
"Who We Are: A Chronicle of Racism in America" commentated by Jeffery Robinson Private Movie Screening co-hosted by N'COBRA Chicago Chapter and the Conrad Worrill Community Reparations Commission
Come out and enjoy an evening at the Chatham Emagine Theater on National Reparation Awareness Day, February 25, 2022, at 7:00pm as the Conrad Worrill Community Reparations Commision and N'COBRA Chicago Co-host a private screening of "Who We Are: A Chronicle of Racism in America".
The purpose of the evening fundraiser will allow the CWCRC to continue its work educating and organizing the community and elected officials toward creating, passing and funding reparatory proposals for local reparation efforts.
Watch the Movie Trailer: "Who We Are: A Chronicle of Racism in America"
Special Thank You to the Directors of the film Emily Kunstler & Sarah Kunstler, Sony Entertainment and Jeffery Robinson for giving us permission to show the film. As well as our Sponsors the Chatham Emagine Theater, Co-host N'COBRA Chicago Chapter, Alderman Roderick Sawyer, Alderman Stephanie Coleman (pending confirmation) and Alderman Michael Scott (pending confirmation).
All Guest will receive popcorn and a drink which is included with the purchase of their fundraiser ticket. VIP Guest and annual members will receive the same in additional to a Reparations T-shirt or Sweatshirt and annual membership.
Doors will open promptly at 6:30 pm. You should be in your seat no later than 7:00 pm. We will begin programming promptly at 7:15 pm CST.
Seating is provided on a first come first served basis. Seating is limited; therefore, it is suggested that you purchase your tickets in advance.
Check-In. A Guest list will be available upon arrival for this event. If you are not able to attend and want to transfer your ticket(s) a physical ticket must be in presented. Guest will not be permitted to attend the screening without a registered ticket. Please keep your tickets in a safe place.
Social Distancing and State Mandated Pandemic/COVID 19 related Laws will be strongly enforced. Everyone must wear a mask to attend. Proof of Vaccination must be presented.
This is an educational fundraiser hosted by a 501C3 organization. Please consult your tax advisor for tax deductibility. All sales are final. No refunds will be provided.
"Thank you everyone for your cooperation and support! We look forward to seeing you at the event."
FOR MORE INFORMATION
Call: Vetress at (773} 459-2018 or La Kisha at (312) 415-1689 for VIP Information or if you are interested in donating or becoming a sponsor.
Get Involved: If you are interested in volunteering for or becoming a member of the commission, please Sign Up Now.
Email Us: info@CWCRC.org
Visit Our Website: https://www.CWCRC.org/
Like and Follow Us on Facebook:
#CWCRC #ChicagoReparations #BlackHistory #BlackHistoryMonth #WhoWeAre #DrWillieWilson #ConradWorrill #NCOBRA #AFewGreatWomen