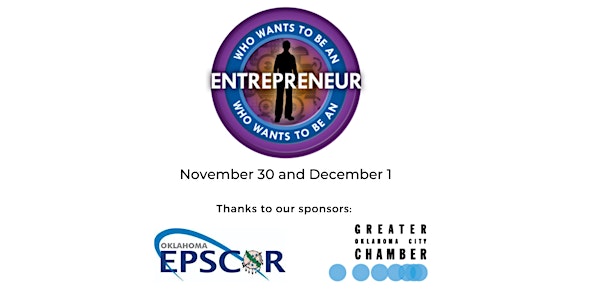 Who Wants To Be an Entrepreneur
Virtual workshops for Oklahoma college students to learn tips and tricks to writing a business plan and pitching a startup idea.
About this event
Who Wants to be an Entrepreneur? (WWTB) annual event is hosted by i2E, Inc. to officially kick off the Love's Entrepreneur's Cup collegiate business plan competition.
Please join us at one of the two workshops to learn tips, tricks, and strategies for developing your startup business idea. Participants will learn details about the upcoming Love's Entrepreneur's Cup competition and key elements involved in starting a business, including how to write a business plan; what investors are looking for in an entrepreneur; and how to successfully present a plan to investors.
Workshop dates (please register for one session):
Wednesday, November 30th - Small Business Session, 1 pm - 4 pm
Thursday, December 1st - High Growth Session, 1 pm - 4 pm
Note: Both workshops are the same, but one is for the High Growth Division and the other for Small Business Division. If students cannot attend the Small Business Division workshop, they could still go to the High Growth workshop and vice versa. This event is open to Oklahoma college students and faculty.
Agenda and Speakers:
Love's Entrepreneur's Cup Competition overview - Srijita Ghosh, i2E
Writing The Business Plan - Srijita Ghosh, i2E
Founder/Love's Cup Alumni presentations - Kinsey Bohan, founder of Pampered Paw (Small Business) Saravan Kumar, founder of MaxQ (High Growth)
Business Plan Financials - Kevin Moore, Spur Capital Partners
How to Pitch to Investors - Michael Rohleder, Plains Venture
If you have any questions, please contact Srijita Ghosh at sghosh@i2e.org.