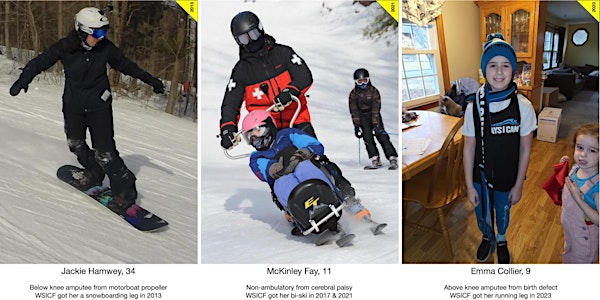 Who Says I Can't Foundation Fundraiser
A fun family fundraiser to help us help people who have become disabled get back into sports to regain their self-esteem and health
By Who Says I Can't Foundation
Date and time
Friday, June 9 · 5 - 10pm EDT
Location
The Wayside Inn 72 Wayside Inn Rd Sudbury, MA 01776
About this event
Emma, who is 9, was born without her right leg. In the photo you see her in her walking leg. But Emma desperately wants to run. A running leg costs $15,000, insurance doesn't help and her parents are tapped because a growing girl keeps needing new legs . Help us help her get running. Come to our annual fundraiser to meet Emma and her family in person and see her showing off her shiny new running leg.
Please consider a donation "ticket" if you live far away or just can't make it.
There will be both a silent and live auction and a 50:50 raffle to benefit the Who Says I Can't Foundation so we can help the next child in need. This is our major fundraiser of the year and our goal is to raise $25,000 which will enable us to help two or three kids next year. Remember to bring your kids (under 12 free). They have a great time and we love to see them. Click "Get tickets" for the event or to make a donation.
This is a beautiful venue outdoors under a tent, with great food, a wonderful live band, a cash bar, and a surprise guest. We look forward to seeing you.
— Jothy Rosenberg, Carole Hohl, Joanna & Matt Cyr
Tickets available:
Admission $45 ($50 at the door) kids under 12 free
Donation (if you live far away or just can't make it to the event)
We are an IRS 501(c)(3) public charity. Tax id #46-4750676
About the organizer
The Who Says I Can't Foundation is a non-profit, 501(c)(3) charity, addressing the psychological and physical impacts of having a disability by focusing on the restoration of self-esteem. Helping everyone say "Who Says I Can't" thrive? Who Says I Can't Foundation is working hard to help people who are, or suddenly become disabled.  We strongly believe that if we can provide people with the adaptive equipment and coaching necessary to excel in a sport or activity, we can restore their self-esteem.
While we have already made a positive impact on many people's lives, we need your help to continue making a difference.