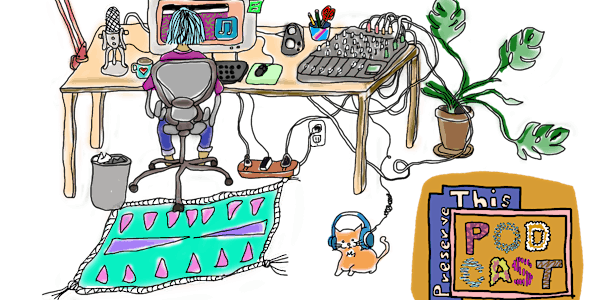 Who saves our stories for the future? A Preserve This Podcast Launch Party!
Location
METRO
599 11th Ave
8th Floor
New York, NY 10036
Description
Who saves our stories for the future? A Preserve This Podcast Launch Party!


Come celebrate the launch of the Preserve This Podcast podcast! Preserve This Podcast is a campaign to preserve podcasts against the threat of digital decay. Episode 1 of the podcast drops on March 21. In celebration, the Metropolitan New York Library Council is hosting a party. There will be food, drinks, zines, dead disc commercials, a disco ball, preserves by Anarchy in a Jar, and a panel discussion about the stories of our future -- and what we need to do to preserve them.


Attendance is free and open to the public. There is limited space, so please RSVP.

Schedule of events:
6:00 Doors open
7:00 Panel: Who saves our stories for the future?
7:30 PARTY!
9:00 Go home and ponder the future
About our panelists:
Zaheer Ali is the Oral Historian at Brooklyn Historical Society, a nationally recognized urban history center founded in 1863, dedicated to preserving and encouraging the study of the history of Brooklyn, New York. As Oral Historian, he record, collect, and curate the lived histories, testimonies, memoirs, and narrations of Brooklynites from all walks of life. He recently co-directed a project that built an online portal for Brooklyn Historical Society's oral history collections. Currently, he directs Muslims in Brooklyn, a two-year multi-faceted public history project designed to amplify the stories of Brooklyn's Muslim communities and contextualize those stories in the broader history of Brooklyn. He also co-hosts and co-produces Flatbush + Main, Brooklyn Historical Society's award-winning monthly podcast, now in its third year of exploring Brooklyn's past and present through scholarly discussions, historical archives, and oral histories. In addition his an adjunct lecturer at New York University, where he has taught courses on United States history, Malcolm X, and Prince Rogers Nelson.
Mark Pagán is an award-winning film and podcast producer, writer, and educator. His work and performances have been shown at festivals and shows worldwide including Slamdance Film Festival, Arizona International Film Festival, Panoply's Family Ghosts, North Carolina Comedy Arts Festival, Charleston Comedy Festival, RISK!, The Moth, and Story Collider. He currently manages the Google Podcasts creator program at PRX and produces and hosts the award-winning podcast, Other Men Need Help.
Sam Riddell [pronouns: she/her] is a documentary videographer, editor, and podcast producer from Queens, New York. Her work centers on sexual health, Black feminism, the African Diaspora, and social justice. Sam is the Principal Host of the queer Black feminist focused sexuality podcast Inner Hoe Uprising. She has also produced work for media outlets like Inverse.com, Democracy Now! and Black & Sexy TV.
Natalie Milbrodt leads Queens Library's Metadata Services division, responsible for the system's cataloging and digitization efforts. In 2010, Milbrodt developed the Queens Memory Project on behalf of Queens College, CUNY and Queens Library. Queens Memory collects oral histories, photographs and other mementos from residents at public events and exhibits them alongside selections from the library's archives on the project's website, QueensMemory.org. The program was recognized in 2012 by the Association for Library Collections & Technical Services with an Outstanding Collaboration Citation, and in 2014 by the Archivists Round Table of Metropolitan New York with an Educational Use of Archives Award.  Dozens of libraries and other cultural heritage organizations have hosted Queens Memory events where neighbors can come to share stories and mementos for inclusion in the Queens Memory digital archives. Milbrodt graduated in 2000 from Michigan State University with a BA in Interdisciplinary Humanities and a Specialization in Film Studies. Before joining the library profession, she worked for film production, design and marketing firms in both creative and management roles. Milbrodt serves on the Oral History Association's Metadata Task Force and as an advisory board member for New York State Historical Records, Global Grand Central, and Wikitongues.

Laena launched Anarchy in a Jar in 2009, embracing a revived demand for fresh, local, creative food. There will be taste testings, miso bread, and special jars of preserves for purchase.
We wish to provide a welcoming environment to visitors of all abilities. Please let us know if you require ability assistance by contacting events@metro.org in advance of this event.


Come back and experience the very first Preserve This Podcast interactive workshop after partying and pondering the future! It's free, but space is limited, so please RSVP.