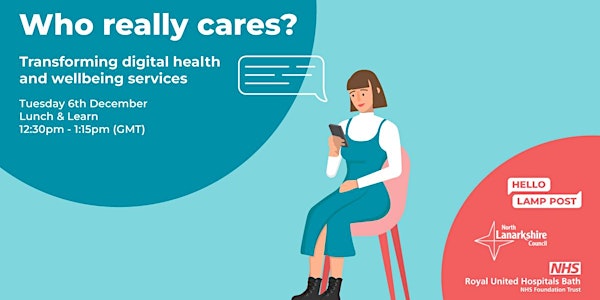 Who Really Cares? Transforming Digital Health and Wellbeing Services
A free webinar exploring how technology is revolutionising digital healthcare and wellbeing services
About this event
Hello Lamp Post brings to you a digital health and wellness webinar, where they'll be joined by two public sector panellists, North Lanarkshire Council and NHS Royal United Hospitals Bath.
💡 Attendees will find out:
How technology can improve public healthcare
The impact of community engagement in delivering effective wellbeing services
The benefits to the public sector in adopting new technologies
How to reach more people in your community, offering them 24/7 access to resources, services and advice
How automating surveys/ feedback gathering (e.g. NHS Friends & Family Test) can save your staff and organisation time and money
The value of using early prevention tools to support members of your community that are at risk
👋 Meet the panellists:
Stephen Penman, North Lanarkshire Council
Hello Lamp Post is working with North Lanarkshire Council to support its community with mental wellbeing by sharing resources and advice.
Stephen Penman is the Head of Strategic Communication at North Lanarkshire Council, responsible for campaigns, media relations, digital media and internal communication. In addition, he is responsible for community partnerships. He is a member of the corporate management team at North Lanarkshire, Scotland's fourth-largest local authority serving 350,000 residents.
Stephen is also a former chair of the National Communications Group (Scotland) and a former executive board member of LG Communications.
Jo Miller RGN MSc, NHS Royal United Hospitals Bath
Hello Lamp Post is supporting NHS Royal United Hospitals Bath by automating its Friends & Family test and providing patients with a simple, digital way of sharing feedback on their experience.
Jo Miller is the Chief Nursing Information Officer at NHS Royal United Hospital Bath. She has a wealth of knowledge on acute and primary care, in addition to her previous experience in patient safety and transformation.
Currently, Jo is the chair for the nursing specialist interest group at Oracle Cerner. She is actively involved in a number of projects at the NHS Royal United Hospitals Bath.
💬 There will also be an opportunity to ask questions to Hello Lamp Post or any of our panellists.
✅ Sign up today so you don't miss out on a space!