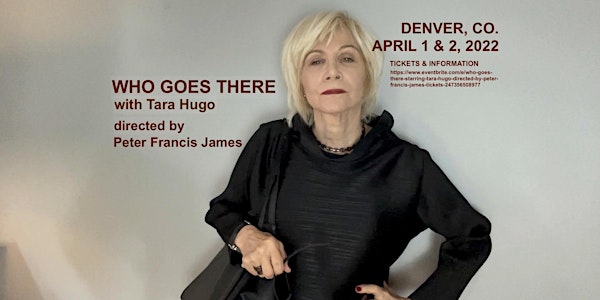 WHO GOES THERE starring Tara Hugo. Directed by Peter Francis James.
TARA HUGO (Best One Woman Show Award, NY United Solo Fest '21) brings her show to Denver Apr1/ 2, 2022. Fred Glick & Donna Bryson sponsor.
When and where
Location
BOILER HOUSE 3850 York Street Denver, CO 80205
Refund Policy
Contact the organizer to request a refund.
Eventbrite's fee is nonrefundable.
About this event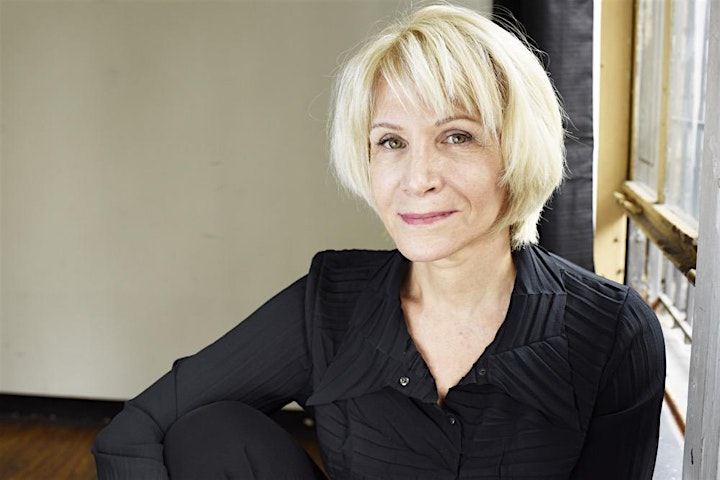 Updated March 25, 2022
It's almost time for WHO GOES THERE! We look forward to welcoming you April 1st and 2nd. Please find some GETTING THERE information:
House opens at 7:20pm for the 8:00pm concert. No latecomers please.
Running time for the concert: Approx 65 minutes without an intermission.
Not for young audiences. Not advised for children under 8 years.
TO ALL TICKET HOLDERS:
MAPS & INFO: Along with the map for directions to the Boiler House that you find on the Eventbrite page for Who Goes There, please find additional information to aid your arrival, including Fred's Map, Parking and Covid Protocols.
ENTRANCE: 3840 York Street, Denver, CO 80205: Please enter the garden at the purple arrow (Fred's Map) and proceed to the glass doors off the patio. There's not a lobby attached to the entrance you will use at the Boiler House. The glass doors off the patio open directly on to audience seating and are in close proximity to the performance area. For this reason, latecomers will not be admitted unless we find a way to interrupt the performance. Yikes! We really don't want to delay the 8pm start time or stop the show, so we ask that you please leave ample time to locate the venue, park, find the correct entrance, and find a seat. The doors open at 7.20pm for general seating.
If your plans have changed and you can't attend, kindly let us know.
PARKING: ( Fred's Map) Parking anywhere in the green areas is fine and free.
COVID-19 GUIDELINES: Masks are required for this venue. Though new guidance from local, state, and federal agencies state that proof of COVID-19 vaccinations or negative tests to attend indoor seated performances are not required (a decision made in response to low positivity levels and with guidance from local, state and federal officials) other protocols are at the discretion of venue owners. Fred Glick and Donna Bryson, owners of the Boiler House, ask that guests wear masks for extra precaution and that if you are feeling unwell or running a fever, please do not attend.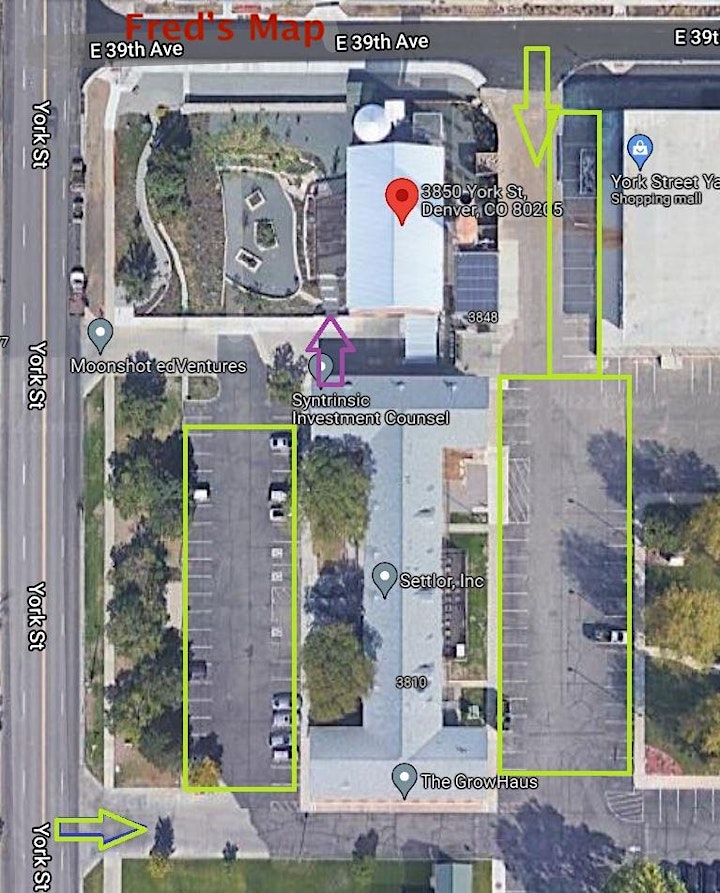 TARA HUGO PERFORMS HER SHOW "WHO GOES THERE" in DENVER, CO. APRIL 1 & 2, 2022 at 8pm. Written and devised by Hugo and directed by Peter Francis James, the show opened in New York City on Theatre Row at the United Solo Festival 2021 to sold out houses, and won the Best One Woman Show Award in November 2021. (David Pearl, piano. Annie Aqua, violin.)
Her own journey started as her Texas high school's Miss Southern Belle! - having come to the world as a descendant of abolitionists, slave owners, preachers, unwed catholic mothers, and a Jewish immigrant killed by the outlaw 'Black Jack' in New Mexico. Liberals, artists, musicians, atheists, evangelists, Trumpists, conspiracists: a divided family, in a divided country. Hugo traces the divide. Women reject tradition, LGBTQ come out, Christians marry Jews, whites marry blacks, many of those who joined the dance of diversity faced inevitable backlash — some disowned, some tolerated. Culled from the writings of her ancestors, among them, a Yankee soldier called the Missouri Poet Laureate, whose 1863 letter to his daughter reads, "...sing my poem…". 158 years later -- Tara sings it. Her insightful reminiscences, stories, and related songs are infused with a wonderful sense of humor -- and steeped in love. Her first solo performance at age 7, 'I'm An Old Cowhand'-- her last, Philip Glass's "Infinity"
"Connections: I started writing the piece during the pandemic and we opened in New York Autumn 2021. Director Peter Francis James and I attended the Royal Academy of Dramatic Art together in London. Peter is currently playing Florenz Ziegfeld in "Funny Girl" on Broadway, so Mr. Ziegfeld won't be joining us in Denver! But New York pianist David Pearl will be in Denver to accompany me in an eclectic program of stories and related music from country to Glass, jazz and original tunes and lyrics, (including two by my nephews, professional musicians Thane Isaac and Sam Quattlebaum). I met David in New York not long after I graduated RADA, introduced by his cousin, the Denver husband of my Denver cousin. A lot of Denver and a lot of cousins, including the sponsors: Fred Glick of Columbia Group LLP and Donna Bryson, journalist and author. And the piano has a connection. The music will be coming from the grand piano that once belonged to my Dad in the house where I grew up, in Amarillo, Texas."
tarahugo.com