WHO BELONGS? Immigrants, Refugees, Asylum Seekers in the 21st Century
Description
WHO BELONGS?
Immigrants, Refugees, Asylum Seekers in the 21st Century
"Far from the Land of a Hundred Thousand Welcomes, Melatu Uche Okorie shines a light into issues that for too long have been swept under the carpet" - Liam Thornton, School of Law Professor, University College Dublin.
An influx of immigrants is changing the face of Ireland, a country that has long been defined by its emigration experience.
Meanwhile, has the America that once embraced the "tired, poor, huddled masses" of immigrant groups, turned another corner into a land of borders and broken communities?
What factors determine national identity today?
Join us for a timely and thought-provoking event with readings, film clips and conversations about how Ireland and America treat new arrivals, and existing immigrant communities.
---
Nigerian born Melatu Uche Okorie, moved to Ireland in 2006. Her nuanced writing shines a light on the injustice of the direct provision system and on the racism experienced by migrant women living in Ireland. Melatu won the Metro Éireann Writing Award for her story 'Gathering Thoughts'. Her first book This Hostel Life was published this year.
Valerie Lapin, whose earlier film Shalom Ireland documented the Jewish community in Ireland, presents her new award-winning documentary The Long Ride about the historic 2003 Immigrant Workers Freedom Ride that sparked the birth of the new Civil Rights Movement for immigrant workers in the U.S. Valerie's filmmaking is inspired by her family's migration experiences in Russia, Ireland, England, Australia, South Africa and the U.S.
Cesar Díaz was working at San Jose Airport preparing meals when the September 11 attacks occured. A few days later, immigration officers showed up at his workplace, and he was suspended without pay. While fighting to get his job back (which he eventually did), Cesar took house cleaning jobs and was reminded of the year he spent homeless after emigrating from Mexico. Cesar joined the Immigrant Workers Freedom Ride in the hope of fixing a broken immigration system. Today, he is a Union Organizer fighting for rights on the job and in the political arena.
Yvonne Watterson fled her native Antrim in the 1980s due to relentless violence, hatred, and a general growing sense of hopelessness. Having taught in a divisive school system in Belfast, Watterson learned to encourage expression among students, which she continued to do in her role as a school principal in her adopted homeland of Phoenix, Arizona. Yvonne advocated for undocumented students lacking college funding due to immigration laws, and produced Documented Dreams, a collection of letters written by students. "Even in the Arizona desert, Watterson remembered the sound of Loyalist anthems and the smell of burning tires and the sight of the pope being burned in effigy. "I thought, 'Here we go again, segregating kids, putting kids on a list…" - New York Times
Éanlaí Cronin is a San Francisco Bay Area-based schoolteacher and memoirist. She runs writing groups and retreats for people in recovery from addiction, alcoholism, trauma and abuse. As a trauma survivor herself, Éanlaí attributes the experience of childhood abuse as a contributing factor to emigrating from Ireland to the U.S., where she made her own private asylum.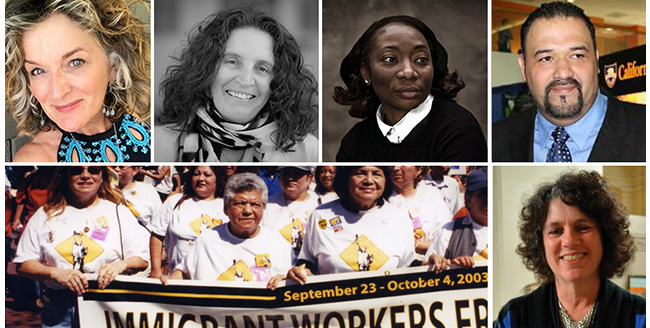 Organizer of WHO BELONGS? Immigrants, Refugees, Asylum Seekers in the 21st Century
The heart and soul of Irish culture comes to the Bay Area as 15 Irish writers and poets come from Ireland to join their local counterparts for the third annual Irish Arts & Writers Festival, Los Gatos Oct. 12-14. Additional programming in Berkeley, Oakland, San Francisco.
PLEASE HELP US SPREAD THE WORD @lgirishwriters #lgwritersfestival