Description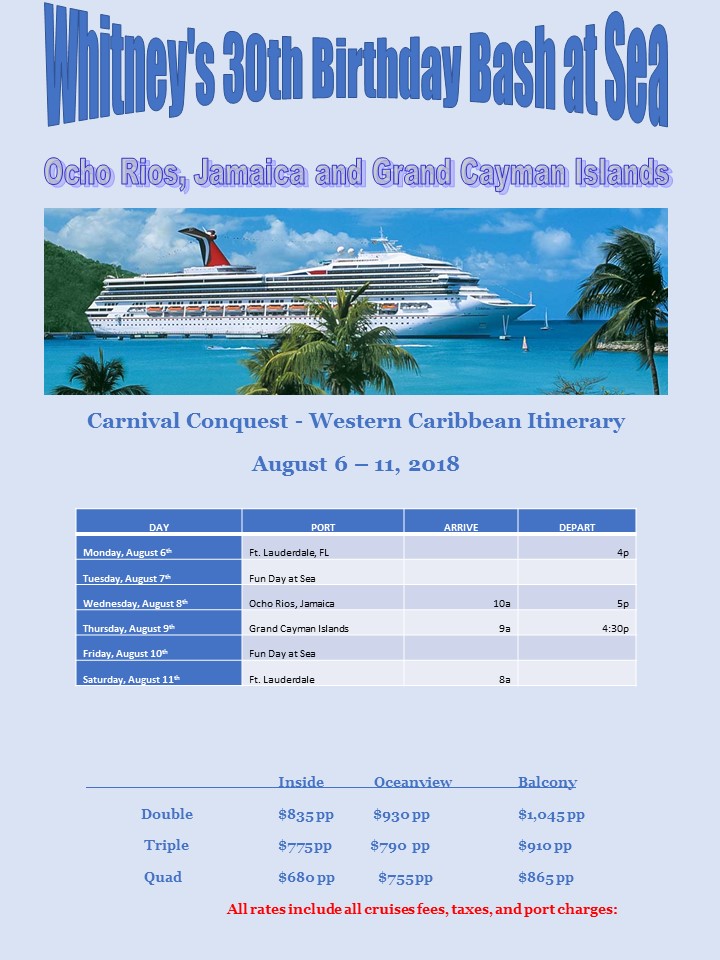 What's Included
Cost of Cruise, Port Taxes and Fees
All Meals, Tea, Lemonade, and Coffee - Plus 24hr Room Service
All Cruise Ship Entertainment and more
What's Not Included
Gratuities for Staff Members
Vacation Protection Insurance Travel Insurance
Transportation to Port of Fort Lauderdale, FL
Items of a Personal Nature
FAQs
A valid passport is highly recommended to travel to this destination.;
Making reservations for the 2018 "Whitney's 30th Birthday Bash at Sea" Event signifies your acceptance of our Terms and Conditions (T&C Outlined Below);
Your Registration Form must match the name listed on your valid Passport/Goverment issued identification you provide upon check-in at the resort;
Prices are subject to change without notice. Please confirm your reservation today to lock in your rate;
Monthly payments are required to keep your reservation current - Payments are due on the 15th of each month;
Late Payments will incur a $25 late fee on the 16th of the month;
All of your payments to The Travel Dynasty are non-refundable and non-transferrable;
Protect your investment - the unforseen can and will happen at the most inopportunte time. Therefore, we highly recommend vacation protection insurance;
Payments are accepted via the Eventbrite link only. Please see option below.
Refunds will not be given due to roommate abandonment. Please ensure your roommate confirmed his/her reservation and are making timely payments as required.
No payments will be accepted after May 15, 2018. If you are not paid in full by May 15, 2018. Your reservation will automatically cancel.