Whitney performs at Old Dutch Church in Kingston, NY on Sunday, October 31, 2021 with Renée Reed.
About this event
Tickets on-sale: Fri 8/13 10am
PROOF OF COMPLETION OF FULL COVID-19 VACCINATION (+2 WEEKS) REQUIRED FOR ENTRY. MASKS REQUIRED.
Whitney, Candid
Covers have long been an integral part of Whitney's ethos. Ever since the band first formed in a Chicago apartment in 2014, tackling songs by the Everly Brothers, Allen Toussaint, and more played an important part in the songwriting process for their breakthrough 2016 debut Light Upon The Lake. Since then, their takes on NRBQ's "Magnet" and Neil Young's "On the Way Home" have become live staples, an essential and communal part of their sets. Their love for the music that makes up their deepest influences has always been genuine and tangible.
Following their acclaimed sophomore 2019 album Forever Turned Around, Whitney have decided to return with a loving tribute to songs that have been formative and lasting to the entire band. Candid is a 10-song collection boasting covers of artists like Kelela, David Byrne, John Denver, SWV, and others but it's also a band challenging themselves to explore more than their musical comfort zone. "This could've been as simple as saying we really love these songs and we love our bandmates and making a covers record just felt right but it truly became an exploration into how we can evolve as a band going forward," says drummer and singer Julien Ehrlich.
Recorded in January and February of 2020 over multiple sessions at Treehouse Studios in Chicago and Flora Recording and Playback in Portland, Candid finally sees the full touring band in a recording studio together. "This is the first time we really saw what the live iteration of Whitney sounds like in a studio. It was a really celebratory vibe and everyone in the room fed off each other's energy," says guitarist Max Kakacek. It's the band's best reflection so far of their triumphant live show as most of these renditions were recorded live. Featuring keyboardist Malcolm Brown, bassist Josiah Marshall, trumpeter Will Miller, as well as guitarists Print Chouteau and Ziyad Asrar, the entire live unit is firing at all cylinders thanks to its tight-knit and road-tested relationship.
Their chemistry exudes throughout the tracklist but it's especially apparent when they open up the dynamic to their friends, like Katie Crutchfield of Waxahatchee joining John Denver's "Take Me Home, Country Roads." On the cover of the classic, Ehrlich and Crutchfield's voices merge for a joyous harmony over the chorus. Over eight days at Treehouse Studios, the band would show up in the morning, learn a song together, and choose an instrument, leading to a freewheeling and adventurous atmosphere. Their renditions of SWV's '90s R&B heater "Rain" or David Byrne and Brian Eno's 2008 track "Strange Overtones" prove this, as they stretch Whitney into new musical directions.
"We love these songs and all have an emotional connection to each one, but we really wanted to see if we could take the skeleton of each track and approach it in a way that felt new. We didn't want to recreate what any of these artists already did," says Kakacek. This is most evident on Candid opener "Bank Head," which tackles the sparse and hypnotic electronic single by Kelela. Ehrlich adds, "It's something we've never done before and probably a direction that we want to explore in our future albums" he continues, "We knew we couldn't beat these
songwriters at their own game. Instead, we wanted to find songs that were great at their core and could be reimagined."
At its core, Candid is a celebration of both the songs Whitney has adored throughout its formation and the band's evolving bond through years of relentless touring and an enduring friendship. "One thing we realized is how these songwriters could make amazing songs with so much simplicity. Taking these skeletons and working with this incredible material means we're keeping our chops and staying tight as a band," says Ehrlich. The LP is a sincere snapshot of their evolving and eclectic tastes that's imbued with a wholly inviting charm. It's Whitney at their most unvarnished and inventive but most importantly, it's a heartfelt tribute to the songwriters who've helped them most.
-Josh Terry May 4, 2020 Chicago, IL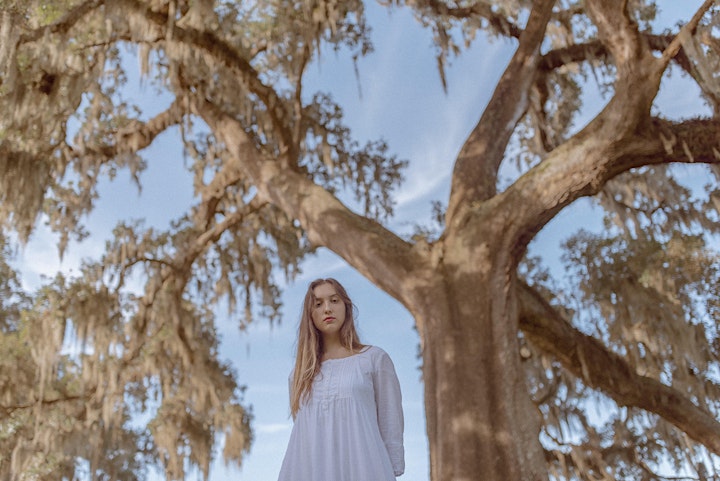 Renée Reed
Born and raised in southwest Louisiana, Renée Reed has always been unselfconsciously Cajun.
She grew up on the accordion-bending knee of her grandfather Harry Trahan, in the middle of countless jam sessions at the one-stop Cajun shop owned by her parents Lisa Trahan and Mitch Reed, and soaked in the storytelling of her great uncle, the folklorist Revon Reed and his infamous brothers from Mamou. She was surrounded by a litany of Cajun and Creole music legends, both backstage at the many festivals of Southwest Louisiana, and on the porch of her family home.
The cover of her debut single, "Out Loud," is a photo of her in traditional Mardi Gras costume. It's not the typical New Orleans Mardi Gras costume most folks are used to seeing, but a costume of the lesser known Courir de Mardi Gras, a rural celebration where there are no spectators and the participants' costumes more closely resemble French medieval attire.
But Renée also voraciously explored beyond her cultural roots. She dove into a broad spectrum of 60s folk and attended Richard Thompson's masterclass camp in the Catskills outside of Woodstock, New York. She developed an affinity for outsider art, animation, and puppetry. At around the same time Renée started writing her own songs she discovered Serge Gainsbourg, Françoise Hardy, and yé-yé (1960s French pop). What might seem incidental to some, encountering French in this way was a revelation to Renée and began to forge a bridge between her many influences.
In high school she was grouped with a few of her classmates for a project that evolved into a band in its own right called Shrugs. The band quickly became favorites on the house show circuit between Lafayette and New Orleans and traveled to Austin to play on several bills booked by the Austin indie/folk label Keeled Scales.
During the later days of the group, Renée enrolled in the University of Louisiana in pursuit of dual degrees in Traditional Music and French, and took a job working in the Archives of the Center for Louisiana Studies. She started experimenting with her own music and began playing solo sets and performing Cajun traditional songs as part of a trio.
She continued writing, and when she and her partner brought home a Tascam cassette four-track her only goal was to have a way to record something more tangible than cellphone voice memos of her songs. She recorded a few songs in early 2020 and those recordings opened the floodgates. They quickly went on to record a total of 15 songs, twelve of which are included on Renée's self-titled debut album. Some of them were finished or written from scratch during the recording sessions.
Two of those early songs, "Out Loud" and "Until Tomorrow" were released respectively in May and July 2020 to quick critical praise. Gorilla vs. Bear described her music as "an effortless, inspired union of the haunting folk music that Reed was raised on and a lilting, lost '60s French-pop gem" and The Wild Honey Pie used the words "folk gaze," "hazy," and "haunted daydream" to write about "Out Loud." She has drawn comparisons to Jessica Pratt, Mazzy Star, and Cate le Bon.
Renée's music has a mysterious quality with a strong melodic undertow. "Fast One" is one of the more buoyant songs on the album, but Renée says it's a song full of anger. There is that duality throughout.
Various Small Flames describes her music as "beguiling and magnetically dreamlike." Lyrics like the ones in "Your Seventh Moon" gently lead you, as if sleepwalking, through a darkened courtyard:
fell off the wire
like i never done before
human design
can fold into a ball
what's in the wine
i would like you to pour more
The songs on Renée's self-titled debut album chronicle a three-year period. These are songs about toxic relationships, seeing ghosts, ancestral baggage and blessings, and daydreaming about love.
Renée describes her music as dream-fi folk from the Cajun prairies, and this, her album, as "a whole document of me coming to terms with myself and embracing who I am without reserve."
There is a timelessness throughout these songs, a through-line to the past, and a deep mixing of influences into something hopeful and new:
for our bones, they belong to the country
and marigolds, we will hold in our hands
and we won't know what they don't understand
Performers
Date and time
Location
Refund policy