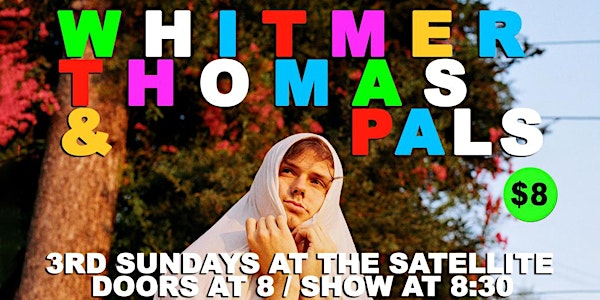 Whitmer Thomas & Pals with Nick Kroll, Mitra Jouhari, and Alyssa Stonoha
Presented by The Satellite & Naked Comedy
Location
The Satellite
1717 Silver Lake Blvd
Los Angeles, CA 90026
Whitmer Thomas hosts a night of comedy with his Pals! Join us Every Third Sunday of the Month!
About this event
Whitmer Thomas experiments with his unique brand of darkwave synth comedy and has his pals perform stand up and sing songs.
6/16 Lineup: Nick Kroll, Mitra Jouhari, Alyssa Stonoha, Matt Rogers, Anna Seregina and Kyle Mizono! Music from Ian Sweet and DJ euNiCE CHANG!
"This boy does some of the best crap I've seen in all my years of journalism."
-LA ROCK TIMES WEEKLY