WHITEOUT WEEKEND FEATURING THE 5TH ANNUAL ALL WHITE YACHT PARTY | RONDAYVU...
Description
SOLD OUT!!!
SOLD OUT!!!
SOLD OUT!!!
IMPORTANT ANNOUNCEMENT
Early bird yacht tickets will be sold at BB Sundays located at Cafe Iguanas (11am-7pm) *Every Sunday until we sell out. Get your tickets now! 786.970.0685 or 786.251.8904
For the past five years, we have received numerous request for us to plan additional events around the yacht party. So, by popular demand, this year we've got you covered! Warning, Do not wait! Get your tickets before your flight, your hotel and your flyest all white summertime attire. You're invited to join us for the 5th Annual All White Yacht Party | RonDAYvu Day Party Edition and the new "Whiteout Weekend", in South Florida. With the success and overwhelming support of the annual all white yacht party, this year, we have decided to create an entire weekend of exciting events. Introducing the first annual, "Whiteout Weekend"! This weekend will offer 3 days of entertaining, sophisticated fun, all while wearing your flyest, all white attire. Our loyal followers and newcomers alike, are sure to enjoy the new, sexy lineup of events that we are putting together in the hottest city around, the M.I.A.!
WHITEOUT WEEKEND

FEATURING THE

5TH ANNUAL ALL WHITE YACHT PARTY | RONDAYVU DAY PARTY EDITION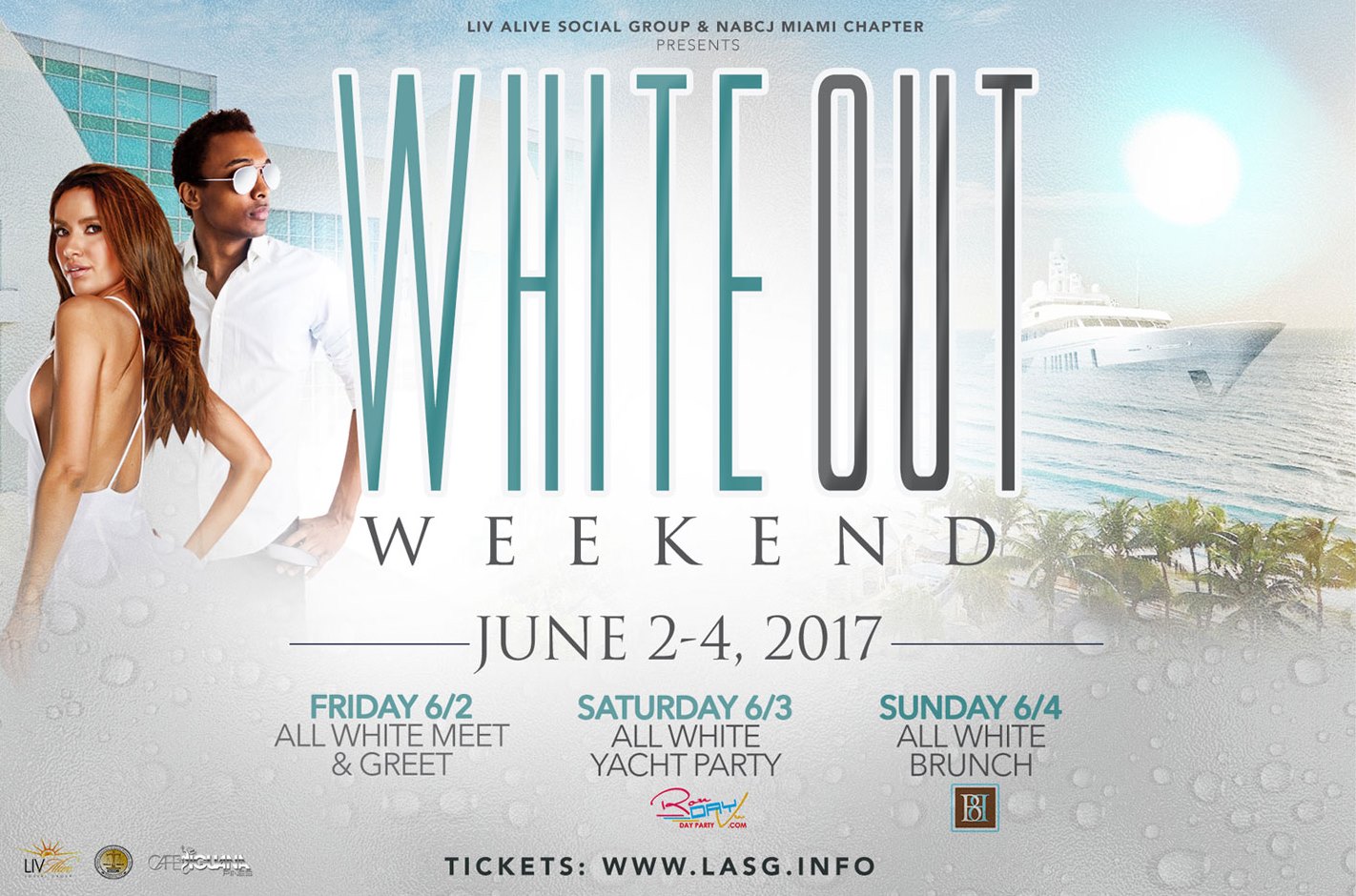 ALL WHITE MEET & GREET + AFTER PARTY
FRIDAY JUNE 2, 2017
8PM-2AM
BRIZA ON THE BAY @ THE DOUBLETREE HOTEL
1717 N BAYSHORE DR DOWNTOWN MIAMI, FL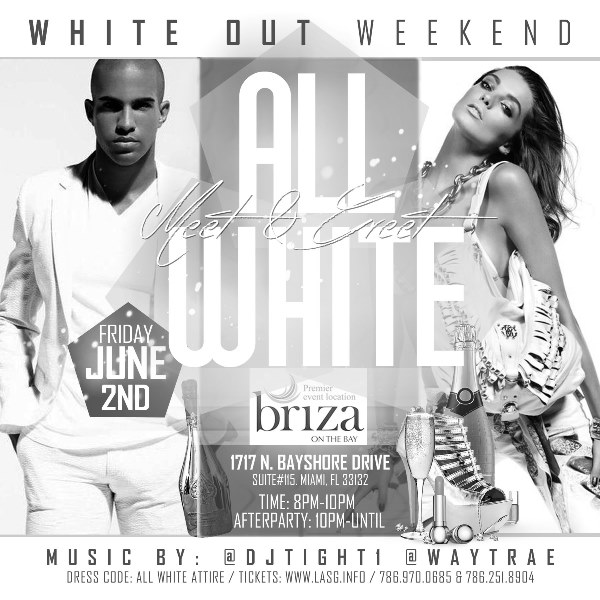 5TH ANNUAL ALL WHITE YACHT PARTY | #RonDayVu Day Party Edition
SATURDAY JUNE 3, 2017
WESTIN DIPLOMAT 3555 S Ocean Dr, Hollywood, FL 33019
CHECK IN: 6:00PM, DEPART: 7:00PM, RETURN: 11:00PM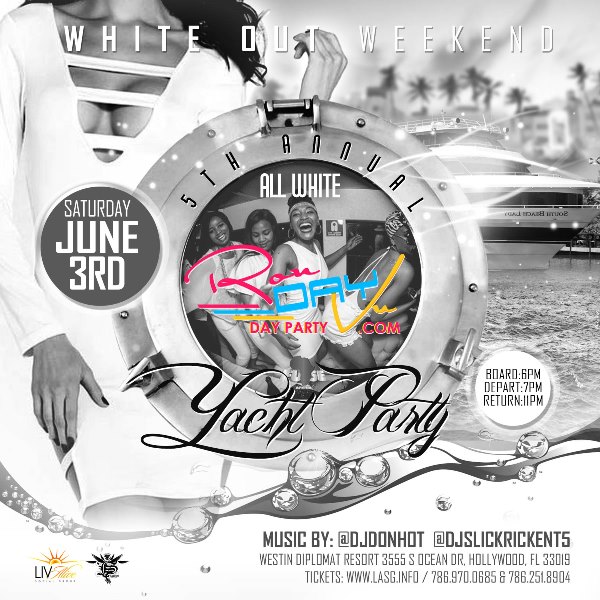 PURPOSE
Invest in humanity with us by supporting our All white Yacht Party #RonDAYvuDayParty edition. Our goal is to raise enough to provide over 400 students with book bags and educational supplies for our 5th Annual Back to School Book Bag Drive for the 2017/2018 school year. In order to make this goal a reality, We are asking for your support by making a monetary donation or by purchasing a ticket to attend this years annual yacht event.
ALL WHITE BRUNCH PARTY
SUNDAY JUNE 4, 2017
CAFE IGUANA PINES 8358 Pines Blvd, Pembroke Pines, FL 33024
11AM-4PM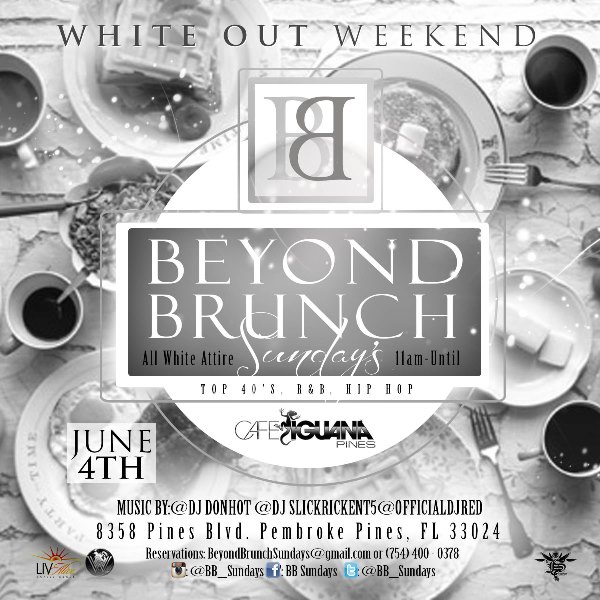 Stay tuned and check back regularly for updates on schedule of events, VIP packages , hotels etc........
Tickets: www.LASG.info facebook: Liv Alive Social Group Instagram: @LivAliveSoGroup


No refunds, all sales are final.
Date and Time
Location
listed in the ticket details
Friday: Miami, Saturday: Hollywood and Sunday: Pembroke Pines