Online Conversations with Authors of the Anthology Whiteness Is Not an Ancestor: Essays on Life and Lineage by white Women
About this event
Join editor Lisa Iversen and essayists Carole Harmon and Pam Emerson, in conversation moderated by Devyani Saltzman, Director of Public Programming for the Art Gallery of Ontario (AGO).
Sponsored by Toronto's Another Story, an independent bookstore with 30+ years of experience focusing on themes of social justice, equity, & diversity.
Produced by CAB Publishing with Zoom webinar on Friday, November 20, at 1pmPST/4pmEST.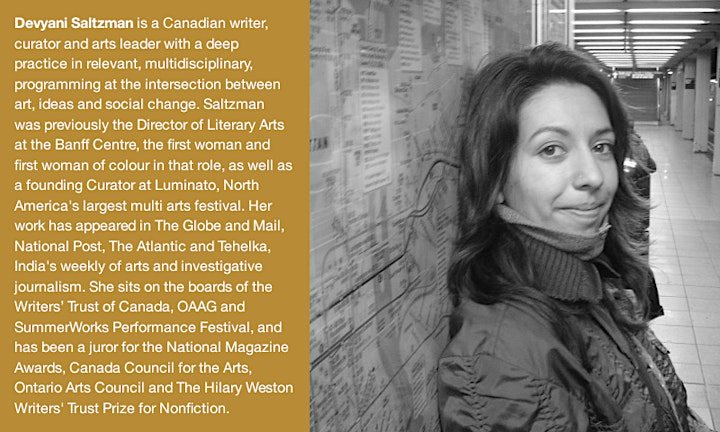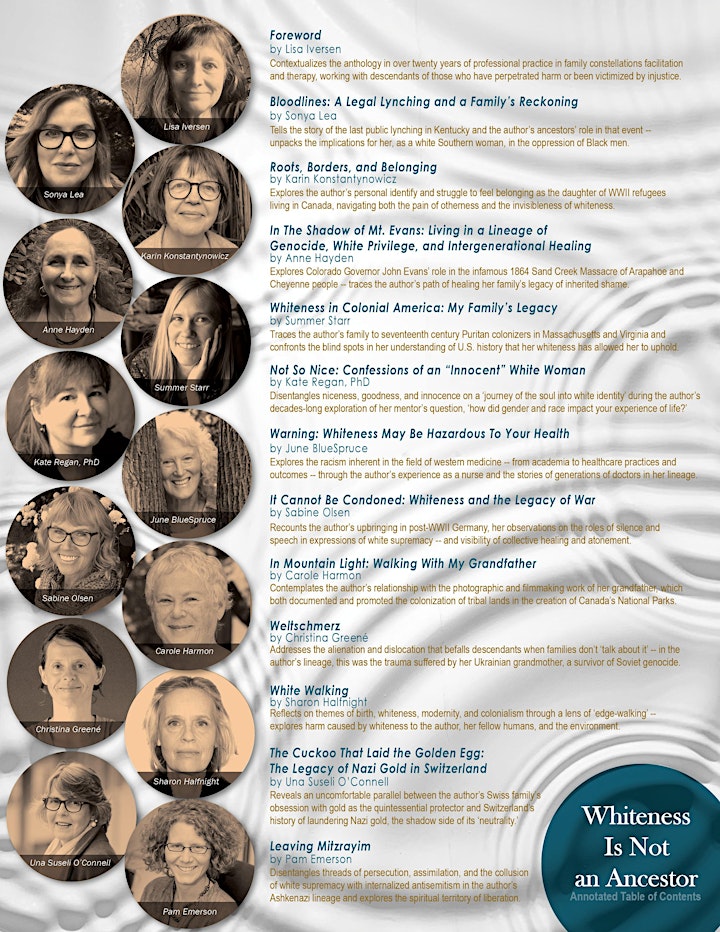 "These are stories that need to be told...These are not histories told at a distance. They are not told by innocents. They are thoughtful, often vulnerable, painful and layered stories that, in dialogue, locate us on the ground in our own lives...Thank you to each for the courage to model moving out of denial." — Sandra Semchuck, author of The Stories Were Not Told: Canada's First World War Internment Camps, and recipient of the Governor General Award for Visual & Media Arts
"...well written...poignant and often raw...A timely and thoughtful discussion about the intersection of gender and White privilege." —Kirkus Reviews
"I am grateful...and...relieved to find thoughtful clues that now shape my own questioning…these are really good writers. Clear-eyed women who have faced up to the challenges of identity and reveal themselves with great descriptions... understanding human nature's wisdom and belonging, finding the order and balance in generations of family stories." — Donna Livingstone, CEO of the Whyte Museum of the Canadian Rockies
Essays written by Sonya Lea, Karin Konstantynowicz, Anne Hayden, Summer Starr, Kate Regan, June BlueSpruce, Sabine Olsen, Carole Harmon, Christina Greené, Sharon Halfnight, Una Suseli O'Connell, and Pam Emerson.
To register for the November 18th online conversation with authors Karin Konstantyowicz, Sabine Olsen, and Sharon Halfnight, visit Banyen Bookstore.
To see what others are saying about this anthology or download the press packet, visit CAB Publishing.