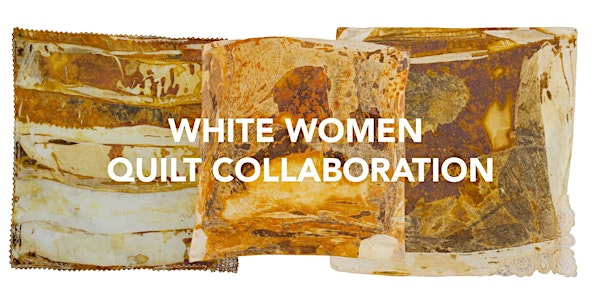 White Women Quilt Collaboration: Meet up!
Let's come together and share what we're working on, inspire each other, and start to bring this quilt to life!
About this event
The first White Women Quilt Collaboration meet-up will be:
a time to meet other participants
an opportunity for you to share what you've been working on
a place where we can deepen our conversation around these important ideas
an opportunity for you to get started on your quilt square if you haven't begun yet!
Please join us! Bring your quilt piece(s) and crafting supplies. I will bring a supply of fabric that can be used for your quilt piece if you need something to get started with. I will also provide some embroidery thread. If there are other supplies that you would like, please send me a message and let me know what would be helpful to have on hand.
Learn more about the project below and learn even more about it on my website.
------------------------------------------------------------------------
This project centers around the question "What do you want your legacy as a white woman to be?" and considers how we can collectively begin reimagining white women's role in dismantling white supremacy culture.
African Americans were lynched under varied pretenses. Today, lynching is most commonly remembered as a punishment exacted by white mobs upon Black men accused of sexually assaulting white women. During the lynching era, whites' hypervigilant enforcement of racial hierarchy and social separation, coupled with widespread stereotypes of Black men as dangerous, violent, and uncontrollable sexual aggressors, fueled a pervasive fear of Black men raping white women. Of the 4084 African American lynching victims EJI documented, nearly 25 percent were accused of sexual assault..." - Lynching in America: Confronting the Legacy of Racial Terror, 3rd edition. Equal Justice Initiative
Participants will each create a 9 x 9 inch quilt section that encapsulates their answer to this question. It could be a letter to a child, something representing your commitment to practicing antiracism, something you have learned about white dominant culture and how you resist it, what you want whiteness to mean for future generations.