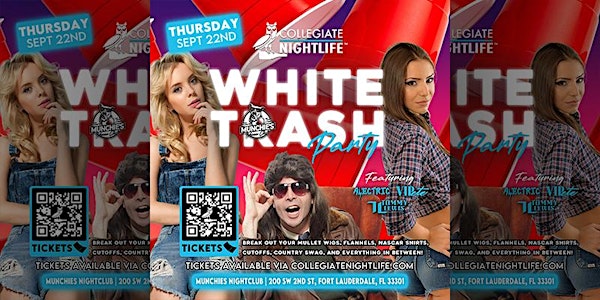 WHITE TRASH PARTY @ Munchies Fort Lauderdale
1st Annual WHITE TRASH PARTY at Munchies Fort Lauderdale
When and where
Location
Munchies Pizza Club 200 Southwest 2nd Street Fort Lauderdale, FL 33301
About this event
Have y'all been lookin' to show off that sexy new mullet?
Trashy or "ratchet" dress and behavior is not mandatory but encouraged at this event. Public display of all tramp stamps, weave tracks, nipple rings, wife-beater couture, blacking out your teeth, wearing shirts with beer or hunting slogans, and rocking your best pair of aviator sunglasses is also encouraged.
The White Trash Party is the one day of the year where a girl/guy can dress as trashy as she/he wants and no one will say anything about it. This theme thas been making its round around every major party school nationwide so it's only natural for the largest college party in South Florida to adopt this theme.
Doors Open at 10pm. 18+ to Party | 21+ to Drink.