Description
GUEST LIST CLOSED * GUEST LIST CLOSED * GUEST LIST CLOSED * GUEST LIST CLOSED * GUEST LIST CLOSED * GUEST LIST CLOSED * GUEST LIST CLOSED * GUEST LIST CLOSED * GUEST LIST CLOSED * GUEST LIST CLOSED * GUEST LIST CLOSED * GUEST LIST CLOSED * GUEST LIST CLOSED * GUEST LIST CLOSED * GUEST LIST CLOSED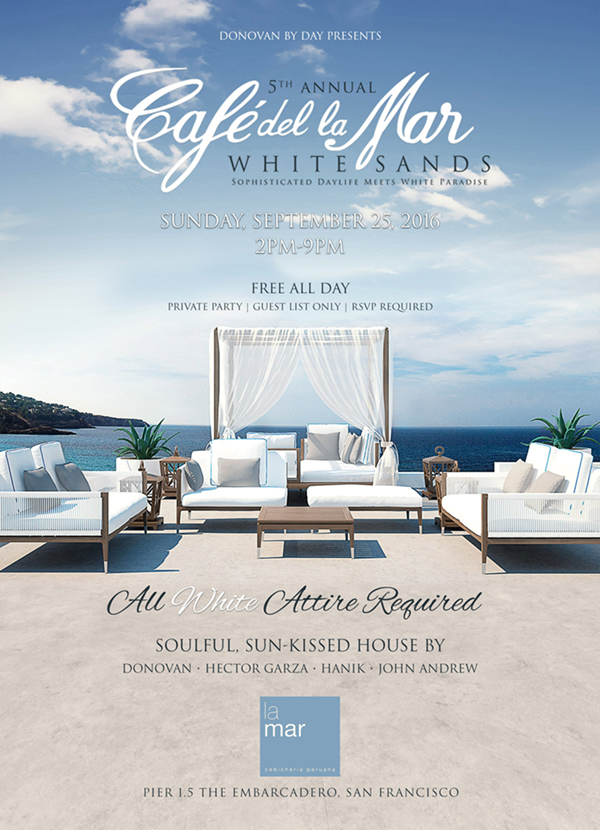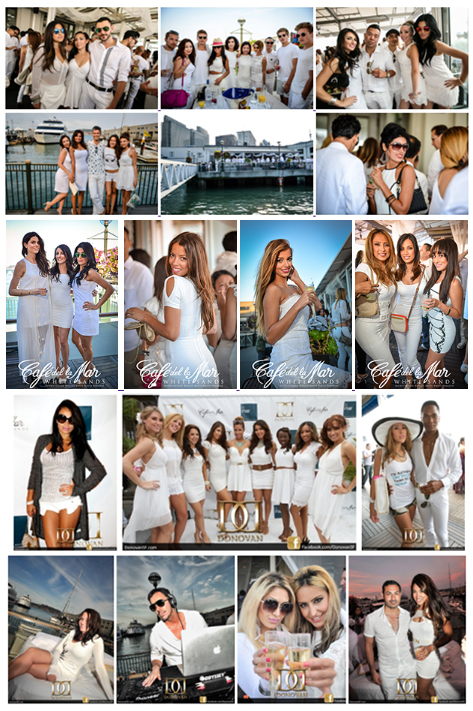 Where have all the San Francisco day parties gone?
don't worry…
THE HOTTEST "DAY PARTY" OF 2012, 2013, 2014 & 2015 RETURNS!

San Francisco's only
WHITE PARTY meets DAY PARTY!!!

Donovan by Day Proudly Presents

5th Annual
"WHITE SANDS"
Sophisticated Daylife Meets "White Paradise"

The "Café de La Mar" Day Party on the Waterfront
@ La Mar Cebichería

ALL WHITE ATTIRE REQUIRED

Sunday Afternoon, September 25, 2016, 2pm-9pm

White Carpet Event
White Decor
Peruvian Pisco Sour Specials


****************************************


FREE ADMISSION ALL DAY with RSVP


****************************************

PRIVATE PARTY | GUEST LIST ENFORCED | RSVP REQUIRED

RSVP Required.
Private Guest List Only Event.
No Walk-Ups at Door.
No Exceptions.

****************************************

VIEW PARTY PICS FROM PAST "WHITE SANDS" PARTIES:
2012: http://donovansf.zenfolio.com/whitesands2012
2013: http://donovansf.zenfolio.com/whitesands2013
2014: http://donovansf.zenfolio.com/whitesands2014
2015: http://donovansf.zenfolio.com/whitesands2015


****************************************

A WHITE CARPET EVENT!!!
TAKE YOUR PHOTO ON OUR WHITE CARPET!!!

****************************************

Soulful, Sun-Kissed House By
DONOVAN
HANIK
HECTOR GARZA
JOHN ANDREW

****************************************

ALL WHITE ATTIRE REQUIRED

Click Here for What's Not Acceptable Dress Attire:
http://www.donovansf.com/DressCode.htm


****************************************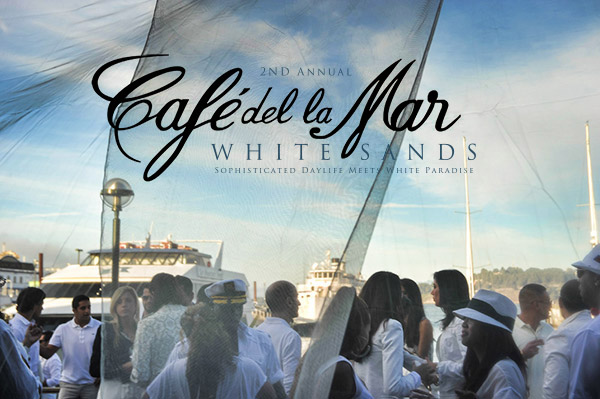 After seven months of silence, Donovan returns with his most famous day party of 2012, 2013, 2014 & 2015 at internationally award-winning Peruvian restaurant La Mar Cebichería on the waterfront (next to the Ferry Building) for his 2016 installment of "Cafe de La Mar":

The 5th Annual "WHITE SANDS" Party!!!

La Mar is no stranger to most. Hands down, one of the most popular restaurants in the city where we have never heard a single person not say "I love that place!". The food is absolutely incredible with incredibly light dishes to compliment a day of "fun in the sun" drinking such as their famous ceviche dishes and, of course, their infamously Peruvian cocktail:
The Pisco Sour.

La Mar also boasts one of the most beautiful outdoor patios on the waterfront screaming for a sophisticated day party like this. Where have all the San Francisco day parties gone? Please come join us Sunday, September 25th as Donovan, once again, brings back the 'sexy, sophisticated' crowd and vibe his parties are famous for at one of the most enchanting restaurants on the bay.

SEE YOU 'IN WHITE' ON THE WATER!!!

****************************************

FREE ADMISSION ALL DAY w RSVP

RSVP Required.
Private Guest List Only Event.
No Walk-Ups at Door.
No Exceptions.