WHITE-OWT (White Party) w/ RAHEEM DEVAUGHN + The QUES of Comedy, B RAE, DJ...
Description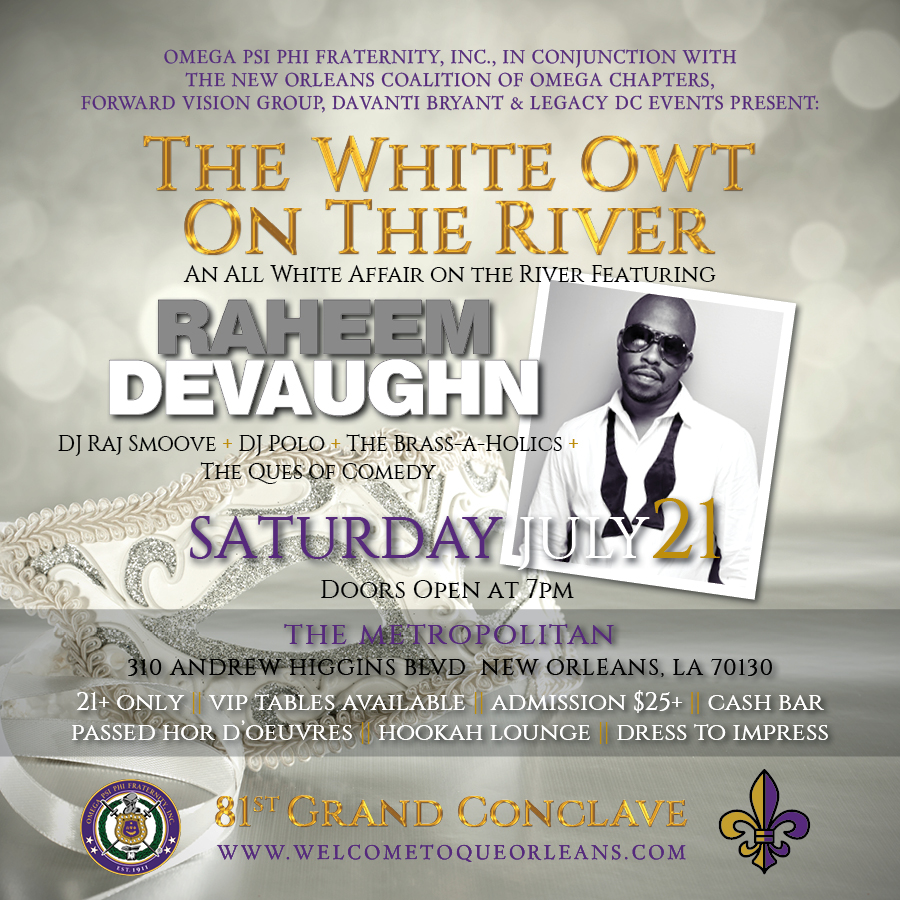 ---
Brought to you by the same team that brought you A TASTE OF DC during the Omega Centennial Celebration with the Legendary DJ BIZ MARKIE at the "Hip-Hop Casino" and the Crown Royal "NBA & NFL All Star White Party" at the JW Marriott in DC (Centennial White Party Video: https://youtu.be/o_F_SpsqUEs ), we now bring you our signature event for the weekend... WHITE-OWT ON THE RIVER!!!! A themed "WHITE-PARTY" with all the elements of the French / Creole culture that has left it's mark on New Orleans, patrons are encouraged to wear Summer WHITE attire, accented with the colors representing your favorite fraternity, sorority, social club, group, or organization. White attire is NOT required, but you MUST dress fly, chic, and SEXXXY!!!!
On the Main stage the QUES OF COMEDY will be providing some comic relief, along with LIVE Blues, Jazz, and R&B music by The Brass-a-holics Band and other bands and/or National recording artists TBD, along with FREE handrolled Cigars for the first 150 registered VIP guests, a VIP Cigar Lounge sponsored by The Cigar Bruhs and The Cigar Factory New Orleans (www.cigarfactoryneworleans.com ).
The Jamila Art Gallery (www.jamilaartgallery.com ), owned and operated by Southern University graduate Jamila Pennington, will also be organizing a caravan of local artist showcasing original African-American art pieces for purchase, as well as a few extraordinary pieces that will be auctioned off in our Charity Art Auctionfor the evening. A portion of proceeds from the Art Auction will be donated to the New Orleans Woman's and Children Shelter (https://nowcs.org ) and the award of up to 10 Collegiate Scholarships to deserving rising High School Seniors and Senior Undergradute Brothers of Omega Psi Phi Fraternity, Inc. Omegas will ALWAYS uplift our communities as we climb.
Buffet Stations and Passed Hor d'Oeuvres of local Cajun Cusine and multiple Cash Bars will be provided throughout the venue. So come join us as we experience a taste of QUE Orleans at the WHITE-OWT ON THE RIVER!!!!
PROMOTER CONTACT INFO: Ray - (864) 357-4545 or D Ward - (202) 528-3356
PROMOTER EMAIL: LegacyDCEvents@gmail.com | info@forwardvisiongroup.com
WEBSITE: WWW.WHITEOWTONTHERIVER.COM
---
OTHER OMEGA GRAND CONCLAVE WEEKEND EVENTS:
FRIDAY, JULY 20TH 2018 |

2–8PM
Organizer of WHITE-OWT (White Party) w/ RAHEEM DEVAUGHN + The QUES of Comedy, B RAE, DJ Raj Smoove, DJ Polo, The Brass-a-holics Band