WHITE-OWT ON THE RIVER (White Party) w/ RAHEEM DEVAUGHN + The QUES of Comed...
Description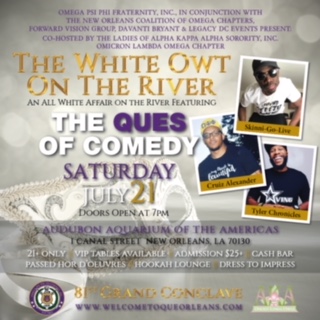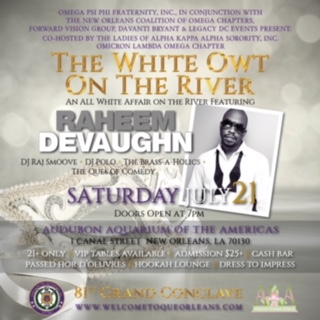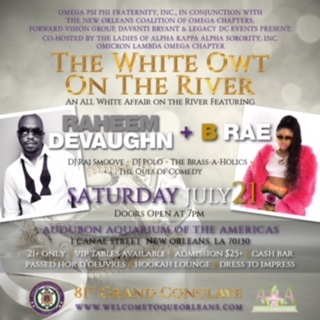 ---
VENUE LAYOUT ON PLAZA & LAWN ALONG THE MISSISSIPPI RIVER

---
FULL CONCERT BY RAHEEM DEVAUGHN JUST ADDED!!!!
QUES OF COMEDY SHOW JUST ADDED!!!!
Brought to you by the same team that brought you A TASTE OF DC during the Omega Centennial Celebration with the Legendary DJ BIZ MARKIE at the "Hip-Hop Casino" and the Crown Royal "NBA & NFL All Star White Party" at the JW Marriott in DC (Centennial White Party Video: https://youtu.be/o_F_SpsqUEs ), we now bring you our signature event for the weekend... WHITE-OWT ON THE RIVER!!!! A themed "WHITE-PARTY" with all the elements of the French / Creole culture that has left it's mark on New Orleans, patrons are encouraged to wear Summer WHITE attire, accented with the colors representing your favorite fraternity, sorority, social club, group, or organization. White attire is NOT required, but you MUST dress fly, chic, and SEXXXY!!!!
To set the atmosphere for your "ESSENCE FESTIVAL" style cajun experience we've secured the ENTIRE Audubon Aquarium, the 300 Seat IMAX Theater, and the outside Plaza and Lawn areas located at the end of Canal street in Downtown New Orleans, with breathtaking views alongside the Mighty Mississippi River as you stroll through Woldenberg Park. www.audubonnatureinstitute.org/aquarium
Inside the Aquarium, in 3 separate rooms the host DJs (DJ Raj Smoove, DJ Polo, and others TBD) will be playing today's popular Rap, Hip-Hop, and R&B as you dance along side exotic Sea Turtles, Sea Otters, Penguins and Parakeets; enjoy a cocktail under a variety of eloquent Geaux Fish, Seahorses, and Giant Sharks; and even explore Alligators within the Mississippi River Gallery exhibit on your way to the Sting Ray Touch Pool.
On the Main stage the QUES OF COMEDY will be providing some comic relief, along with an Open Mic session for Spoken Word, Poetry, Music, Theater, and Dance.
Outside the Aquarium relax along the Mississippi River under the stars on the Plaza Lawn to LIVE Blues, Jazz, and R&B music by The Brass-a-holics Band and other bands and/or National recording artists TBD, along with FREE handrolled Cigars for the first 150 registered VIP guests, a VIP Cigar Lounge sponsored by The Cigar Bruhs and The Cigar Factory New Orleans (www.cigarfactoryneworleans.com ) and a VIP Hookah Lounge serviced by Attiki New Orleans (www.attikineworleans.com ) !!!!
The Jamila Art Gallery (www.jamilaartgallery.com ), owned and operated by Southern University graduate Jamila Pennington, will also be organizing a caravan of local artist showcasing original African-American art pieces for purchase, as well as a few extraordinary pieces that will be auctioned off in our Charity Art Auction for the evening. A portion of proceeds from the Art Auction will be donated to the New Orleans Woman's and Children Shelter (https://nowcs.org ) and the award of up to 10 Collegiate Scholarships to deserving rising High School Seniors and Senior Undergradute Brothers of Omega Psi Phi Fraternity, Inc. Omegas will ALWAYS uplift our communities as we climb.
Buffet Stations and Passed Hor d'Oeuvres of local Cajun Cusine and multiple Cash Bars will be provided throughout the venue. So come join us as we experience a taste of QUE Orleans at the WHITE-OWT ON THE RIVER!!!!
A SEXXXY ATMOSPHERE... FREE FOOD... MUSIC... COMEDY... POETRY... SPOKEN WORD... MOVIES ...DANCE...ART... ONE TICKET!!!
Vendor Space and VIP Table Service opportunities AVAILABLE!!!!
PROMOTER CONTACT INFO: Ray - (864) 357-4545 or D Ward - (202) 528-3356
PROMOTER EMAIL: LegacyDCEvents@gmail.com | info@forwardvisiongroup.com
WEBSITE: WWW.WHITEOWTONTHERIVER.COM
---
OTHER OMEGA GRAND CONCLAVE WEEKEND EVENTS:
FRIDAY, JULY 20TH 2018 |

2–8PM
OMEGA BAR CRAWL & DAY PARTY AT FOGO DE CHAO BRAZILIAN STEAKHOUSE + BOURBON HEAT NIGHT CLUB


FRIDAY, JULY 20TH 2018 |

2–7PM
THE QUES YARD DAY PARTY AT THE METROPOLITAN NIGHT CLUB



FRIDAY, JULY 20TH 2018 |

9PM–3AM
THE GROOVE AT THE METROPOLITAN NIGHT CLUB



SATURDAY, JULY 21ST 2018 |

11AM–4PM
SOUTHERN BRUNCH BUFFET & DAY PARTY AT B.B. KING'S BLUES CLUB



SATURDAY, JULY 21ST 2018 |

7PM–2AM
WHITE-OWT ON THE RIVER (WHITE PARTY) AT AUDUBON AQUARIUM OF THE AMERICAS



SUNDAY, JULY 22ND 2018 |

11AM–5PM
OMEGA NEO-SOUL BRUNCH BUFFET AT METROPOLITAN NIGHT CLUB

MORE INFO/TICKETS: http://www.WelcomeToQueOrleans.com