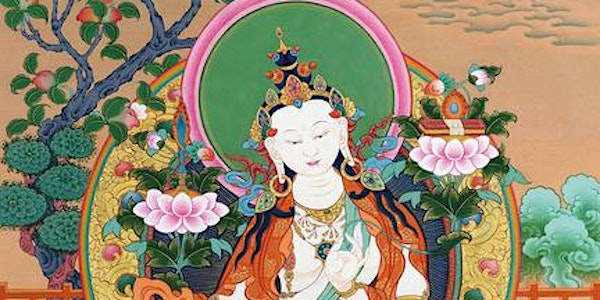 White Manjushri Initiation and Practice by Venerable Zasep Rinpoche
White Manjushri Initiation and teachings by Venerable Zasep Rinpoche at Zuru Ling, Vancouver
Date and time
Starts on Fri, Mar 24, 2023 3:30 PM PDT
About this event
1 day 1 hour

Mobile eTicket
Zuru Ling is most happy to welcome you to this precious opportunity!
This event is offered on Zoom and in person at Zuru Ling.
Friday, March 24th, at 3:30 PM White Manjushri Empowerment
Saturday, March 25th, from 9 AM to 5 PM, Teaching and Sadhana Practice with Zasep Rinpoche
Additional details regarding how to connect on Zoom will be provided upon registration. Please make sure to read the entire registration receipt for all of the important information that you will need to connect.
Just before empowerment, as Rinpoche advises, you should drink saffron water and keep the image of White Manjushri with you to put on your head.
Suggested donation
White Manjushri Initiation is $30-$60 CAD (sliding scale);
White Manjushri teaching and sadhana practice is $30-$60 CAD (sliding scale).
Please donate to this event at Zuru Ling's website donation page, and choose the Event option in PayPal at https://www.zuruling.ca/donate
For questions and/or more information, please email us at zuru.ling.vancouver@gmail.com
About His Eminence Zasep Rinpoche
His Eminence Zasep Tulku Rinpoche, a highly realized and internationally respected teacher of Gelugpa Buddhism, was born in Tibet in the province of Kham in 1948. Zasep Tulku Rinpoche was recognized as the 13th incarnation of Lama Konchog Tenzin of Zuru Monastery. In 1959, he left Tibet and continued his education for sixteen years in India under the tutelage of many of the greatest teachers of Mahayana Buddhism. Since 1976 he has taught western Dharma students in Australia, Canada, and the United States and has developed Dharma centers in each of these countries. Rinpoche regularly visits these centers and offers extensive teachings, initiations and retreats, which his many students enthusiastically attend. Zasep Rinpoche now resides in Nelson, BC, close to the Gaden for the West retreat center (Gaden Tashi Choling Retreat).
Description and Benefits
According CBC news we have more older people then children in Canada and Japan, people live long lives which is good at the same time, so many older and seniors are losing their memories. In the west sadly many young people do drugs and use too much social media, their learning capacities weakened and declining, also people suffering from brain injuries.
White Manjushri is a wisdom deity. One could cultivate seven wisdoms: great wisdom, clear wisdom, rapid wisdom, profound wisdom, teaching wisdom, intellectual wisdom, and composition wisdom. The practice of white Manjushri is wonderful for restoring memories and refreshing mindfulness.
For more information about Manjushri, please visit: https://buddhaweekly.com/manjushri-as-father-mother-child-and-doctor-the-eleven-aspects-of-manjushri-kind-wrathful-protective-teaching-and-beastly/
Prerequisites: None; all are welcome!
Commitments: You will take refuge vows and Bodhisattva vows, take Zasep Rinpoche as one of your Gurus and do the sadhana whenever you can and recite the mantras as much as you can.