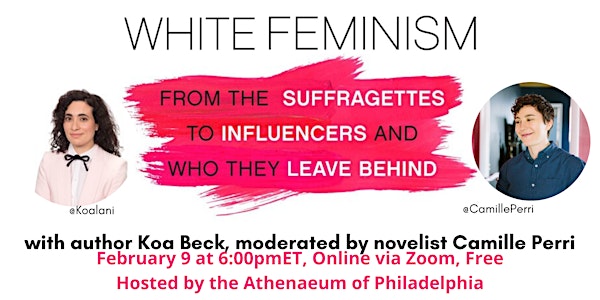 White Feminism with Koa Beck
White Feminism: From the Suffragettes to Influencers and Who They Leave Behind By Koa Beck
About this event
A timely and impassioned exploration of how our society has commodified feminism and continues to systemically shut out women of color—perfect for fans of White Fragility and Good and Mad.
Join the important conversation about race, empowerment, and inclusion in the United States with this powerful new feminist classic and rousing call for change. Koa Beck, writer and former editor-in-chief of Jezebel, boldly examines the history of feminism, from the true mission of the suffragettes to the rise of corporate feminism with clear-eyed scrutiny and meticulous detail. She also examines overlooked communities—including Native American, Muslim, transgender, and more—and their difficult and ongoing struggles for social change.
In these pages she meticulously documents how elitism and racial prejudice has driven the narrative of feminist discourse. She blends pop culture, primary historical research, and first-hand storytelling to show us how we have shut women out of the movement, and what we can do to course correct for a new generation—perfect for women of color looking for a more inclusive way to fight for women's rights.
Combining a scholar's understanding with hard data and razor-sharp cultural commentary, White Feminism is a witty, whip-smart, and profoundly eye-opening book that challenges long-accepted conventions and completely upends the way we understand the struggle for women's equality.
Purchase a copy of the book from Bookshop.org
This event is free and open to the public, registration required. Zoom information will be sent out the day of the event to the email address provided during registration.
About Koa Beck:
KOA BECK is the former editor-in-chief of Jezebel. Previously, she was the executive editor at Vogue, senior features editor and MarieClaire.com, and cohost of "The #MeToo Memos" on WNYC's The Takeaway. Her writing has appeared in TheAtlantic.com, The New York Observer, TheGuardian.com, and Esquire.com, among others. She has been interviewed by the BBC and has appeared on many panels about gender, race, and identity at the Metropolitan Museum of Art, the Brooklyn Historical Society, and Columbia Journalism School to name a few. In 2019, she was awarded the Joan Shorenstein Fellowship at the Harvard Kennedy School. She lives in Los Angeles.
About Camille Perri:
CAMILLE PERRI is the author of the novels The Assistants and When Katie Met Cassidy, both of which have been optioned for feature films with her attached as screenwriter. She is a former editor at Cosmopolitan and Esquire and her essays on queer identity and culture have been widely published. Camille holds a bachelor of arts degree from New York University, where she majored in English and gender and sexuality studies, and a master's of library science degree from Queens College.