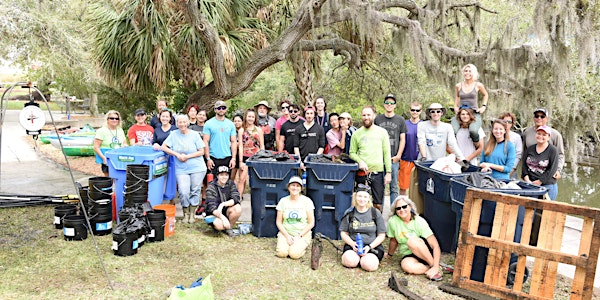 Whitaker Bayou Healthy Communities and Waterways
When and where
Location
Dr. Martin Luther King Jr. Park 2601 Cocoanut Avenue Sarasota, FL 34234
Description
Join the Sarasota Bay Estuary Program, the Multicultural Health Institute, Orange Blossom Community Garden, the City of Sarasota, Sarasota County, Around the Bend Nature Tours, WayneAdventures, and Ringling College of Art + Design for a day of improving environmental and community health. A paddle and land cleanup of Whitaker Bayou and Dr. Martin Luther King, Jr. Park will take place in the morning, followed by free lunch, health screenings from the Multicultural Health Institute, and garden education/tools from Orange Blossom Community Garden.
If you are a Ringling College of Art + Design student who would like to volunteer, please do not sign up here - contact Susan Saulnier at ssaulnie@ringling.edu.
Paddle Cleanup Details
Please bring your own kayak to help us remove trash from Whitaker Bayou. We will be launching kayaks from the Ringling School of Art + Design campus. The area requires stepping down to get into the kayaks, so if you have trouble with stairs, we suggest you sign up for the land cleanup and/or health activities.
Frequently Asked Questions
What should I bring?
Water bottle, sun protection, gloves (we will have extra), change of shoes and socks if you are kayaking.
Kayak, paddle, and PFD if you are bringing your own boat. PFDs are required.
What should I wear?
Shoes with closed toes are required. We recommend wearing water shoes or old tennis shoes if you are kayaking. Please wear comfortable clothing that you don't mind getting very dirty.
Is this event family-friendly?
Yes! Participants of all ages are welcome at the event. However, we ask that children kayaking be 8 years or older.
Can participants receive community service hours?
Yes, please bring your forms to the event and ask for Darcy. If you need to register the Sarasota Bay Estuary Program with your child's school prior to the event, please email darcy@sarasotabay.org.
About Whitaker Bayou
Whitaker Bayou winds through and connects many of the neighborhoods in North Sarasota. In addition to people, many animals enjoy the bayou, including fish, birds, and even manatees! Yet multiple challenges face the creek and surrounding areas. Join the rejuvenation effort on Saturday and be a part of the solution. Learn about how your health and well-being is connected to your local environment.
Share your thoughts about Whitaker Bayou
If you live in North Sarasota, we are interested in hearing your concerns and vision for improving the health of this waterway. Click here to take our quick survey. Thank you!