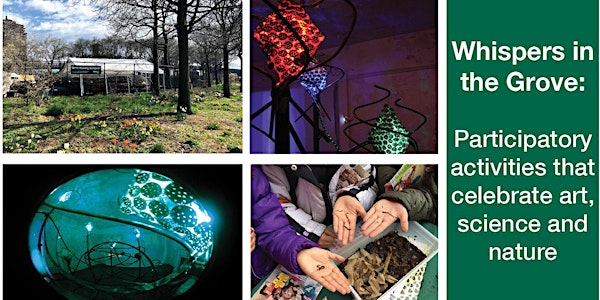 Whispers in the Grove
When and where
Location
East River Park Compost Yard East River Park Compost Yard New York, NY 10002
Description
Calling all Art, Science and Nature lovers! Come visit "Whispers in the Grove", an interactive, multimedia art installation at the East River Park Compost Yard which will be on view from June 15 through September.
To launch the opening of this installation, join NYC Compost Project Hosted by LES Ecology Center and 'Whispers in the Grove' artists for a day of family friendly activities that will include: tours of the compost yard, soil sample viewing under BioBus' microscope, worm bin demonstrations, potting soil mixing station, and decorate your own planter.

Inspired by mycorrhiza, trees' communication through an underground network of roots and mycelium fungus, the artists built steel trees topped by cell-like bulbs made of reclaimed bottle caps from different cities around the USA. The forest-like structure is illuminated with internal lights, voice tubes invite people to whisper to each other from across the sculpture, and for the opening, a soundscape by poet Nicole Celeste Anderson will guide participants in contemplating life in symbiosis. Our budding understanding of the mycorrhiza phenomenon makes humans and plants seem more similar. This network is reminiscent of human neurons, the internet, even our network of roads connecting cities. Through 'Whispers in the Grove' artists Kathy Creutzburg, Natalia Lesniak, and Mirabai Kwan Yin seek to peak the public's interest in science and nature, as well as fostering a sense of interconnection between humans and plants, leading to responsible conservation efforts and sustainable practices.
"Whispers in the Grove" is made possible in part with public funds from Creative Engagement, supported by the New York City Department of Cultural Affairs in partnership with the City Council and administered by LMCC. LMCC empowers artists by providing them with networks, resources, and support, to create vibrant, sustainable communities in Manhattan and beyond. The NYC Compost Project Hosted by LES Ecology Center has donated space to host the sculpture in their compost yard.