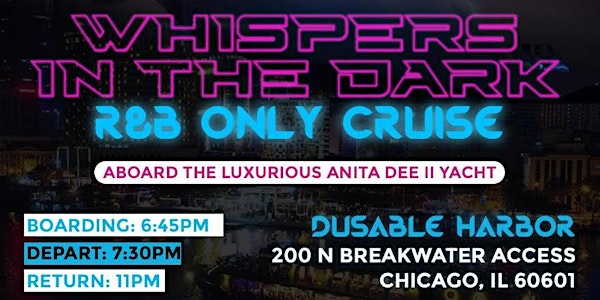 WHISPERS IN THE DARK (R&B ONLY CRUISE)
WHISPERS IN THE DARK (R&B ONLY CRUISE)
When and where
Location
Anita Dee Yacht Charters 200 North Breakwater Access Chicago, IL 60601
About this event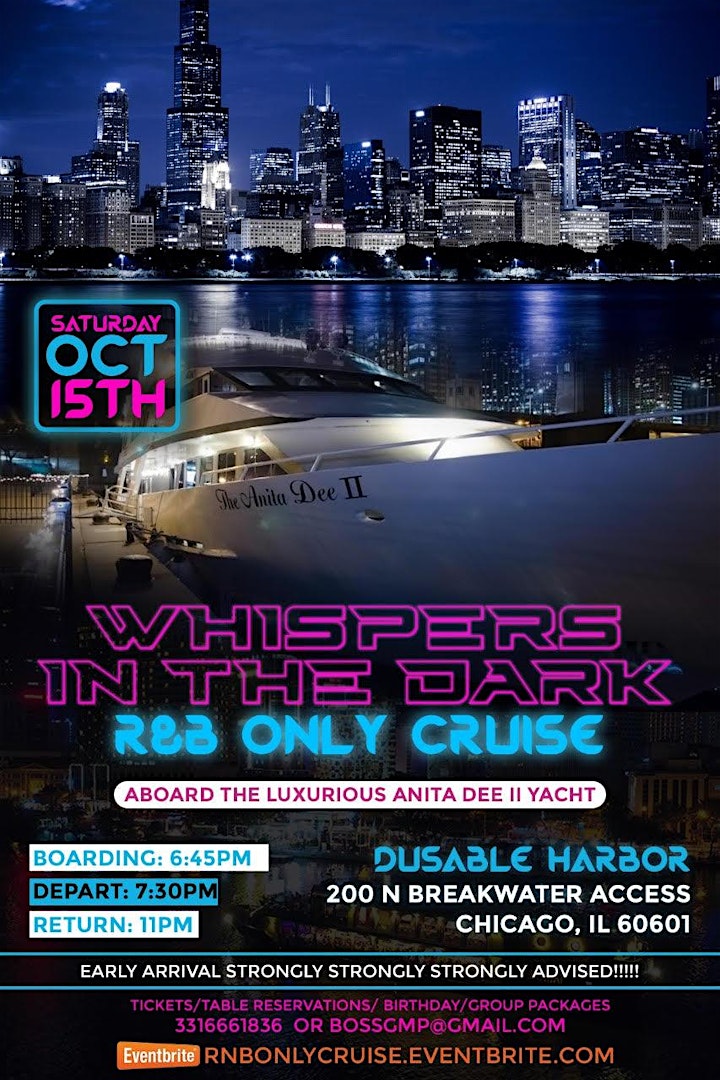 Grab the Crew & Come On Out For A Wonderful Time!!! 3 Levels of Non Stop Music, Food, Drinks, Great People And A Beautiful Skyline..
SATURDAY, OCTOBER 15TH 2022
3.5 HOUR YACHT CRUISE PARTY WITH NOTHING BUT THE BEST R&B MUSIC FROM PAST TO PRESENT !!!!!!
21 & OVER EVENT PROPER ID NEEDED
NON-STOP R&B CLASSICS FROM PAST TO PRESENT ALL NIGHT LONG!!!!
BOARDING - 6:45PM
DEPART - 7:30PM
RETURN - 11:00PM
EARLY ARRIVAL STRONGLY STRONGLY ADVISED!!!!
3 LEVELS OF MUSIC, 2 INDOOR & 1 OUTDOOR ..
BARS ARE ON EACH DECK & GREAT FOOD AVAILABLE FOR PURCHASE.
Questions, Group/Birthday Packages : Email: ROOM630RSVP@GMAIL.COM OR TEXT/CALL 331.666.1836
Your Cruise Experience Includes:
* Scenic 3 1/2 hour cruise of Lake Michigan
* Breathtaking views of the Chicago skyline including the Navy Pier, The Gold Coast and Much More!
* Waitress Service Available ; Order Drinks directly to your table.
* Open-Air deck and 2 Climate-Controlled Decks.
* Live DJs playing nothing but the best R&B from 80's to Present On All 3 Levels.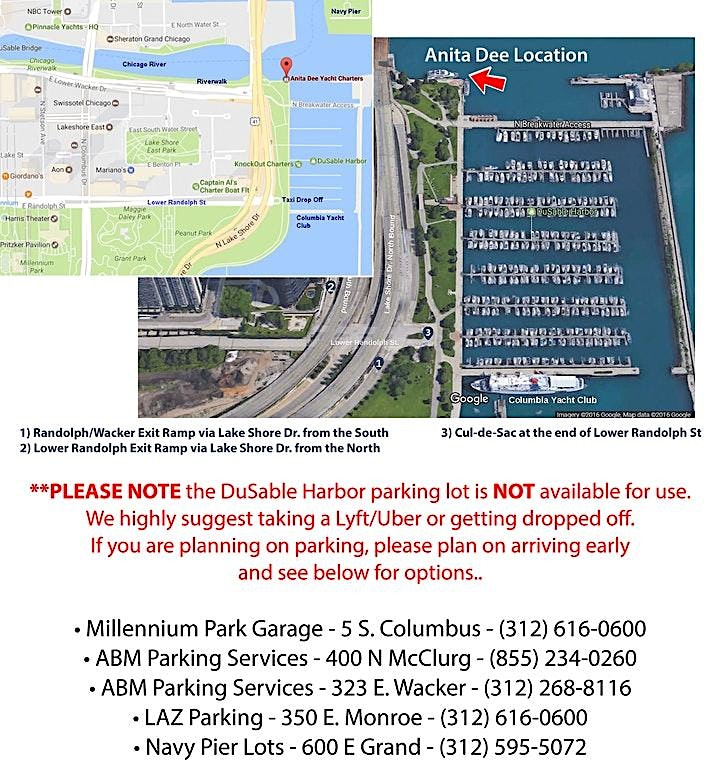 BOARDING INFO
* Boarding will begin 45 minutes prior to scheduled cruise time.
* All guests must be present no later than 15 minutes prior to scheduled cruise time or their spot may be given away. Those who miss boarding will NOT receive a refund.
* Please have your printed Eventbrite QR Code and your valid 21+ ID ready as you enter the boarding line.
* As soon as boarding is complete, the gate will close and the crew will start preparing for departure. No one else will be permitted to board.
* Please be on time, as the boat will leave without you!
DIRECTIONS:
The Anita Dee is docked at DuSable Harbor on the South side of the Chicago River at Lake Shore Drive.** Since the Harbor has no real physical address, GPS and online directions are unreliable. Use the maps along with the directions below to get to the boat! THERE IS NO PARKING ALLOWED AT DUSABLE HARBOR, WE'VE LISTED PARKING LOT OPTIONS IN THE AREA BELOW. BE SURE TO ALLOW TIME TO PARK IN ONE OF THESE OFF-SITE PARKING LOT OPTIONS AND ARRIVE AT THE HARBOR ON-TIME FOR BOARDING AND DEPARTURE!
PARKING OPTIONS:
Millennium Park Garage - 5 S. Columbus - (312) 616-0600
ABM Parking Services - 400 N McClurg - (855) 234-0260
ABM Parking Services - 323 E. Wacker - (312) 268-8116
LAZ Parking - 350 E. Monroe - (312) 616-0600
Navy Pier Lots - 600 E Grand - (312) 595-5072
Dropped Off
If getting dropped off by taxi, instead of telling the driver an address, tell them to drop off where lower Randolph Street meets the lakefront, DuSable Harbor, or Columbia Yacht Club.
Lower Randolph Street, east to the lakefront. Drop off at DuSable Harbor cul-de-sac
Walk down to the lake front path and turn left/walk north along the lakefront.
Our yachts will be straight ahead at the end of the lakefront path where it ends at the Chicago River.
Walking From the Loop
Take any stairway down to the Riverwalk on the south side of the Chicago River.
Walk east toward the lake (From Michigan Ave. Bridge- 10 min walk)
The south side of the Riverwalk ends at our boats just east of the Lake Shore Drive Bridge
Walking From Navy Pier
Walk west on Illinois to Lower Lake Shore Drive, the first street on your left.
Cross Lower Lake Shore Drive to the west side of the street and turn left.
Once you cross over the Chicago River, look for the staircase on your right to walk down to Riverwalk
Turn left to go through tunnel on Riverwalk
Once you exit tunnel, you'll see both yachts to your left on the River.
Walking From Millennium Park
Head east on Monroe and cross over to the east side of Lake Shore Drive.
Turn left or walk north on the lakefront path.
Once you pass Columbia Yacht Club, keep walking north for 4-5 mins- Path ends at Chicago River and our Yachts.