Location
Spirit of New York Cruise Boat
Pier 61
West 21 Street & 11th Avenue
New York, NY 10011
Description
Whisky Tasting & Dinner Event
Join the Whisky Guild as we gather to sample, celebrate and showcase the world's finest whiskies. Distillers, brand ambassadors, and masters of whisky will be in attendance to guide you through sampling their spirits. With your ticket purchase, you will receive admittance to the event, a world-renown Glencairn tasting glass, gourmet buffet dinner and dessert, cruise around Manhattan, and the opportunity to attend a special Master Class hosted by some of the most gifted people in the whisky industry.
Whiskies from around the world of Scotch, Bourbon, Rye, American, Japanese, and Irish Whiskey, are expected to be available for you to explore.
Pour List Expected To Include
Bruichladdich The Classic Laddie
Bruichladdich Islay Barley
Bruichladdich Port Charlotte Scottish Barley
Bruichladdich Port Charlotte Islay Barley
Bruichladdich Octomore 5.1 (VIP Hour)
Dewar's White Label
Dewar's 12 Years Old
Dewar's 15 Years Old
Dewar's 18 Years Old
Dewar's 25 Years Old (VIP Hour)
Glencadam Origins 1825 Single Malt Scotch Whisky
Glencadam Aged 10 Years
Glencadam Aged 13 Years
Glencadam Aged 21 Years (VIP Hour)
Glencadam Aged 25 Years (VIP Hour)
Kilchoman Machir Bay
Kilchoman Sanaig
Kilchoman 100% Islay
Lagavulin 16 Years
Port Askaig 100°
Port Askaig 8 Year Old
Oban 14 Years Old
The Singleton 10 Years Old
The Singleton 15 Years Old
The Singleton 18 Years Old (VIP Hour)
Talisker 10 Years Old
Talisker 18 Years Old (VIP Hour)
Talisker 25 Years Old (VIP Hour)
Talisker 1985 (VIP Hour)
Tullibardine: Sovereign
Tullibardine: 225 Sauternes Finish
Tullibardine: 228 Burgundy Finish
Tullibardine: 500 Sherry Finish
Tullibardine: The Murray
Tullibardine 20 Year Old (VIP Hour)
Tullibardine 25 Year Old (VIP Hour)
Cask and Crew Rye Whiskey
Cask and Crew Ginger Spice Whiskey
Cask and Crew Orange Roasted Whiskey
Cask and Crew Walnut Toffee Whiskey
David E Straight Bourbon (VIP Hour)
Hidden Still Straight Bourbon
Hidden Still Straight Rye (VIP Hour)
Iron Smoke Bourbon Whiskey
Maker's Mark Classic
Maker's Mark 46
Maker's Mark Cask Strength
Maker's Mark Private Select (VIP Hour)
Michter's US*1 Straight Rye
Michter's US*1 Bourbon
Michter's US*1 Sour Mash Whiskey
Michter's US*1 American Whiskey
Michter's 10 Year Rye (VIP Hour)
Rattlesnake Rosie's Apple Pie Whiskey
Tommyrotter Triple Barrel American Whiskey
Tommyrotter Napa Valley Heritage Cask Bourbon
Tommyrotter Bourbon Barrel Gin
Westland American Oak Single Malt Whiskey
Westland Sherry Wood American Single Malt Whiskey
Westland Peated American Single Malt Whiskey
Westland Garryana American Single Malt Whiskey (VIP Hour)
Westland Whiskey Peat Week American Single Malt Whiskey (VIP Hour)
Wyoming Small Batch Bourbon Whiskey
Wyoming Whiskey Outryder
Wyoming Straight American Whiskey
Wyoming Double Cask Bourbon
Kaiyō Japanese Mizunara Oak Whisky 43%
Kaiyō Japanese Mizunara Oak Cask Strength Whisky
Kaiyō Japanese Mizunara Oak "The Peated" Whisky
Ohishi Brandy Cask Japanese Whisky
Ohishi Sherry Cask Japanese Whisky
Egan's 10 Year Single Malt Irish Whiskey
Egan's Vintage Grain Irish Whiskey
Lambay Small Batch Blend Irish Whiskey
Lambay Single Malt Irish Whiskey (VIP Hour)
The Irishman Single Malt Irish Whiskey
Teeling Irish Whiskey Small Batch
Teeling Irish Whiskey Single Grain
Teeling Irish Whiskey Single Malt
Teeling Irish Whiskey 24 Year Old Single Malt (VIP Hour)
Temple Bar Signature Blend Irish Whiskey
Temple Bar 10 Year Old Irish Whiskey
Temple Bar 12 Year Old Irish Whiskey (VIP Hour)
Writers' Tears Copper Pot Irish Whiskey
Penderyn Legend Welsh Whisky
Penderyn Celt Welsh Whisky
Camus VSOP Borderies
Camus XO Borderies
Camus XO Elegance
Camus Extra XO (VIP Hour)
Camus Extra XO Dark and Intense (VIP Hour)
Kelt VSOP Cognac
Kelt Commodore Cognac
Kelt XO Cognac
Kelt Petra Cognac
Plus a few surprises
Featured Seminar
Maker's Mark: Grain to Glass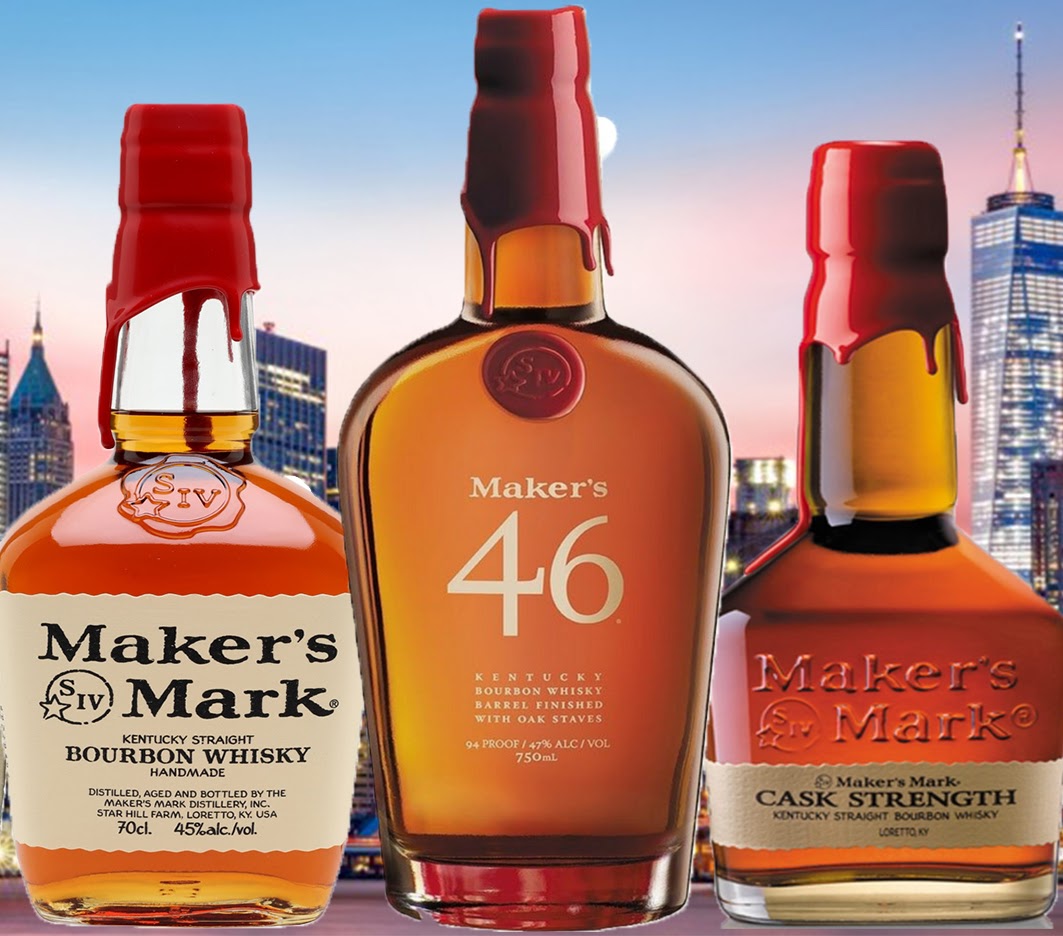 Join Alexa Amendolagine and Elba Giron, Maker's Mark Bourbon Diplomats, for a Master Class as they explore the importance of grain in flavor creation. Taste through a flight of Maker's Mark to see how one mash bill evolves through the aging process and learn how this dynamic range of bourbon was built from one man's flavor vision.
Set sail and discover new vintages, rediscover old favorites, and explore new labels, all while enjoying breathtaking views of Manhattan!
New whisky enthusiasts and connoisseurs alike will enjoy this comprehensive event.
____________________________________________________________
August 23, 2018
Spirit of New York Cruise Ship
Chelsea Piers, Pier 61
New York, NY
VIP Hour Dockside - 6:00 - 7:00pm
General Admission Boarding - 7:00 - 7:30pm
Main Event Sail Time - 7:30 - 9:30pm
BUFFET DINNER will include:
Garden-Fresh Salad Station
- Fresh assortment of mixed Greens, ripe Tomatoes, crisp Cucumbers, crunchy Carrots, seasonal Corn, Croutons and bits of real Bacon. Served with a choice of a Balsamic Vinaigrette, House-made Ranch, or Low Fat Italian Dressings and freshly baked rolls

Entrées
- Oven-Baked Atlantic Cod Filet - Fresh Atlantic Cod Filet baked and topped with a tangy Tomato, Shallot & Caper Sauce
- Herb-Roasted Chicken - Lightly-seasoned Chicken roasted to perfection in a blend of Herbs and Spices
- Baked Ziti Pasta - Imported Pasta baked with Mild and Sharp Cheeses, Spinach, and served in a Garlic Sauce
Desserts
Fresh selection of Cookies, Brownies, and Seasonal Fruit
Menus are subject to change.
* REGRETTABLY WE ARE UNABLE TO PROVIDE REFUNDS OR EXCHANGES *
Whiskey tasting or whisky tasting, it is certainly the water of life: Sláinte!!!