Virtual guided whiskey tasting with Executive Bourbon Steward from Brooklyn's Kings County Distillery. Samples ship to home. Serves up to 4.
About this event
Join us for a fun night of whiskey tasting. Educational and entertaining, this virtual event will be led by Mr. Devin Ershow, an Executive Bourbon Steward from the award-winning King County Distillery (Brooklyn, NY). This tasting serves up to four people from a single location. Registrants must be 21+.
Ever wonder exactly what whiskey experts are doing when they swirl the glass under their noses? Should I drink my whiskey straight or with water?
A SPECIAL EVENT: In this virtual tasting you'll learn about the history of American whiskey, the art and science of craft distilling, and be guided on a tasting of 3 of Kings County Distillery's best whiskeys--you will learn the nuances of how to nose, taste, and evaluate whiskey the way distillers do.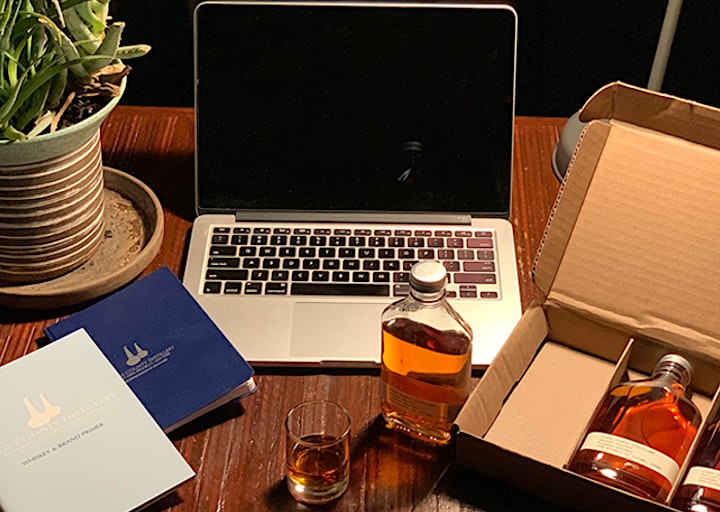 The tasting event includes three 200ml bottles of whiskey shipped to your home:
(1 bottle) Straight Bourbon: made from New York State 80% organic corn and 20% English malted barley, is twice distilled in copper pot stills and then aged in new charred oak barrels. Rich in caramel, vanilla, and holiday spice, this bottle is cited frequently in lists of best non-Kentucky bourbons. Aged for at least two years, this is a precocious whiskey, surprisingly robust for its age.
San Francisco World Spirits Competition: Double-Gold 2019, Gold 2020 & 2017, Bronze 2018.
ADI Craft Spirit Awards: Silver Medal 2013 and 2014 (Best in Category), 2012, 2017, 2019, Mronze 2018.
ACSA Awards: Silver Medals 2020, 2019, 2016, (2) 2014; Bronze 2018, 2017.
Great American Spirits Competition: Silver 2020
"Exotic and deep, with flavors of grain, licorice, vanilla and molasses." (#2 Craft Bourbon, 3-Stars) — Eric Asimov, New York Times, 2014.
"Top Ten Bourbons" —Time Out New York, 2014
(1 bottle) Peated Bourbon: conforms to the American requirements for bourbon but is made with malted barley that has been exposed to peat smoke, a practice more common in Scotch whiskies—the malt used for the peated bourbon was even grown and kilned in Scotland. This whiskey is a hybrid of the two traditions, flavorful and robust from having aged in a new barrel, with an added light smoky finish reminiscent of single-malt.
San Francisco World Spirits Competition: Double-Gold 2016, Gold 2016, Silver 2019, Bronze 2018.
Intl. Whisky Competition: silver 2017.
ADI Awards: Silver Medal 2016, 2017, 2018, Bronze 2019.
ACSA Awards: Gold 2019, Silver 2018, Bronze 2020, 2017, 2016.
Great American Spirits Competition: Bronze, 2020
(1 bottle) Bottled-in-Bond: Kings County is among the very first craft distillers to release a style of whiskey that can be considered the highest class of American Whiskey. Bottled-in-Bond is a designation that refers to American whiskeys (and some brandies) that are distilled, aged, and bottled entirely at one distillery, from barrels filled in one season, by one distiller. Furthermore, the whiskey must be four years old and bottled at precisely 100 proof.
San Francisco World Spirits Competition: Best-in-Category (Small Batch Bourbon under 5 years), Double-Gold, 2020 & 2017.
International Whisky Competition: Best American Whisky, Best Bourbon, Best Small Batch Bourbon, Best Bourbon 4+ Years, Gold (4) 2017.
ADI: Silver 2017.
ACSA: Gold 2020, Bronze 2017.
Great American Spirits Competition: Gold, 2020.
You'll also receive a Kings County Distillery journal and primer that details their history, process, and whiskey catalog.
NOTE: Registrants must be 21+ and show valid photo ID for delivery. This event is open to residents of NYS only, whiskey for this event is available to ship within NYS only.
Each ticket ($155) is designed to be enjoyed by up to four from a single location, and includes the following:
(1) 200ml bottle of Straight Bourbon
(1) 200ml bottle of Peated Bourbon
(1) 200ml bottle of Bottled-in-Bond
(1) Kings County Distillery journal
(1) Kings County Distillery primer
Access to the 1-hour virtual tutored tasting conducted via video conference
Direct shipping to the purchaser's home (New York State only)**
Tickets are limited. If maximum capacity is reached prior to cut-off date (6/15/21), no additional reservations will be available. Buy now to guarantee participation and delivery. Makes a great gift.
**Shipping is available within New York State only. Ticket purchaser must be 21+ to show ID and sign for delivery. Please refer to the FAQs for additional information.
This tasting event is presented by Kings County Distillery and sponsored by Starfish Junction. Participants must be 21+. Deliveries within NYS only.
About Presenter: Devin Ershow & Kings County Distillery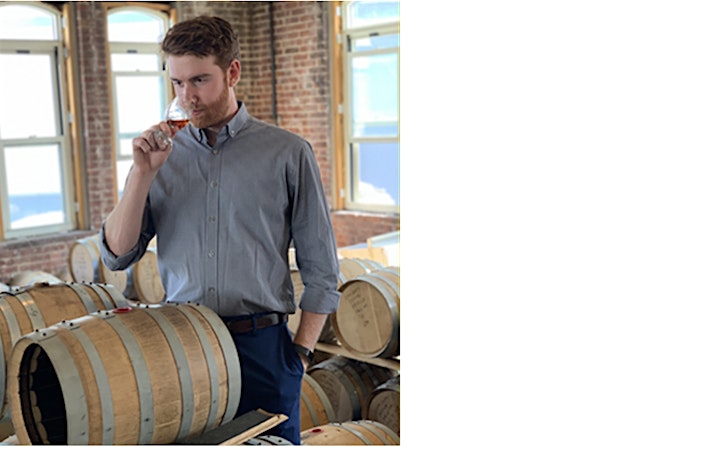 Devin Ershow is a lifelong whiskey lover who believes that whiskey is a magical spirit, unique in every barrel and to every palate. He admires the rich history of whiskey, the craft of distilling, and the art that is aging and blending.
Mr. Ershow is an Executive Bourbon Steward through the Stave and Thief Society and a recipient of the WSET Level 2 Award in Spirits, with extensive knowledge of both domestic and international whiskies. As Tour & Events Manager for Kings County Distillery, he enjoys planning and executing public whiskey tasting classes, virtual whiskey tastings, and special events for private and corporate clients.
Kings County Distillery is New York City's premier craft distillery and among the most acclaimed small distilleries in the United States. Focused exclusively on whiskeys, Kings County has made a name for its Bourbon, Peated Bourbon, Empire Rye and other creative whiskeys. They only distill whiskey for their label and never sell whiskey made from any other source. Kings County's whiskeys have won numerous awards from the American Distilling Institute, the American Craft Spirits Association, and the prestigious San Francisco World Spirits Competition, and have been praised by the New York Times, the New Yorker, Whiskey Advocate and many other sources. Kings County's whiskeys are always mashed, fermented, distilled, and aged onsite in Brooklyn. www.kingscountydistillery.com
FAQ:
What is included in the ticket price? Each ticket is designed to be enjoyed by up to four people and includes (3) 200ml bottles of Kings County Distillery whiskey, a journal, a primer, access to the online event via video conference, and direct shipping to a single New York address.
Who can participate in this special event? All purchasers must be 21+ and show valid photo ID to accept delivery of the whiskey. Product can ship within NEW YORK STATE ONLY.
How will the whiskey get to me? The whiskey will ship direct from the distillery, the package must be signed for by someone who is 21+ who will be asked to show valid photo ID.
Do I need to be home to receive the whiskey delivery? Yes. The package must be received by someone who can show their ID and sign that they are 21+. Packages will not be left at your door. Please make sure to provide a mailing address where someone over 21 will be home to receive the package; or your package may be delayed or you may incur re-delivery fees. Neither Starfish Junction nor its sponsors/partners are responsible for delayed delivery.
When will I receive my whiskey tasting kit? We will close ticket sales on June 15, 2021 at 11:59PM EST to ensure delivery to you on time.
How will you ensure the whiskey tasting kit gets to me in time? Shipping times vary. We are cutting off ticket sales with ample time to ensure each ticket purchaser receives their delivery before the online event.
I can't make the online event. Can I still purchase a ticket for the whiskey kit? Yes. If you can no longer attend the online event or simply are not interested in doing so, you can still purchase a ticket to receive the whiskey kit shipped directly to the mailing address provided. Please note that all sales are final and there are no discounts, refunds or exchanges should you not join the online event portion.
How many people can participate with a single ticket purchase? While this seminar's tasting package serves up to four people, each ticket provides log-in access to one individual buyer and shipping to one physical NYS address. All participants must be together to participate in the seminar and enjoy the whiskeys.
How do I join the online event? Prior to the online event taking place, you will receive a number of emails reminding you of the date and time. Within these emails will also be a link to the Online Event Page which has the video conferencing link to join.
Can I ask questions during the online event? Yes! We encourage you to ask questions.
How will you ensure the online event is a safe environment? The video conference should be attended by those who are 21+ only. We ask that all participants be polite and courteous. Starfish Junction and its sponsors/partners reserve the right to remove any participant from the video conference who is disruptive or behaving inappropriately with no opportunity for refund.
Do I need to download special software or an app to participate in the video conference? The online event will be conducted via the video conferencing platform, ZOOM. You should be able to click the link provided and access the video conference in any web browser from a desktop computer or laptop. Before joining a Zoom meeting on a computer or mobile device, you can download the Zoom app. Otherwise, you will be prompted to download and install Zoom when you click a join link.
Can I take part in the online event by phone only? No, video conferencing only.
What happens if I lose internet connection during the online event? If you lose internet connection and leave the video conference, simply click the link again to re-join. If the host loses internet connection, they will exit and rejoin. Please be patient.
Do I need anything besides the whiskey kit and a computer to participate? You may also wish to have on hand:
o small glasses for tasting, three per participant
o water for palate cleansing between tastings
o fruit/crackers/snacks (optional)
Date and time
Location
Refund policy
Organizer of WHISKEY TASTING: A Virtual Special Event