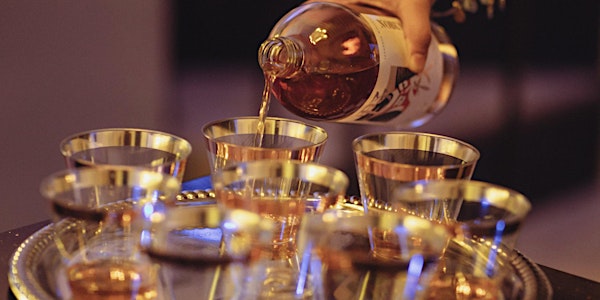 Whiskey Stories™: Whiskey, Mac n Cheese & Holiday Comedy (In Person)
Whiskey Stories Holiday Experience
About this event
Doors open 7:30pm. We start shortly after and doors close then . Please arrive on time & account for subway delays/traffic. All sales are final. Transfers/Credits available a week prior to event. Please refer this description as the final policy. Per CDC/government mandate we require proof of full COVID vaccination (hard copy or electronic) to be able to host you.
Please note that we use our immersive multisensory space for all our experiences and invite you to check out our Instagram (@whiskeystories) to see what we are about. This is a carefully curated guided experience.
Please provide food restrictions at least 3 days prior to experience. Given the nature of this experience we cannot offer vegan or gluten free options.
Please read all carefully
Ticketed Guests Only. No Walk Ins
_____
Whiskey Stories LLC brings you several high end luxury whiskey experiences. Here is one of many. Please join us for a fun filled evening of whisk(e)y, mac n chese and comedy! Get ready for a whisk(e)y holiday journey of flavors and laughs! Please note whiskies showcased in event photo aren't always the ones featured. We change it up per event)
What does your evening entail?
1. 4 high end whiskey/whisky flights that you'll get to taste, nose, mouth to amplify your senses and your knowledge.
2. Accompanied by whiskey specialist and designer, Rachna Hukmani who is also the owner/founder of Whiskey Stories. Her unique presentation of each whiskey will leave you feeling enticed, amused and informed.
3. Experience inludes gourmet mac and cheese pairings from around the world to complement the flavors of each whisk(e)y. 
4. To add to the fun each whisk(e)y will be accompanied by a improvises comedy charater monlogue inspired by  some of the our favorite holiday movie classics (e.g. Gremlins, Elf, Scrooged and others). A holiday treat for all! 
5. A teaser into our Whiskey In the Dark ™ experience
6. Other multisensory twists and turns but you'll have to come to find out more.
Notes:
1. While we use mutlisensory & entertaining/comedy techniques to bring whiskey to life, the focus of the evening is imparting whiskey knowledge. We are not a meet up or networking event or a dinner party so we like to inform guests that we will be bringing them back to the immersive whiskey journey during the course of the evening. This is a LOT of fun when you completely embrace the journey and keep an open mind! Come join us for an unforgettable evening! 
2. Doors open 7:20pm. We start 7:30pm. Doors close 7:30pm. Please arrive on time & account for subway delays/traffic.
3. We are designed like a hidden speakeasy/vintage doll house. During Prohibition, it was quite common for venues to look unassuming on the outside & a hidden oasis on the inside. We recommend coming at 7:20pm for a self tour of the space.
4. Please provide food restrictions/allergies at least 3 business day prior to the experience
Private Pre Booked Event. Whiskey provided complimentary & not included in event charge
Organizer of Whiskey Stories™: Whiskey, Mac n Cheese & Holiday Comedy (In Person)
Whiskey Stories™ is a seasoned Michelin guide recommended immersive multi sensory whisk(e)y tasting experience company. We've been featured on Bloomberg News, Forbes, Time Out, Secret NYC and more. We are unlike any other experience. Find out more about us here: www.whiskeystories.rocks. Access our entire calendar of our experiences here: bit.ly/whiskeystoriesluxury