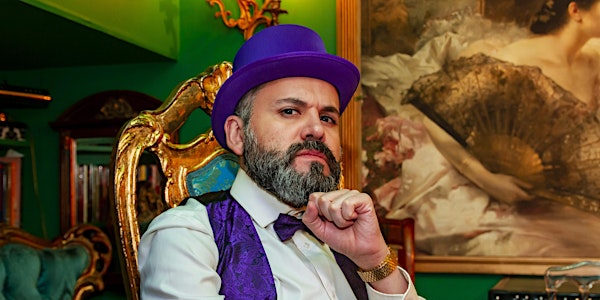 Whiskey Stories® : Whiskey, Mac n Cheese & Holiday Comedy (In Person)
Whiskey Stories® : Whiskey, Mac N Cheese and Holiday Comedy Experience
By Whiskey Stories® Luxury Events
Date and time
Starts on Saturday, December 16 · 7:30pm EST
Location
Whiskey Stories 161 Stockholm Street Ground Floor, 3742 Brooklyn, NY 11237
Refund Policy
Contact the organizer to request a refund.
About this event
2 hours 30 minutes

Mobile eTicket
Whiskey Stories® is a seasoned Michelin Guide recommended exclusive, carefully curated immersive multisensory unforgettable whiskey experience company. We bring you several of our trademarked signature high end whiskey experiences. No two experiences are alike. Please join us for an enticing evening where all your senses will be engaged! Established in 2014 and the first and only immersive multisensory whiskey experience. Winner of 2022 Luxe Life Magazine global award of "Best Multisensory Luxury Whiskey Experience." We are unlike any other experience out there and our guided whiskey tasting journey is a different way of experiencing whiskey. You can find out more about us here: www.whiskeystories.rocks. (We have a full calendar of events here: bit.ly/whiskeystoriesall).
Email us if you have any questions: whiskeystories2015@gmail.com. Please read all below carefully! Please book well in advance. We tend to sell out weeks to months in advance!
__________
Doors open at 7:30pm. We start shortly after and doors close then . Please arrive right on time at 7:30pm when doors open & plan well in advance for subway delays/traffic/check weather forecast. All sales are final. Transfers/Credits permitted upto a week prior to the event on a case by case basis. Please refer to this description as the final policy. Leading up to the experience we will send reminders and communication via the email you used to make a purchase so please check that email. When entering our space please mind the low step.
Please note that we use our immersive multisensory dedicated space for all our experiences and invite you to check out our Instagram (@whiskeystories) to see what we are about. This is an exclusive carefully curated guided experience.
Please provide food restrictions/allergies at least 5 days prior to experience (by Dec 11th) for us to accommodate them. This is a hard deadline.
Ticketed Guests Only. No Walk Ins. Please dispose of any outside food or beverages prior to entering our venue
*Gratuity is completely optional post experience (cash or venmo/zelle accepted) and always appreciated if you feel inspired to do so! Please talk to our owner about this post experience to get further detail. Thank you for supporting our business!
Email us if you have any questions: whiskeystories2015@gmail.com
_____
Please join us for a fun filled evening of whisk(e)y, mac n cheese and comedy! Get ready for a whisk(e)y holiday journey of flavors and laughs! Please note whiskies showcased in event photo aren't always the ones featured. We change it up per event)
What does your evening entail?
1. 4 high end whiskey/whisky flights that you'll get to taste, nose, mouth to amplify your senses and your knowledge.
2. Accompanied by whiskey specialist and designer, Rachna Hukmani who is also the owner/founder ofWhiskey Stories®. Her very engaging unique way of experiencing whiskey will leave you feeling intrigued, enticed, amused and informed. Rachna is the first South Asian woman to start a whiskey company and has been designing whiskey for 15 years. She helped design Macallan 12 Double Cask, Highland Park Magnus, Noble Oak Bourbon and more. She has created a new proprietary multisensory way of experiencing whiskey that is trademarked under our company.
3. Experience inludes gourmet mac and cheese pairings from around the world to complement the flavors of each whisk(e)y. 
4. To add to the fun each whisk(e)y will be accompanied by a improvises comedy charater monlogue inspired by  some of the our favorite holiday movie classics (e.g. Gremlins, Elf, Scrooged and others). A holiday treat for all! 
5. A teaser into our Whiskey In the Dark ™ experience
6. Duration of event: Our experience lasts about 2.5 hours since this is a leisurely luxury experience that includes 4 dinner/dessert courses. Guests also get very excited, engaged and love asking our founder questions about what makes whiskey so intriguing. The conversations are part of the fun! This is the perfect weekend experience!
7. Dress Code: We do have a soft dress code: Comfort Chic (no Tshirts or sport hats if possible).
Additional Information:
While we use multisensory, immersive & entertaining/comedy proprietary techniques that our founder has created to bring whiskey to life in an unparalleled way, the focus of the evening is imparting whiskey knowledge. We are not a meet up or networking event so we like to inform guests that we will be bringing them back to the immersive whiskey journey during the course of the evening. They will be required to immerse in the experience.
This is a LOT of fun and very memorable when you completely embrace the journey and go with the intended design! To this end, we also have our resident professional highly talented photographer present to capture all of your special moments and action shots. As part of our luxury perks, we provide these very beautiful professional curated photos taken during the experience as our gift to you so you can focus on the immersive experience & be completely present rather than trying to spend time and be distracted taking photos with your phones/cameras.
Our guests absolutely love the beautiful professional photos when they receive them and feel the moment has been captured in a magical way. The photos also include gorgeous shots of the bottle line up and performances if there is a comedy element which we also provide as our gift to you. Come join us for an unforgettable evening! This is truly immersive.
Note we may choose to post some of these photos to our social media to capture the wonderful magical nature of our unique experiences. This gives our entire community a chance to see what we're about and get excited to join us. Our photos are very relatable, well curated and we invite you to check out our instagram to see them).
We are designed like a hidden speakeasy/vintage doll house. During Prohibition, it was quite common for venues to look unassuming on the outside & a hidden oasis on the inside.
*Gratuity is completely optional post experience and always appreciated if you feel inspired to do so! Thank you for supporting our business!
Please see photo below for our table settings. If making a solo purchase, please note you will be seated at your own table so please email us beforehand if you are with another party attending so we can seat you together. If you are by yourself, not to worry! We will take great care of you! We look forward to seeing you!
About the organizer
Whiskey Stories® is a seasoned Michelin guide recommended exclusive, immersive, multisensory, carefully curated and unforgettable whisk(e)y tasting & experience company. We've been featured on Bloomberg News, Forbes, Time Out, Secret NYC and more. We recently won the Luxe Life Magazine global award for "Best Multisensory Luxury Whiskey Experience." We are unlike any other experience. Find out more about us here: www.whiskeystories.rocks. Access our entire calendar of our experiences here: bit.ly/whiskeystoriesall (Email us at whiskeystories2015@gmail.com)