Description
The Whiskey Run Mountain Bike Trails are a brand new, one-of-a-kind trail system on the Southern Oregon Coast. Ribbons of clay dirt flow and wind through the Coos County Forest in these cross-country style trails. Moderate climbing and fun descending make this system worth the drive to the gorgeous Southern Oregon Coast. The trail system is located about 10 minutes from Bandon or Coos Bay off Highway 101, in the mists of the coastal forest.
The Whiskey Run Bike Festival will celebrate these new Mountain Bike Trails by offering 3 guided ride options led by the people and club who helped to make them a reality. Each ride will be led by members of the Wild Rivers Coast Mountain Bicycling Association & local riders. Something for everyone at the trails with a beginner ride, moderate, and advanced ride option.
Our celebration of the trails will continue at an after-party event at *Bandon Brewing where riders will enjoy some delicious snacks and local craft beer. Family & friends are welcome to join us to celebrate and the restaurant and bar will be open for additional food and drink purchases.
---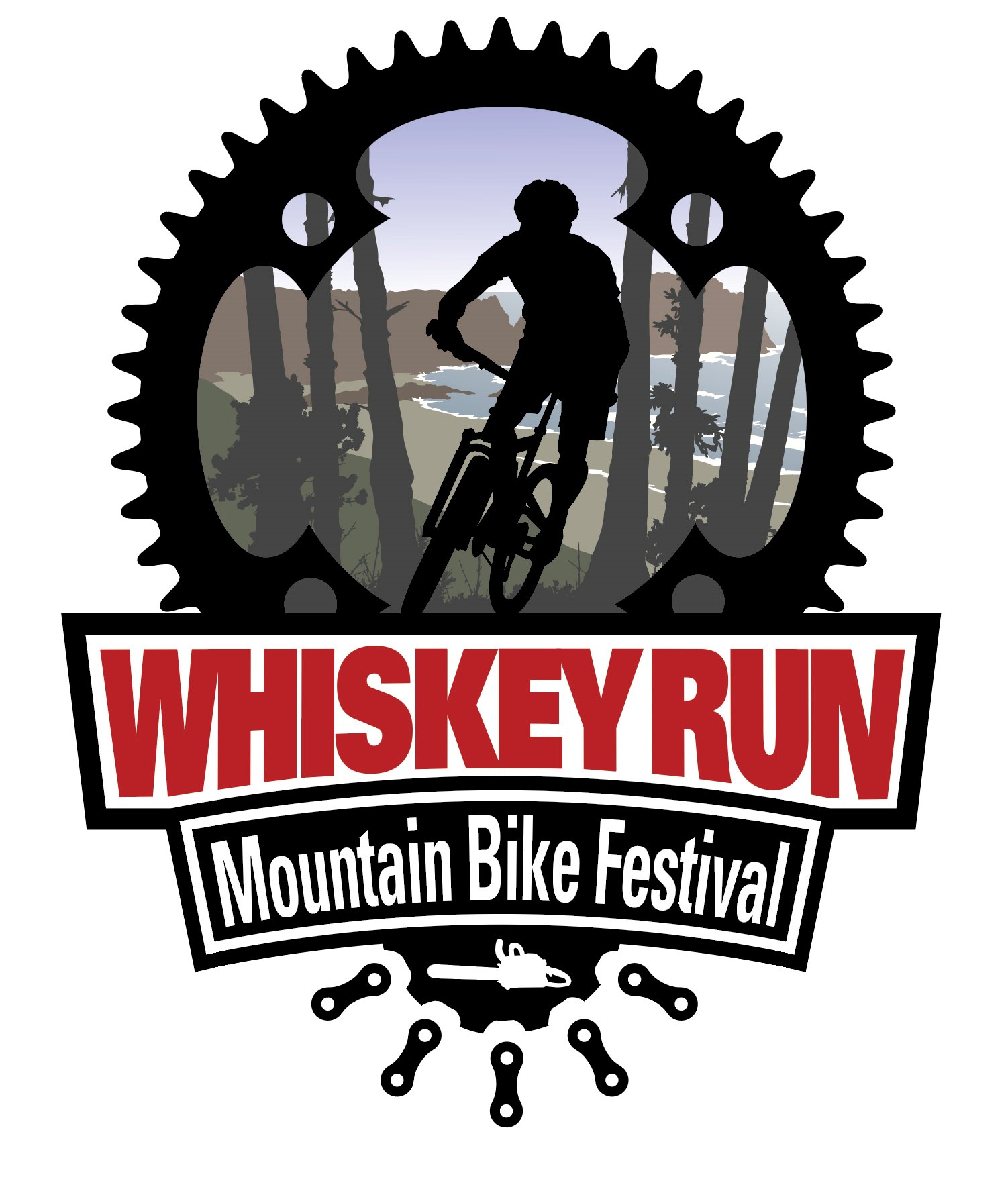 3 RIDE OPTIONS & DESCRIPTIONS:
Break the Ice (Beginner Ride)
This slow-paced ride is perfect for beginners that want to get a taste of the trails at an easy pace, so you don't need to feel like you're always having to "keep up." Expect about a 4+/- mile ride with two options: at mile 3 you can ride Sir-Lance-Alot out and back to add 2 more miles on, or continue to the parking lot via Dirty Dishes & Hollerback for the remaining 1/2 mile. Ride starts from the main parking area, descends down Hollerback, Dirty Dishes (with a section that some might prefer to walk, but our guides will be happy to give you tips, pointers, or help you descent the trail) and continues across the lower parking area to The Snag section on the south side of the road. Ride will then loop around The Snag beginner area and continue back up Dirty Dishes with the option to head back to trailhead (.5 miles) or ride Sir-Lance-Alot out and back (2 miles). This beginner focused ride will give you a chance to enjoy some of the best of the trails and trees with not too much climbing or difficulty, and plenty of breaks. Beginners will get a chance to learn a few tricks and tips from mountain bike coach and bike enthusiast Erin Kessler to help take your riding to a new level! This group ride is perfect for new-to-mountain biking riders who want a supportive and fun atmosphere to learn new skills.
Whiskey Sampler (Intermediate Ride)
Want to ride at a little faster pace, but not yet ready to be King/Queen of the Mountain? Bring your intermediate mountain biking skills to our intermediate ride and enjoy a 7(+/-) mile ride around our Whiskey Run Trail System at a decent pace with plenty of stops at crucial intersections to hydrate, chat, and catch your breath. This ride, guided by local enthusiasts, is perfect for those with basic to intermediate mountain biking skills who may not be ready for the entire system, but want a good solid ride with good solid people. There will be plenty of downhill and uphill as you sample the Whiskey Run Trail System. There is an option at the end of the ride, to ride the inner Well Shot loop for about an extra mile.
Full Flight (Advanced Ride)
Ready to enjoy all the trails? The "advanced ride" is for those who are comfortable on a longer ride at a faster pace. We won't be racing, but this ride is for those that are confident enough to keep up and don't mind a little climbing. Guided by Whiskey Run gurus and the local trail building master himself, you will get to ride all the trails (with the exception of small section of Hollerback). This ride is over 12 miles so you'll get to ride some of the trails both uphill and downhill, as well as all the intermediate level trails. Hoot and holler your way through our gorgeous coastal single track, enjoying it all. Added bonus to this ride is the new downhill trail that will be completed in May (not yet mapped).
---
SCHEDULE:
Friday, June 8, 2018
5-7PM Packet pick up and registration at *Bandon Brewing, 395 2nd St. SE, Bandon, OR 97411
Saturday, June 9, 2018
9:00-10:30AM day of event registration and packet pick up available at Trail head parking lot
Full Flight ~ Advanced Ride
10:45 AM Advanced Ride gathers into groups of 10-15 people.
11:00AM Frist Advanced Ride group leaves led by the Whiskey Run gurus.
Whiskey Sampler (Intermediate Ride)
11:15AM Intermediate Ride gathers into groups of 10-15 people.
11:30AM Intermediate Ride leaves led by local enthusiasts
Break the Ice (Beginner Ride)
11:45AM Beginner Ride gathers and grouped by ability & experience.
12:00 PM Beginner Ride leaves led by mountain bike coach, Erin Kessler.
Bandon Brewing Trail Celebration
2-4PM After everyone is done riding for the day we will head on over to Bandon Brewing, 395 2nd St. SE, Bandon, OR 97411 to celebrate the great new trails, enjoy all the new friends we have made, and toast our accomplishments after a day of riding! Each registered participant will receive a pint of Bandon's Craft Brew and the kitchen will be open for food purchases. Family, friends, and community members are welcome to join us at this celebration. We will have live musical entertainment from Tbird and the Other Birds as well as mini bike races and a raffle with lots of great prizes, including our grand raffle prize of a free weekend pass to Mountain Bike Oregon!
---
SPONSORS:
Bandon Brewing
Travel Oregon
Oregon Coast Visitors Association (OCVA)
Coos County
South Coast Bicycles
Bandon Brewing
Wild Rivers Coast Mountain Bicycling Association
Ptarmigan Ptrails
Roto Rooter of Coos Bay
Mountain Bike Oregon
---
EVENT FAQ's:
WHEN IS PACKET PICK UP?
Friday, June 8, 2018
5-7PM Packet pick up at Bandon Brewing, 395 2nd St. SE, Bandon, OR 97411 &
Saturday, June 9, 2018 9:00-10:30AM at Trail head parking lot
CAN I REGISTER ON DAY OF EVENT:
Yes, you can register on Saturday, June 9, 2018 from 9:00-10:30AM at Trail head parking lot. Must pay by cash or check and fee will increase to $20.
WHAT IS AN OBRA MEMBER AND WHY DO I HAVE TO PAY EXTRA TO BE ONE?
"The Oregon Bicycle Racing Association (OBRA) is the official sanctioning body of bicycle racing in Oregon, Southwest Washington and parts of Northern California. We work with race promoters to put on world class events within the region. We sanction road, track, mountain bike, enduro, cyclocross and gran fondo events. OBRA provides the community and framework for successful events. We provide insurance, race equipment, competitions, calendars, training, judging, timing services, marketing, membership services and many other services to make bicycle racing safe, enjoyable and accessible. OBRA sanctions over 390 events and clinics throughout the year."
In order for us to get all the necessary permits and insurance to run a safe & successful bicycle event, we use OBRA as our official sanctioning body.
ARE EBIKES ALLOWED ON THE TRAILS?
Type 1/Class 1: Pedal Assist ebikes are allowed on the Whiskey Run Trails. No throttle bikes are allowed. No motorized bikes are allowed. The only electric bikes allowed are ebikes that can only be activated through a pedaling action. If the ebike is activated by a throttle element such as a grip-twist, trigger, or button, it is not allowed.
WILL THERE BE MECHANICAL SUPPORT AT THE EVENT?
Yes, South Coast Bicycles will be there to help if you need any mechanical support.
HOW DO I GET TO THE TRAILS?
https://www.google.com/maps/place/Whiskey+Run+Bike+Trail+Parking/@43.2147108,-124.3499389,14.5z/data=!4m5!3m4!1s0x54c48220d3e91519:0x7470d048da71939c!8m2!3d43.214321!4d-124.3541632
WHERE CAN I FIND MAPS OF THE TRAILS?
https://www.trailforks.com/region/whiskey-run-trails-21273/
WHERE DO I PARK AT THE TRAILS?
There is limited parking in gravel parking lot at trail head. There is parking along roadway leading up to trail head and signage will be posted.
CAN MY FAMILY & FRIENDS JOIN ME AT THE CELEBRATION?
Family and Friends are welcome to join you at the trail head and we will have music, demo bikes, and trail information or if they are a "newbie" to mountain biking, we encourage them to sign up for our Break the Ice (Beginner Ride) where they will learn some basic skills and be led by a mountain bike coach on a leisurely ride.
The after-ride celebration at Bandon Brewing is open to the community and there will be food and beverages available for purchase.
WILL THERE BE FOOD OR DRINKS AVAILABLE?
We will have extra water and hydration products available for riders at the trail head. Come prepared with your own water, power bars, snacks, etc. South Coast Bicycles may have some nutrition products available for purchase.
All registered riders will receive 1 free beverage ticket for a craft brewed beer at Bandon Brewing. The Brewery is becoming famous not only for their beer but also delicious pizza. All riders will be given a coupon for 30% off food and beverages at Bandon Brewing.
HOW CAN I CONTACT THE ORGANIZER WITH ANY QUESTIONS?
Daniella Crowder, Director, Oregon Rides & Events
email: Director@OregonRides.com