Description
Join NewsWhip at our inaugural mass media conference — WhipSmart — bringing together some of the biggest names in journalism, PR, and brands for a day of data-driven insights from the industry's leaders.
Changing algorithms, shifting distribution channels, fragmented audiences – there's never been more uncertainty around how to succeed on social. That's why we're hosting WhipSmart, to discuss how social insights can empower your storytelling and help you overcome the challenges of today's media marketplace.
At WhipSmart, we'll be asking whizzes across media and brands to reveal their tips and tricks on how they connect with diverse audiences, execute a data-driven strategy, and maintain identity in a social-first industry.
Join us as we master going deep on niche content, the evolution of video, and present a fireside chat on the continuing battle against fake news.
Our speakers: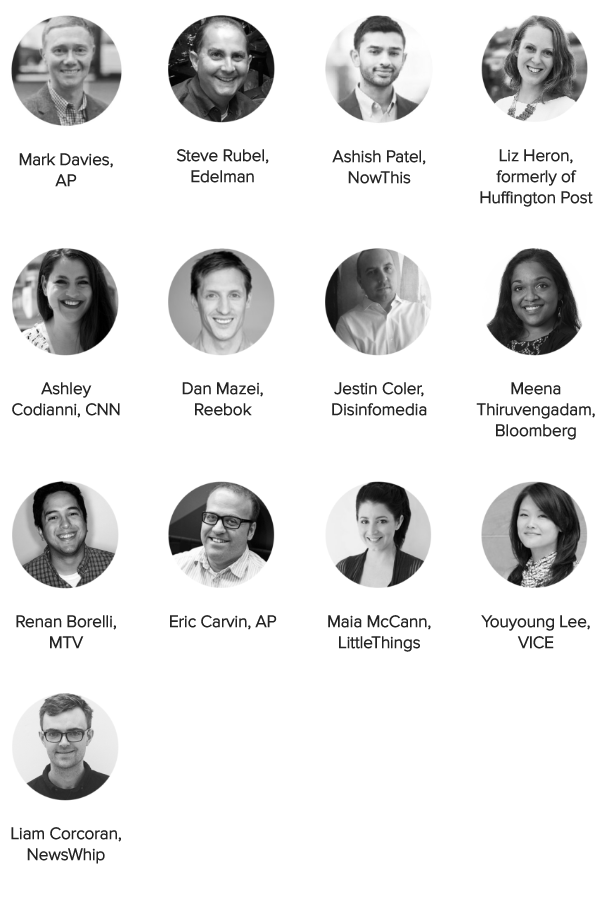 With attendees from: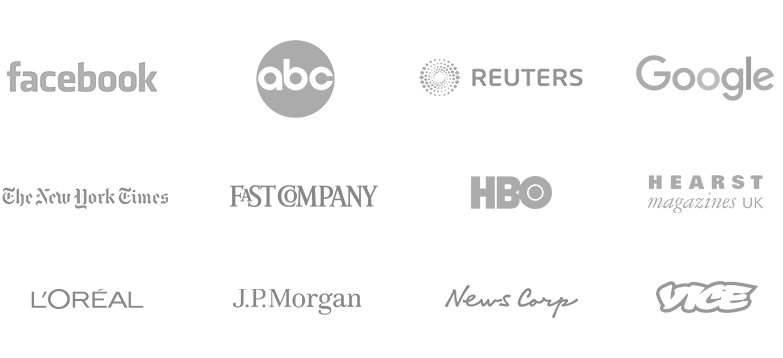 Our esteemed speakers will be discussing several pivotal topics in the social publishing industry right now. Our line-up of panels and presentations includes:
Science of Pushing Buttons
Our CEO and Co-Founder Paul Quigley discusses how the synthesis of social media and technology has created endless opportunities — and challenges — for today's publishers and content creators. We'll discuss how outlets can harness the power of social to better understand audiences, and how modern tech helps us overcome the obstacles of today's social distribution marketplace.

The Modern Newsroom
Modern newsrooms are challenged to incorporate more and more emerging technologies and social tactics. How can we preserve investigative journalism in an ecosystem that rewards viral content? How can today's journalists connect to diverse audiences, different than the people who are reporting the news?

The Rise of Hyper-politics
Take your side — social media has shown us that those who take a hard stance on hyper-polticial issues see huge engagement. But what does the rise of hyper-politics on social mean for publishers and news consumers? NewsWhip analyzed the most-engaged hyper-political publishers on social to understand how and why audiences are reacting.

A Fireside Chat with the "Fake-News King"
After the US Presidential Election, it became clear that fake news played a bigger role in reader sentiment than many people imagined. How do publishers and content creators move forward now, with a distrust of media in the mainstream, and a spotlight on the effects of misinformation?

Reporting Deep on Niches
How can you report deep on a vertical and effectively grow out an audience? Today's niche digital publishers are showing us how topic-specific reporting can create strong social communities. How can you use data to do deep-dive reporting that will garner a widespread, loyal following?

The Art of Visual Storytelling
An image is worth far more than 1,000 words on social. A video is worth even more. Here's how some of the world's oldest institutions and newest digital natives are using similar stronghold tactics. See how others are using visuals to transport their audiences and revolutionize social storytelling.

Using Emotions to Supercharge Audience Building
Special-interest digital publishers have shown us how inspirational, uplifting content that sparks emotion in audiences can inspire super-sharing. How can publishers across all verticals appeal to core emotions in their readers, to engender interaction and build loyalty? How can content creators put a positive spin on hard news to better engage readers?

Data vs. Creativity
Is it possible to use data and follow trends without selling your soul? How can you execute a data-driven strategy that maintains unique personality? We explore how social data can both help you understand your audience and direct coverage for maximum results, while keeping your journalistic identity.
We'll wrap up our panels and presentations at 5 p.m., and close with entertainment and cocktails at 7 p.m.