About this Event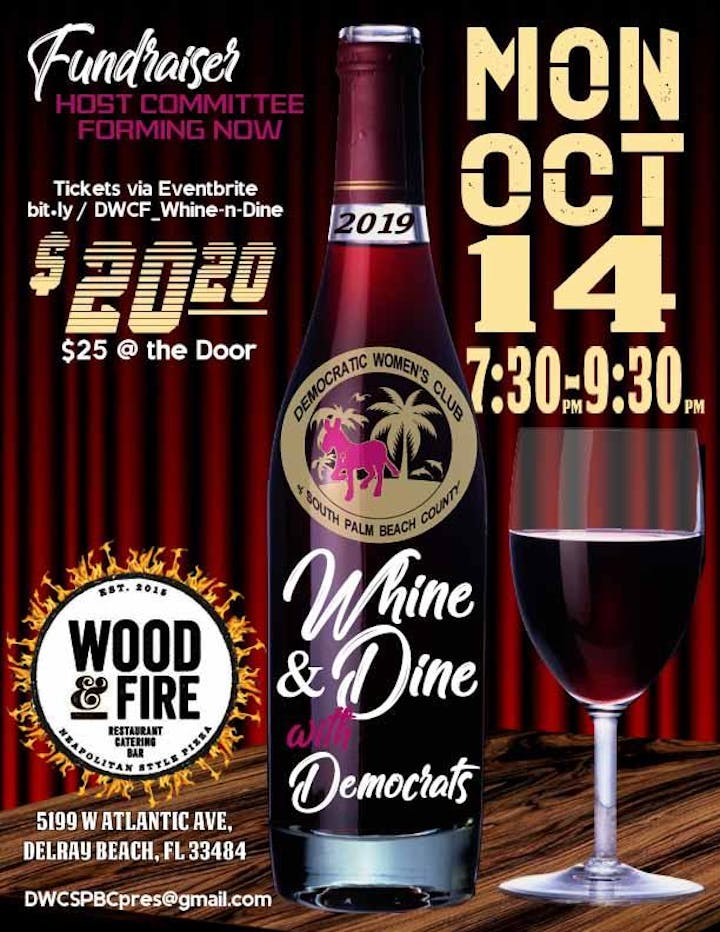 The Democratic Women's Club of South Palm Beach County (DWCofSPBC) welcomes you to a very special fundraising event "Whine & Dine with Democrats" to be held on Monday, October 14th, 2019 from 7:30-9:30 pm at WOOD & FIRE, 5199 W. Atlantic Avenue, Delray Beach.
For the small admission fee of $20.20 (Our Victory Fund!) appetizers will be served, (with soda, iced tea and lemonade) and if you prefer to drink for an additional $20.20 you can purchase 2 drink tickets!!!
Our goal for this first ever fundraising drive is to raise a minimum of $1000 for our club's activities.
These funds will make it possible for this South Palm Beach County chapter of Florida's Women's Caucus, (The DWCF, Inc.), to help Democratic candidates get elected across our state and grow our club locally. Additionally, 10% of the funds raised as we "Whine & Dine" go towards our Carol Gevirts Memorial Young Democrat Advancement Scholarship, which is used to bring young democrats to Tallahassee during session to learn about our state government.
Democracy is not a spectator sport, freedom is not free, and there are real costs to successful activism. We are asking for monetary donations because we really do need your help to offset some of our very real costs of activism. We're looking forward to your donation as a sponsor .
OUR WOMEN JUSTICES SPONSORSHIP LEVELS:
$500 – Justice Ruth Bader Ginsburg– includes 4 admissions and 4 drink tickets
$250 – Justice Sonia Sotomayor – includes 2 admissions and 2 drink tickets
$100 – Justice Elena Kagen – includes 2 drink tickets
Choose your Justice (sponsorship level) and use the sponsorship levels, or just buy a ticket and do some whining and dining with us, and planning, so we can continue to deliver activism and education to our community!
Being Supreme is awesome and we're looking forward to your donation as a sponsor, but not everyone can do this and we would be happy to have you join us on this evening to whine and dine!
Join us on October 14th so you can "Whine & Dine" with your fellow Democratic Women (and the men who have our backs) as we kick back and strategize in a more relaxed setting with appetizers and drinks.
Admission for this "Whine & Dine with Democrats" event is $20.20 per person, our next election focus, which include appetizers, and to keep that focus drink tickets will be an additional 2 for $20.20!
Order your tickets or Sponsor our event here on Eventbrite and we'll see you there to kick back and whine and dine on some great Wood & Fire food and strategize for the 2020 election.