'Whiden Toie' - The Road to Recognition and Rights: Symposium 2014
Description
Symposium Theme: Creating the Conditions for Engagement:
A call for substantive Equality for the Traveller Community
The event will promote dialogue and debate in the West of Ireland on the topic of substantive equality for the Traveller community. Traveller leaders on the day will demonstrate the diversity that exists within the community, while highlighting some of GTM's main achievements to date. The emphasis will be on the Traveller leaders, sharing their views and perspectives on what is needed to make Ireland a more progressive and equal society. In the afternoon, the symposium will also present inputs from special guests who have demonstrated their commitment to addressing structural inequalities experienced by many groups at a local, national and international level. Symposium participants will be asked to contribute their views and perspectives using interactive methodologies throughout the day.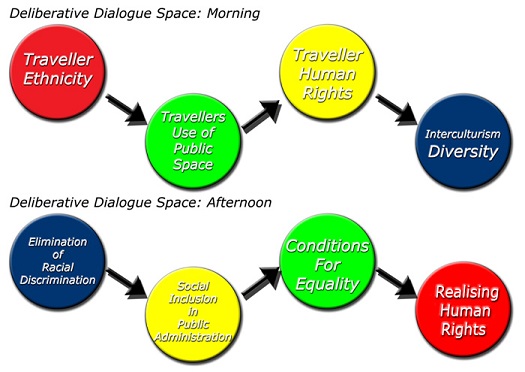 The Symposium will provide a forum for engagement between:
Traveller Leaders, Members of the Travelling Community, Policy Makers, Key Representatives and decision makers from Service Providers and Government Departments, Politicians, Academics, Educators at all levels, Community & Voluntary sector, Non-Governmental Organisations, Trade Unions, Employers, Business Sector, Human Rights Advocates, etc.
SYMPOSIUM PROGRAMME
9.30 – 10.00 Registration and Refreshments

10.00 – 10.15 Welcome
Hannagh McGinley, Galway Traveller Movement Chairperson &
An tOllamh Pól Ó Dochartaigh, Registrar and Deputy-President, NUI Galway

10. 15 – 11.15 Visualising Equality – Deliberative Engagement Space
Peter Casby, Facilitator

11.15 – 12.30 Equality Discussed – A Review and Reflection Space:
Views and Perspectives of Four Traveller Leaders and Activists

Speakers:
Bridget Quilligan, Director, Irish Traveller Movement
Ethnicity and Recognition

Sindy Joyce, PhD student, University of Limerick
Traveller Use of Public Spaces

Martin Collins, Director, Pavee Point
Traveller Rights are Human Rights

Hannagh McGinley, PhD student, NUI Galway
Interculturalism/Diversity

12.30 – 1.15 Plenary Session – Questions and Answers

1.15 – 2.00 LUNCH

Exhibitions:
Galway Traveller Movement 20 years photographic exhibition

Symposium 2014 exhibition

2.00 – 4.00 Substantive Equality for the Traveller Community: Presentations & Responses

Speakers:
Michael O'Flaherty, Director, Irish Centre for Human Rights, NUI Galway: Justice and Equality for Travellers – A Matter of Human Rights

Chris Mc Inerney: Lecturer, Politics & Public Administration University of Limerick: Social Inclusion in Public Administration

Kate Morris, Co-ordinator, Campus Engage: Conditions for Engagement in Higher Education

Anastasia Crickley, Head of Department, Applied Social Studies, NUI Maynooth: Elimination of Racial Discrimination: A Radical Approach towards Full Equality

Responses: Traveller panel and symposium participants

4.00 – 4.15 Substantive Equality for the Traveller Community: Response by:
Aodhán Ó Ríordáin , Minister of State for Equality, New Communities and Culture

4.15 – 4.30 Symposium Declaration: Hannagh McGinley, Galway Traveller Movement Chairperson
Standing in solidarity in the call for full equality and recognition for the Traveller community.

4.30 Symposium Close
Attendance at the event is free but must be pre-booked.
Places will be allocated on a first come, first served basis. In the event of high demand, late-booking participants may be placed on a waiting list.
Twitter: @GTMtrav / @CKIatNUIG
Event hashtag: #GTMsymp2014
Facebook:
Galway Traveller Movement / CKI NUI Galway