Description
Join Author Tambra Raye Stevenson of Where's WANDA? book series promoting a new character who has super power of using African heritage foods to heal her community. Come and take photos with Little WANDA the puppet who will be at Teaching Africa Day, a family friendly free event where you can buy children's book on Africa and participate in children activities. Check out fb.com/iamwandaorg.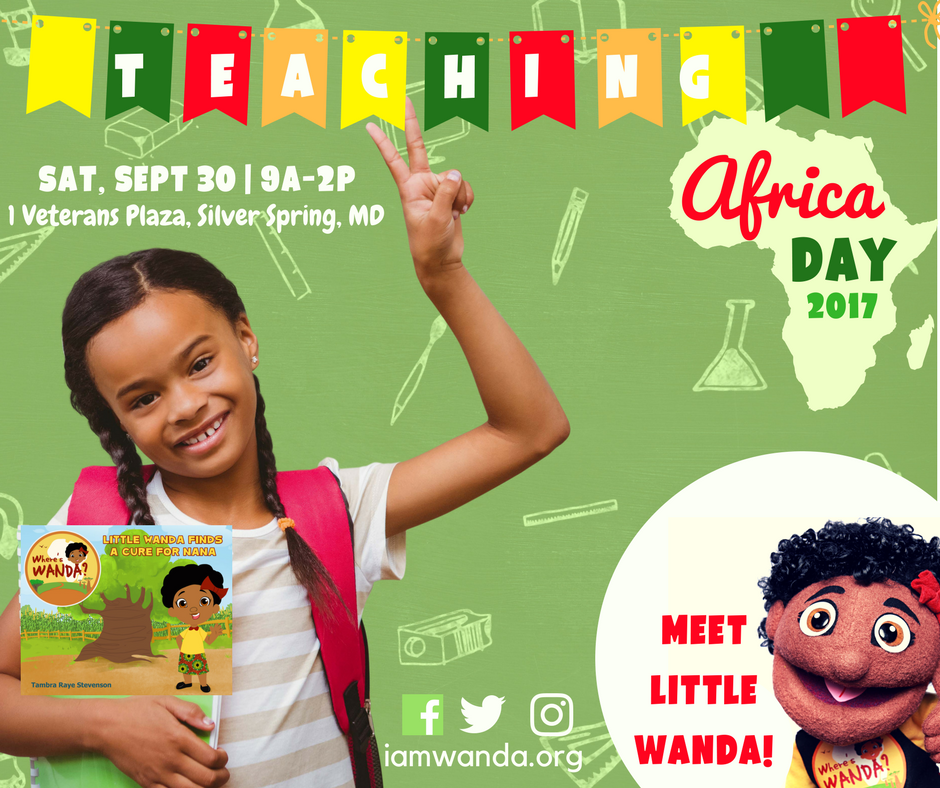 Annual Community Event Aims to Educate and Empower Children and Youth While Celebrating Africa
SILVER SPRING, September 1, 2017 – As part of African Heritage Month in the Washington DC region, Teaching Africa Day (TAD) will hold its 3rd annual event on Saturday September 30, 2017 at the Silver Spring Civic Building, 1 Veterans Plaza, Silver Spring Maryland.
A family-friendly occasion, Teaching Africa Day creates a platform for education and entertainment designed to enlighten the next generation about Africa and African Heritage. TAD is a day where Educators, Authors, Leaders, Artists, and the whole community share knowledge and experiences from Africa and on Africa. Participants are selected to showcase a variety of unique resources available to teach and learn about classical and contemporary Africa. Past speakers include Congressman Jamie Raskin, Congressman John Sarbanes and State Department Bureau of African Affairs Representatives Nicole Peacock and Mr. Ikheola, Director of the Board of Education of Montgomery County, Montgomery County Executive Isaiah Leggett in 2016, along with other special guests.
In addition, Teaching Africa Day features a variety of interactive and hands-on games, books, videos and toys for families to explore. TAD also showcases performances including dancing, singing and spoken words.
"We are very excited about this year's TAD which will be full of surprises, innovations, and dedicated speakers who will honor us with their presence. All of this is bound to create positive memories and appreciation for African culture. Everything from exploring the African version of Cinderella, to the traditional game of mancala, to the weaving of colorful crafts and unique performances, is designed to keep the day lighthearted and interactive for every participant." says Paulette Mpouma, Committee Leader of Teaching Africa Day.
Teaching Africa Day is open to the public and free of charge.
About Teaching Africa Day
Teaching Africa Day was founded by a consortium of educational organizations with the goal of educating children and youth through a collective platform of speakers, art, books, games, and more. As a result, Teaching Africa Day became the first ever child-friendly event specifically designed to educate the next generation about Africa and African Heritage. The staff at Teaching Africa Day wholeheartedly believes in a deeper understanding of African roots that goes far beyond simple tales or stereotypes.
For further information or to learn more about Teaching Africa Day, contact:
Ms. Paulette at 240-381-7218 or visit: www.teachingafricaday.com