Description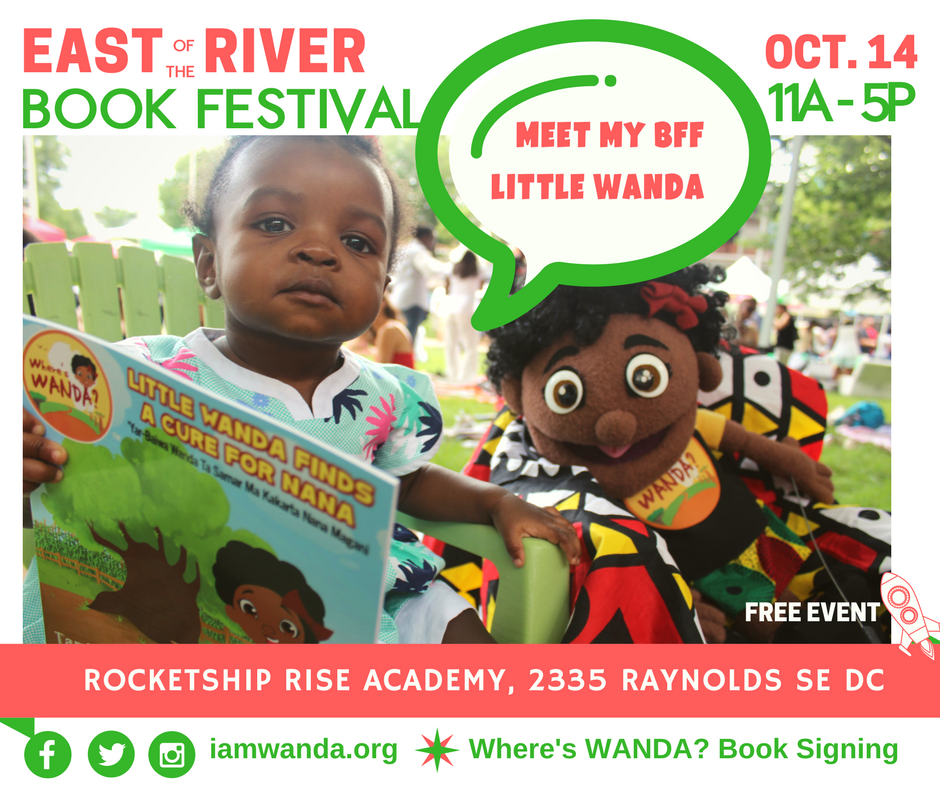 Did you know September is #BlackReadingMonth? And we are going to continue the celebration into October. Also Food Day is October 16th. So join Little WANDA at the East of the River Book Festival to build a movement of healthy eaters, reader and leaders in the Diaspora to Africa. On October 14th from 11am to 5pm at the Rocketship Rise Academy in SE Washington, DC with other authors, parents, and children.
#IamWANDA #RepresentationMatters #diversebooks #healthyeating#HealthistheNewWealth #foodshero #ObamaMeetWANDA
ABOUT THE BOOK FESTIVAL
Visit: EOTRBOOKFEST.COM
ABOUT THE AUTHOR

Growing up in Oklahoma, Tambra Raye Stevenson was a curious girl who wanted to help her family who battled preventable diseases. So she went to study nutrition and public health. After her father's death he pledged to discover her family history setting her on a journey to discover her Fulani roots in northern Nigeria and looking towards her African food ways as the answer.

Seeing a lack of girl characters and of African descent in nutrition for her daughter, she created the "Where's WANDA?" series based on her journey to inspire girls around the world to embrace their heritage, their food and feminine power and diversify the field of nutrition. As the 2014 National Geographic's Traveler of the Year, she teaches pan African food and nutrition classes as the founder of NativSol Kitchen.

Featured in Forbes as the founder of WANDA: Women Advancing Nutrition Dietetics and Agriculture, she is a graduate of Tufts University School of Medicine-Emerson College Joint Program and Oklahoma State University with degrees in human nutrition/premedical sciences with a minor in Spanish and health communication. She has given remarks on food ways in Ethiopia, Ghana, Nigeria, South Africa, U.S. Library of Congress and U.S. Department of Agriculture. Featured in Forbes, Washington Post, Voice of America and National Geographic, she is an avid reader and a member of the Society of Children's Writers and Illustrators and serves of the D.C. Food Policy Council. Learn more at tambraraye.com.

ABOUT THE BOOK
Based on her food journey to Africa, National Geographic's Traveler of the Year, Tambra Raye Stevenson, created the "Where's WANDA?" series to spark discovery about Africa's foodways, female food entrepreneurs and travel. The empowering series engages, empowers and informs young people to become healthy readers, eaters and leaders in their community.

Taking us on the journey is Little WANDA: the "Doc McStuffins" of nutrition meets "Dora the Explorer" for Africa. In this series, curious and caring Little WANDA leads young readers on a food adventure across Africa.

Guided by her father's wisdom, Little WANDA sets out on a journey from America to Africa. With her magic apron, she travels to Nigeria in search for Nana's cure with the help of Big WANDA. Join her on the journey today and share your WANDA story!