Location
Jackson Junge Gallery
1389 N. Milwaukee Ave.
Chicago, IL 60622
Description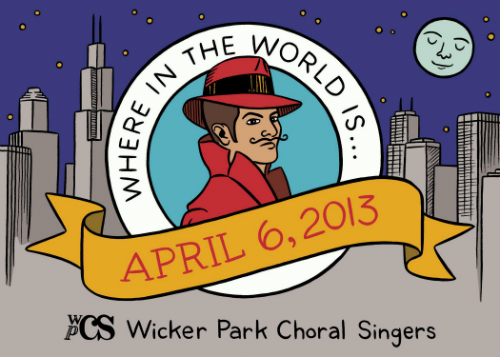 Join Wicker Park Choral Singers for a night of intrigue, crime-busting, and of course...choral music! Help the choir stop evil villain, Thomas Markasino, from ruining the art of choral music as we know it! Following a series of clues, you will sleuth your way around the globe and throughout history to restore the balance of the choral music space-time continuum. Light hors d'oeurves and adult beverages will be served to keep you going throughout your journey. The brightest gumshoes will have a chance to win a prize at the end of the night.
We are all counting on YOU! Buy your tickets today.
CHECK OUT our promo video HERE!
WHEN: 7pm-10pm, Saturday, April 6, 2013
WHERE: Jackson Junge Gallery, 1389 N. Milwaukee Ave. Chicago, IL 60622
PRICE: $45
Each ticket includes 4 Crime Bucks. Additional Crime Bucks may be purchased at the event for $2.
All proceeds will benefit Wicker Park Choral Singers, an all-volunteer, 501c3 non-profit organization in Chicago.
Attendees must be 21+.