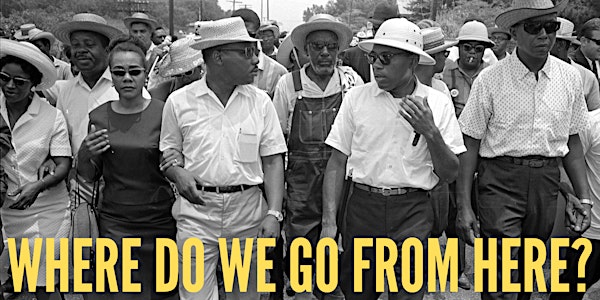 Where Do We Go From Here? | Documentary Film Festival
A documentary film festival and webinar on the global freedom struggle that speak to MLK's unanswered question | REGISTRATION REQUIRED
About this event
For this year's King Holiday, the Martin Luther King Jr. Research and Education Institute at Stanford University will host a free, four-day film festival and webinar, from the evening of Jan. 15 through Jan.18, 2021. On the eve of the presidential inauguration, the festival will feature twenty documentaries as well as musical performances and conversations that speak to Dr. King's unanswered question: "Where do we go from here?"
The webinar will consist of a Zoom meeting room with our director Dr. Clayborne Carson that will take place throughout the weekend, in which he will speak with registrants on a variety of subjects, from Bay Area civil rights history to the legacy of the African American Gandhians. The Zoom link will be emailed to registrants from "The MLK Institute."
The films and performances made available to registrants include the following:
Friday, January 15, 2021 — Opening Night
Saturday, January 16, 2021 — Where Are We?
Sunday, January 17, 2021 — Who Are We?
Monday, January 18, 2021 — Where Should We Go?
These cover a range of topics, from the history of the civil rights and anti-apartheid movements to James Baldwin and Martin Luther King's global visions. Although we have organized the films thematically into days, registrants will be able to view these films throughout the King Holiday weekend on their own schedules via links we will send to your email via Eventbrite.
The festival will introduce the World House Project, a new initiative of the King Institute in partnership with the Freeman Spogli Institute for International Studies at Stanford. This festival is also in partnership with the Martin Luther King Jr. Freedom Center, California Newsreel, Clarity Films, the Camera as Witness Program (Stanford Arts), the Office for Religious & Spiritual Life at Stanford, and the Kunhardt Film Foundation. It is made possible with support from XQ Institute.
Registration Required
Registrants will receive updates and links and passwords for the films. For more details, visit our website.
If you have any questions, please contact Truman Chen at trumanwc@stanford.edu.
Photo Credit: Bob Fitch Photography Archive © Stanford Libraries